Hi everyone! I'm sorry for my lack in updates over this past month. April turned out to be quite the busy month, ending with a week-long visit from my mom & step-dad. They came into town from CO and we were livin' it up! We spent a few days at DLR, did a tour of the Walt Disney Studios (followed by a fab lunch at the Tam o'Shanter), went to Knott's Berry Farm and ventured down south to San Diego to see the Titanic artifact exhibit at the Nat. Not quite in that order. Here are some highlights & photos from our adventure filled week!


Our vacation started last Friday when DH & I attended D23's Fanniversary event at the Studios lot. In celebration of D23's 3rd anniversary, they gave a 2 hour presentation highlighting various Disney movies, music, theme parks and attractions that are all celebrating a milestone anniversary this year. No photos were allowed during the presentation, but I grabbed a couple with my phone on our way into the theater: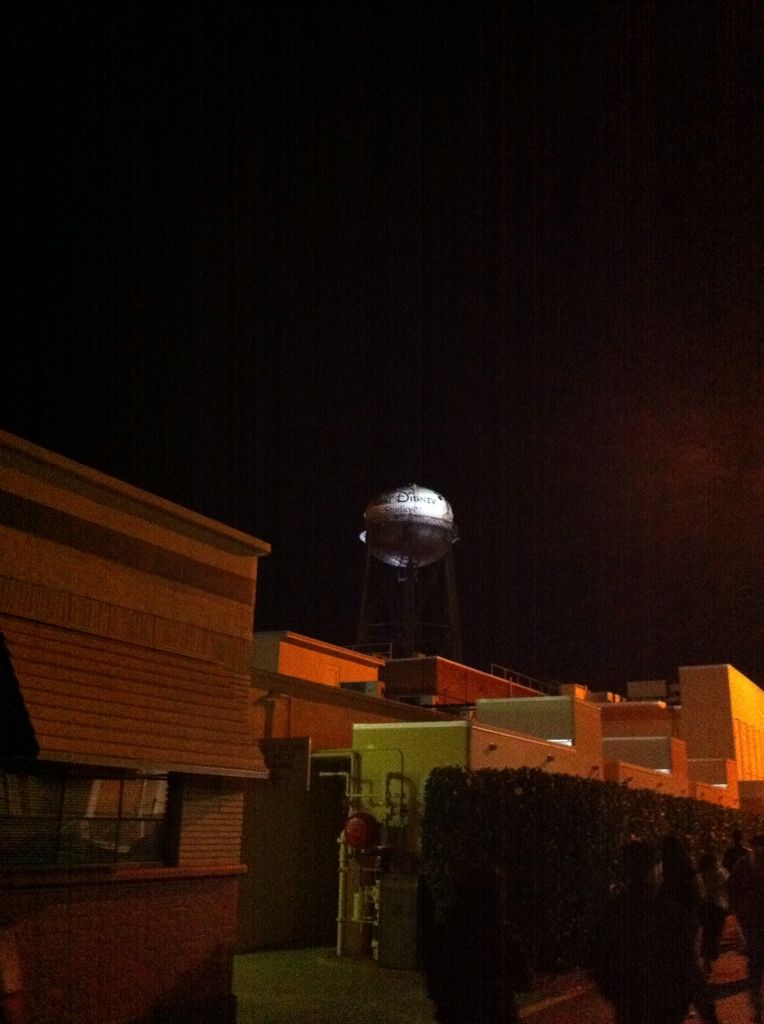 The next morning, all 4 of us were scheduled to take a tour of the Walt Disney Studios. This was another D23 event and the timing just happened to work out perfectly with their trip, which was awesome! DH & I did the tour last year and loved it, so we were happy to tag along with them for a second go-round.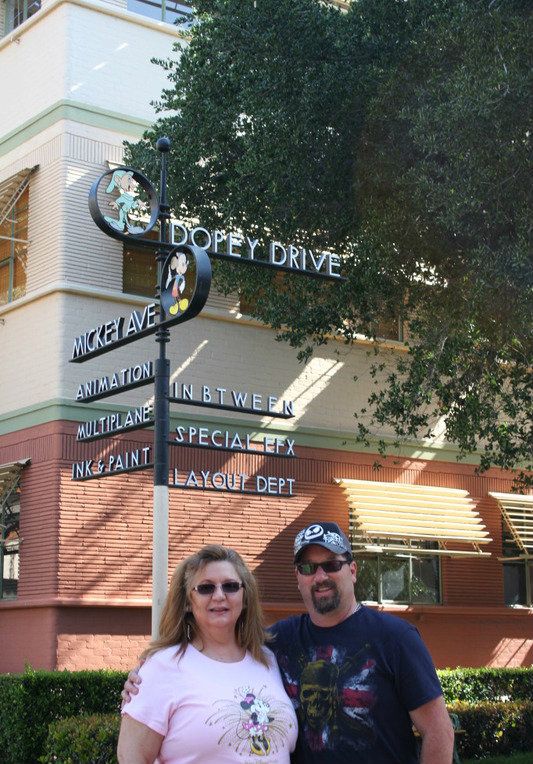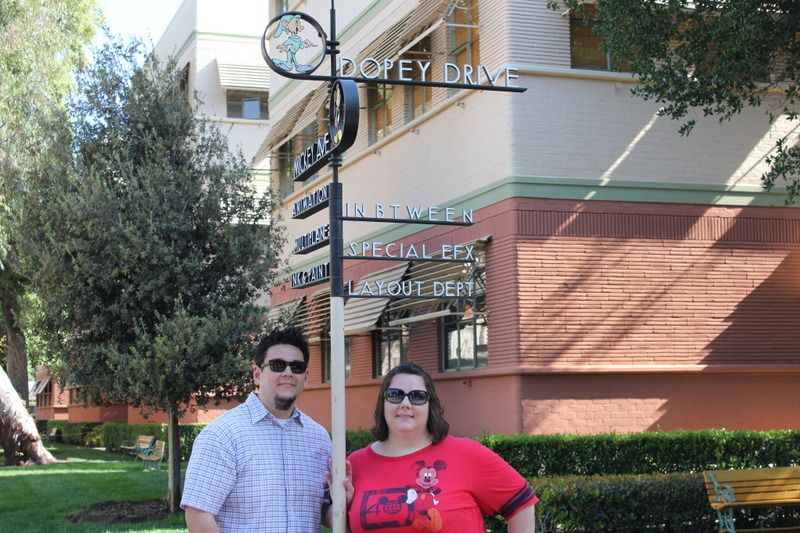 Where (most of) the magic happened….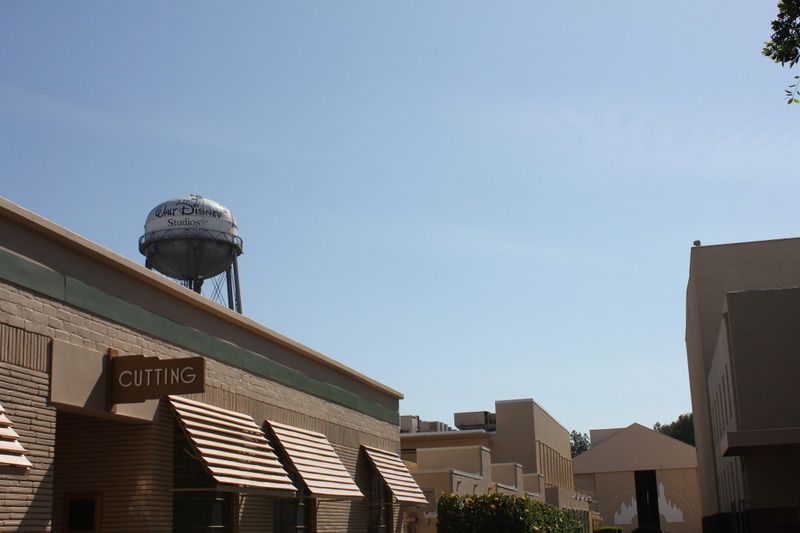 A peek inside the props building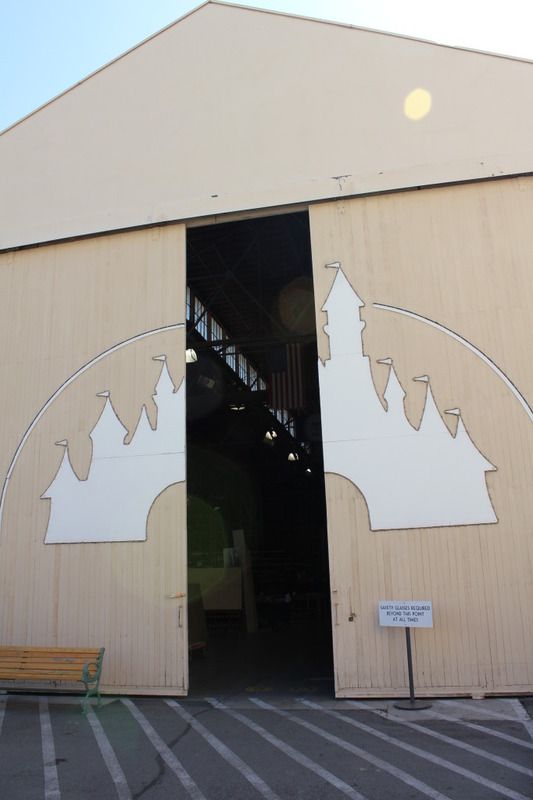 Disney Legend Dave Smith giving us a tour of the Walt Disney Archives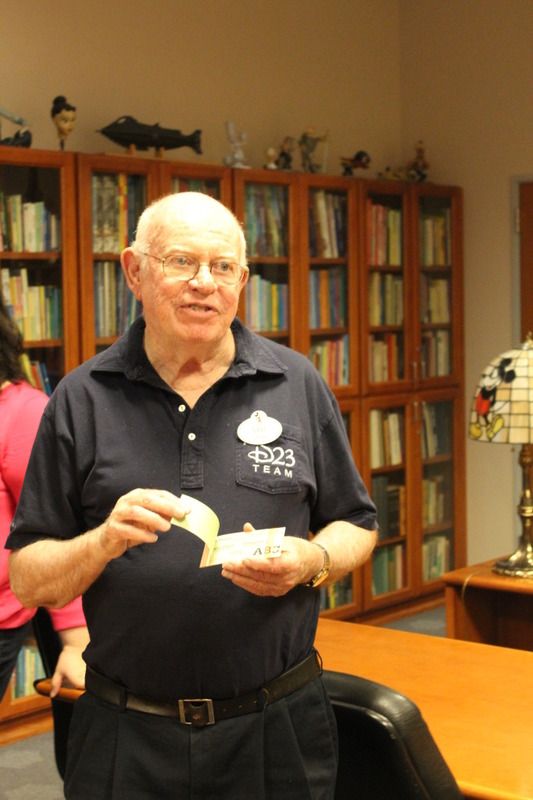 Hey! What is my uniform doing on the wall?!?




This is the actual snowglobe used in the Feed the Birds sequence of Mary Poppins. A janitor found it in the trash and picked it out because he thought it was pretty, completely unaware of its significance. Dave Smith, who was friends with the janitor, spotted it in his closet one day and asked if he could have it. Pretty neat.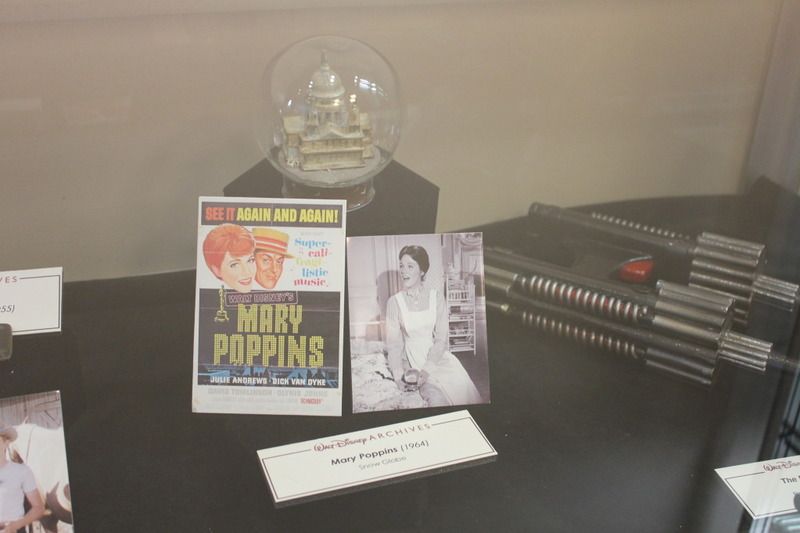 Some original drawings by Walt. It's crazy to think that these are almost 100 years old!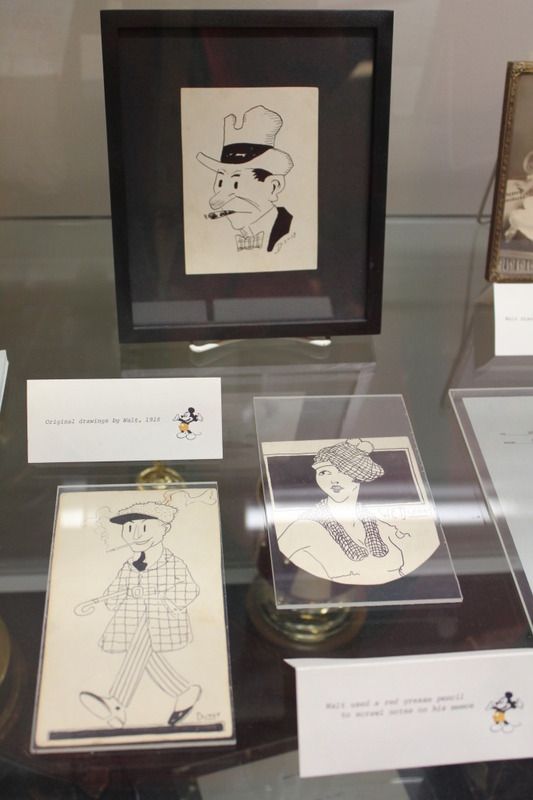 Dave thanking the academy - that's a real Oscar!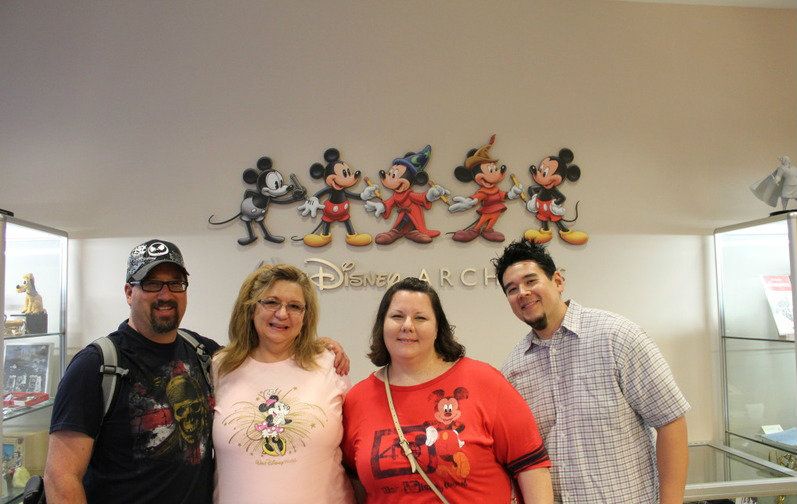 With the original Partners status in Legends Plaza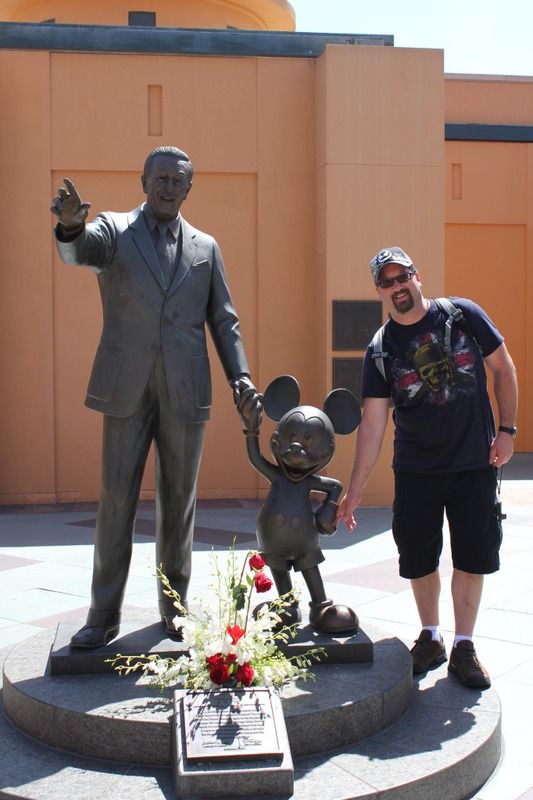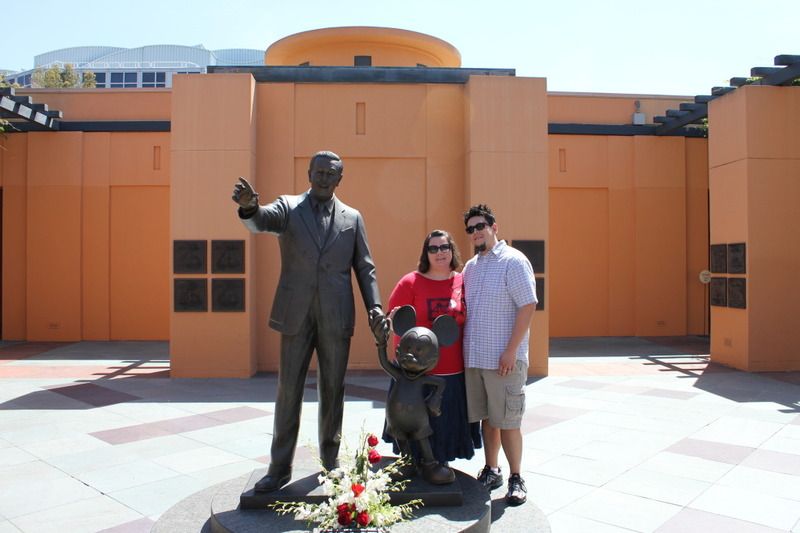 Daniel sizing himself up to Thurl Ravenscroft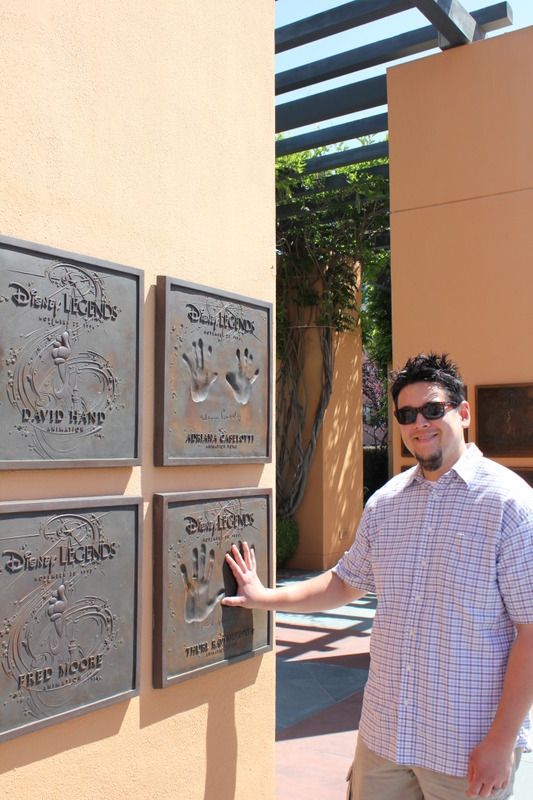 Director Mickey!




Walking the lot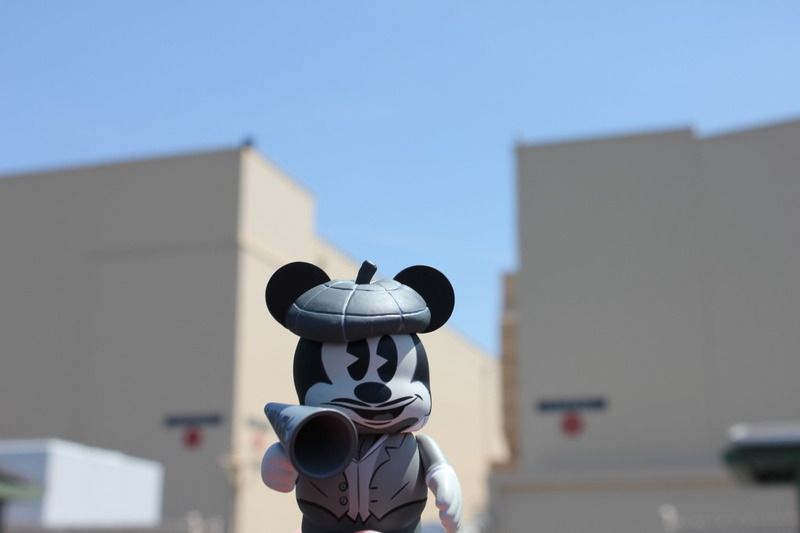 Outside the Tam o'Shanter – ready for lunch!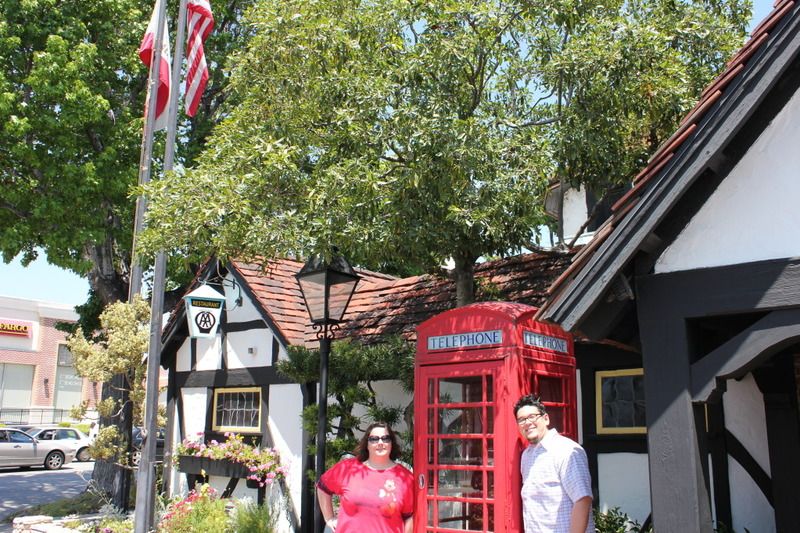 DH & I ordered the tri-tip & prime rib sandwiches and shared them. The tri-tip was the winner, hands down. We can't wait to go back and try it for dinner.

The tri-tip sandwich on an onion roll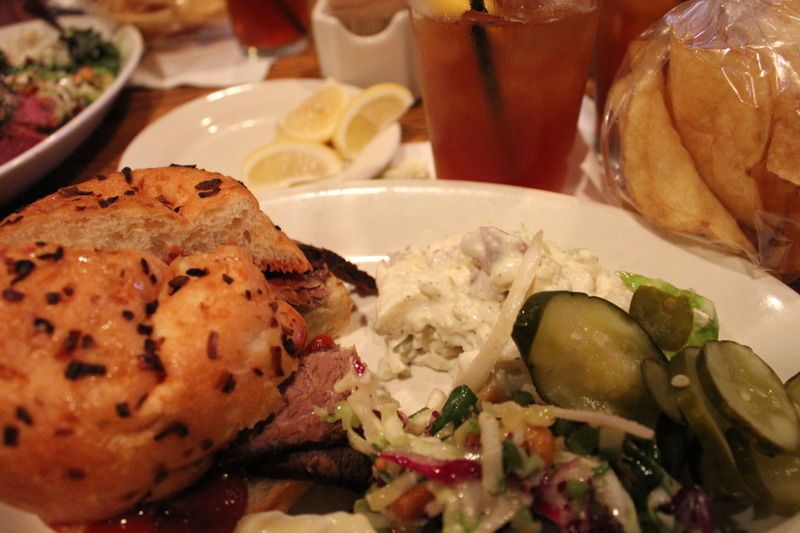 Prime rib sandwich on an onion roll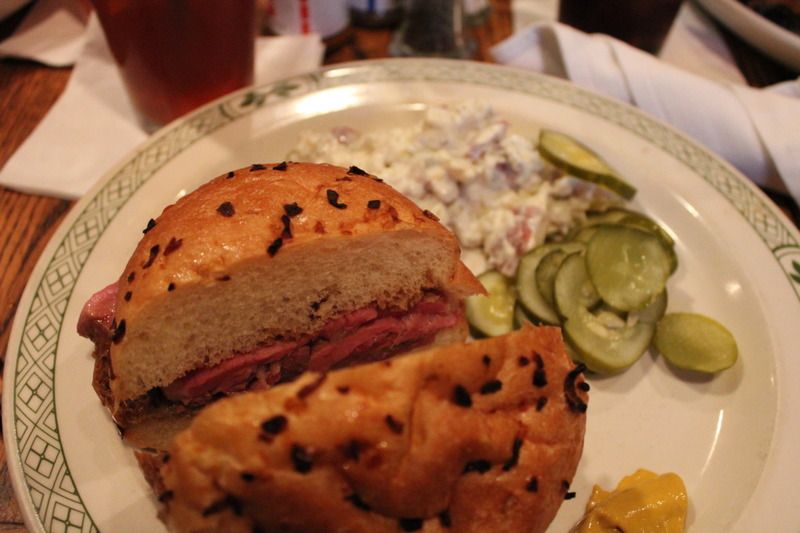 On Monday, we went down to San Diego to check out the Titanic artifact exhibit at the Natural History Museum. My dad joined us and we met some of my step-dad's family down there. I've never been to the Prado area and I was in total awe. It's gorgeous. DH & I are planning to head back on another day when we have more time to spend there.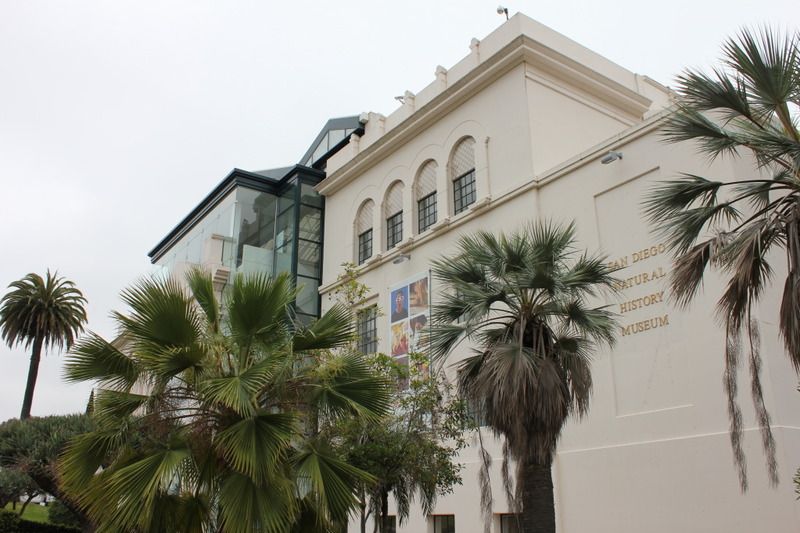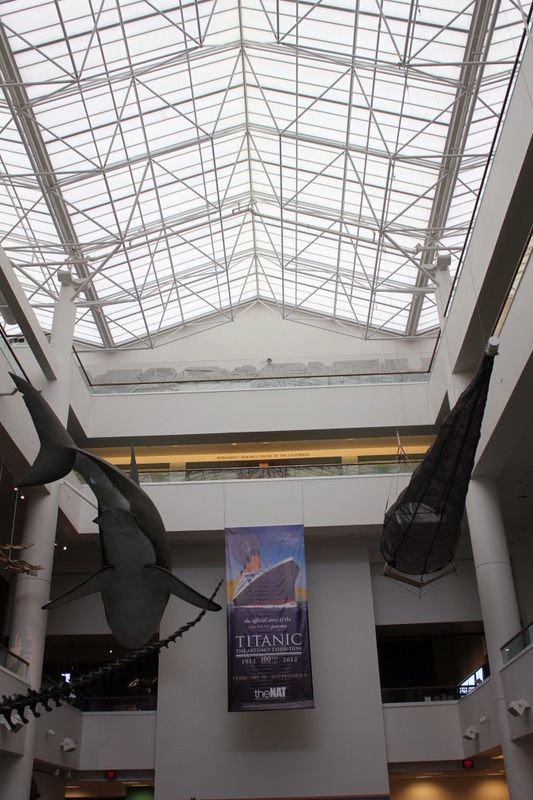 My dad being silly and blending into the pole.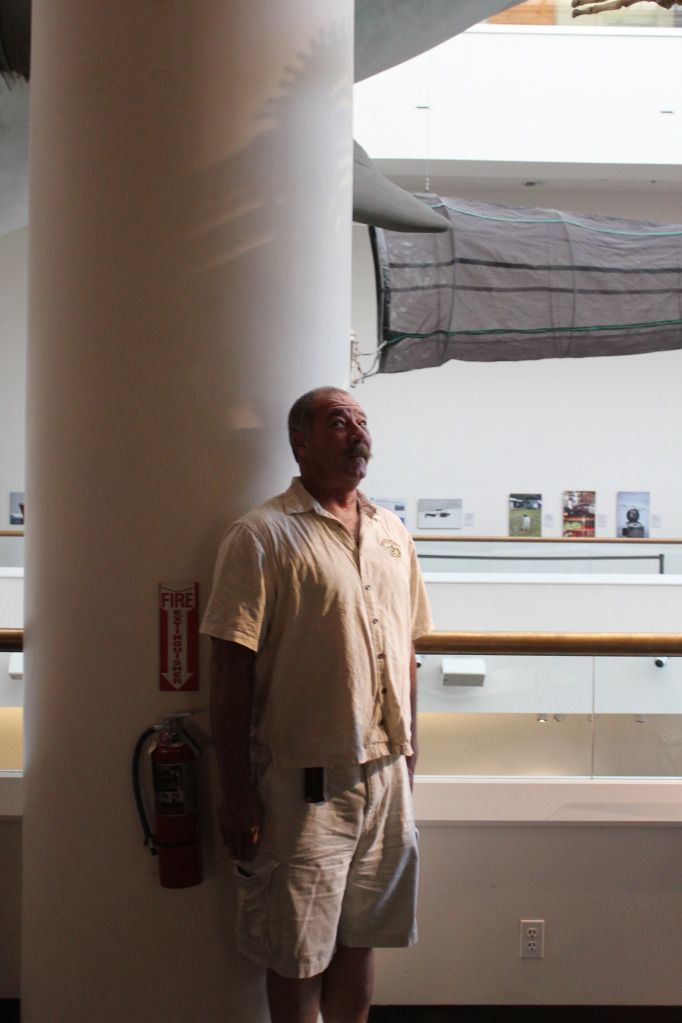 This was the ONLY photo I was able to take of the exhibit. Boo.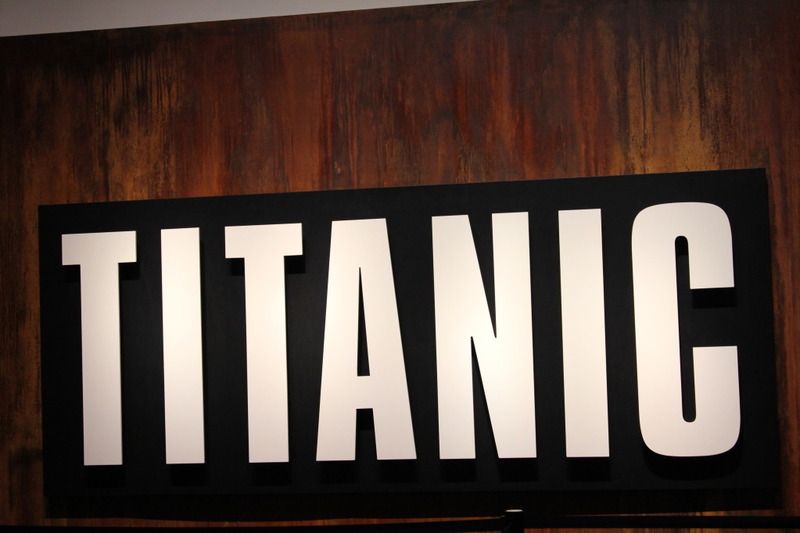 It was such a neat experience. I wouldn't say that I'd go out of my way to see it, especially at $27/person, but I am glad we were able to see it.

Knowing that we were spending the day in San Diego, I did some online investigating beforehand in search of a really good burger in the area. During my research, a place called Hodad's in Ocean Beach kept popping up. It looked funky & fun, so that is where we headed. It was a dive, for sure and the music was rockin' & LOUD. I felt bad since Dave's mom & step-dad were with us, but they were great sports and enjoyed the atmosphere.

DH & I both ordered a single bacon cheeseburger, but check out the size of this thing, it looks like a quadruple! It looks like it was made to give you a heart attack, but it was one of the tastiest things I've ever eaten! I only had my phone with me to take pics so they're kind of grainy, but I just have to share them.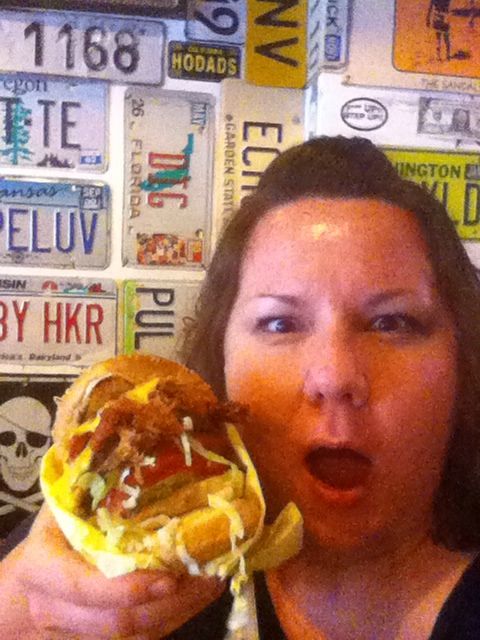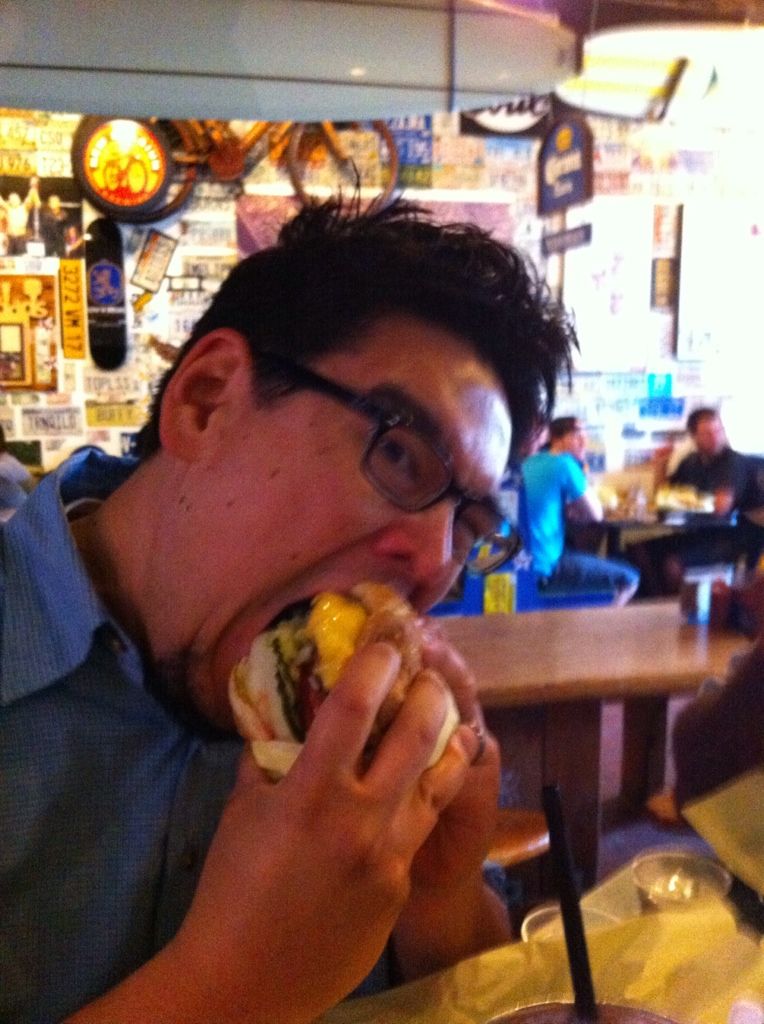 There is a table inside the VW van where the dash would be!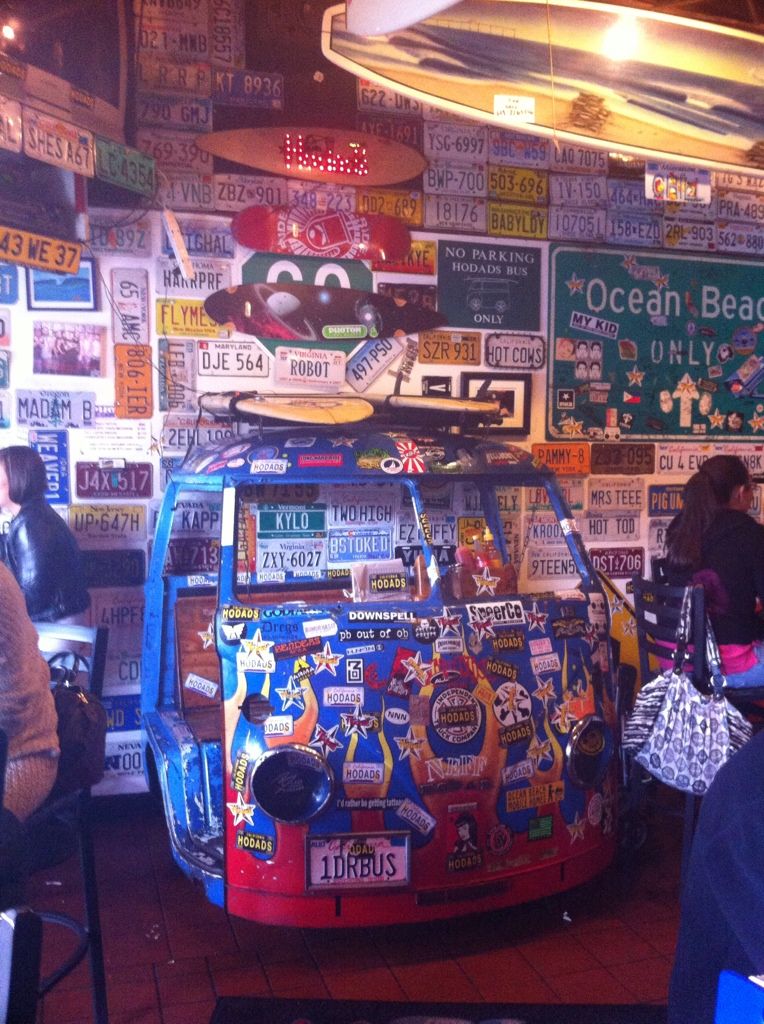 After lunch, we were incredibly full (shocking, I know), so we walked around the area to try and burn some of it off. Most of the shops ended up being closed, but most of the spaces in the area were just other food spot. We were only a block away from the beach and there was a pier close by, but when we got there the area didn't look too safe. There were groups of people doing drugs right there in broad daylight. Ummm…whoops! Thankfully, Dennis (my step-dad's step-dad…did ya get that?! lol ) knew that Old Towne San Diego wasn't too far away, so we all hopped in our cars and headed that-a-way.

This place was much more our speed with lots of shops, historic buildings & little museums all around. This was where we spent the rest of the day before heading home.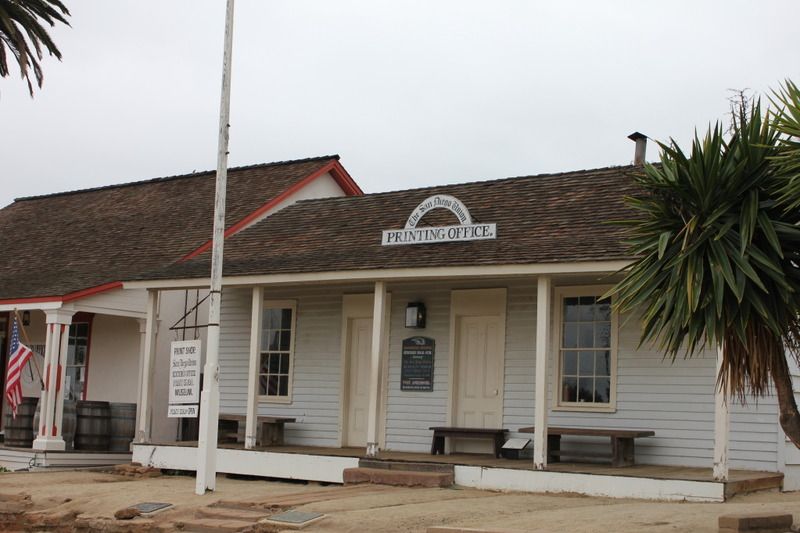 We went into a candy shop and they had candy cigarettes! Daniel & I both used to get these all the time as kids, and they hard to come by today (for obvious reasons). DH had fun channeling his inner cowboy after we picked up a box (they were totally gross, by the way…lol).





On Friday, we went to Knott's Berry Farm. As a kid growing up in Orange County, we went to Knott's a LOT; probably more so than Disneyland just because it was more affordable. Clearly the history and "magic" of it didn't quite stick with me because I haven't been back since I was about 16 or 17, which was 17 years ago. Since then, it's been taken over by a major corporation (Cedar Fair) and it is literally a ghost town of what it used to be.

It's no secret that "little" is not a word I would use to describe myself, so for me, the thrill rides were out. They just aren't as accommodating as Disney seems to be. Even my DH, who isn't pooh-sized himself, but is quite tall at 6'4", wouldn't be able to fit in most of the ride vehicles. We ended up doing 1 ride (the unintentionally creepy Calico Mine Train), meandered through the swap-meet style shops in Ghost Town, and visited with family before breaking out early to head (RUN) "home" to DL. I didn't even bother to bring my DSLR into Knott's with me, so all of our photos were taken with my phone.


By the look on his face, I'm guessing he'll choose "Knott" to dance…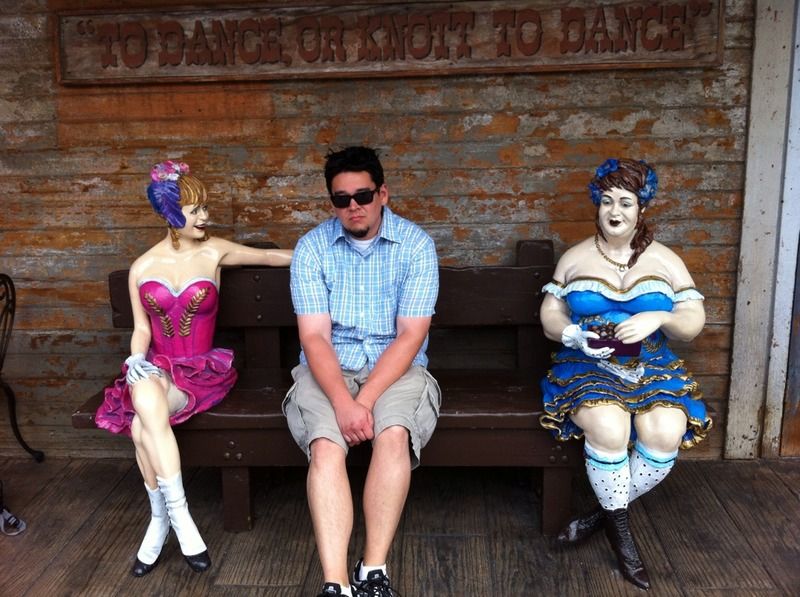 Death by vacation. What was even funnier is that neither one of those bags are his or mine! Haha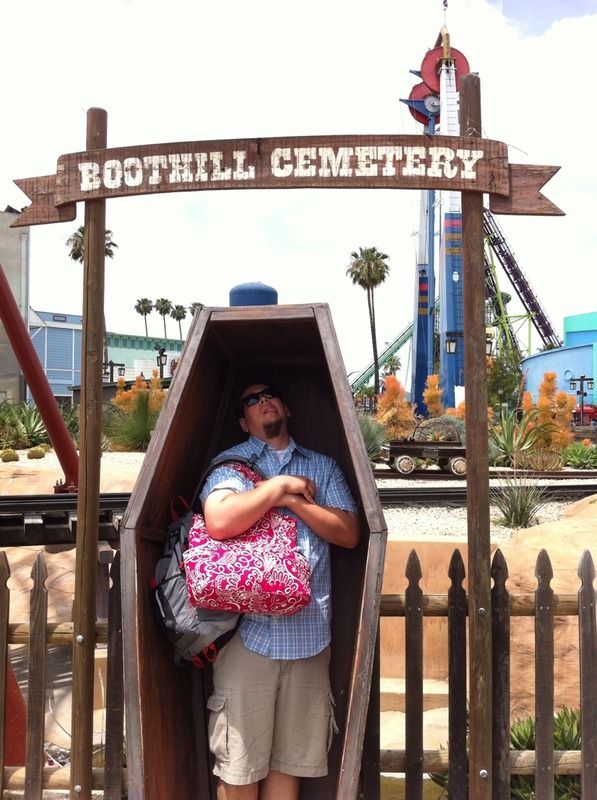 Seriously?!? Maybe they were there to learn what NOT to do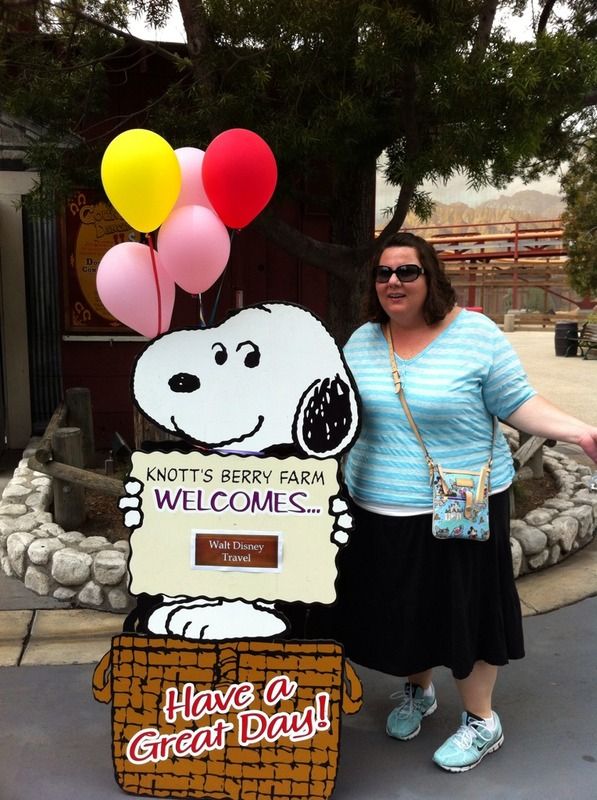 At one point, we were sitting on a bench taking a break when 2 security guards and a park manager were escorting a not-so-nice looking teenager through the park telling him what the options for punishment were. 1 of which was to call the police and have him arrested. This is SO not something we would see at Disney. I'm sure stuff like that happens, but they take it out of sight rather than deal with it in public.

Another thing that surprised me was how expensive everything was. Granted, we only paid $37/person to get in because they were having a special (it's normally $56.99), but the food & drinks were quite a bit more expensive than they are over at DL. There are also a lot of every day restaurants within the park, like Panda Express & Johnny Rockets! No thanks.

I don't mean to come off as snobby. This experience just made DH & I both appreciate Disney all that much more. Not that we really needed a reminder, it just reaffirmed everything we feel about Disney. It's not just a theme park, it is truly so much more than that. With that, this picture pretty much sums up our experience: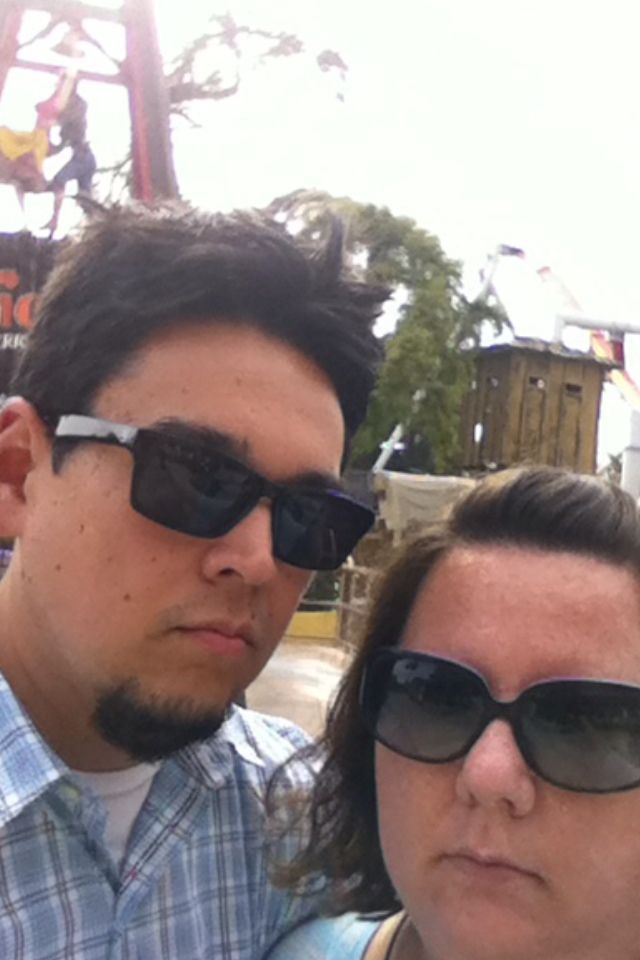 We spent quite a bit of time at DLR over various days during their visit. Here are some highlights, in no particular order:


DH & I aboard the Mark Twain Riverboat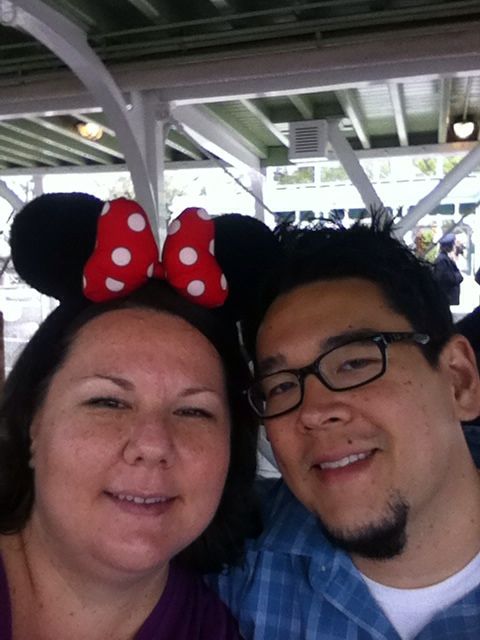 Have ears, will travel!




This hat looks like it was made for him!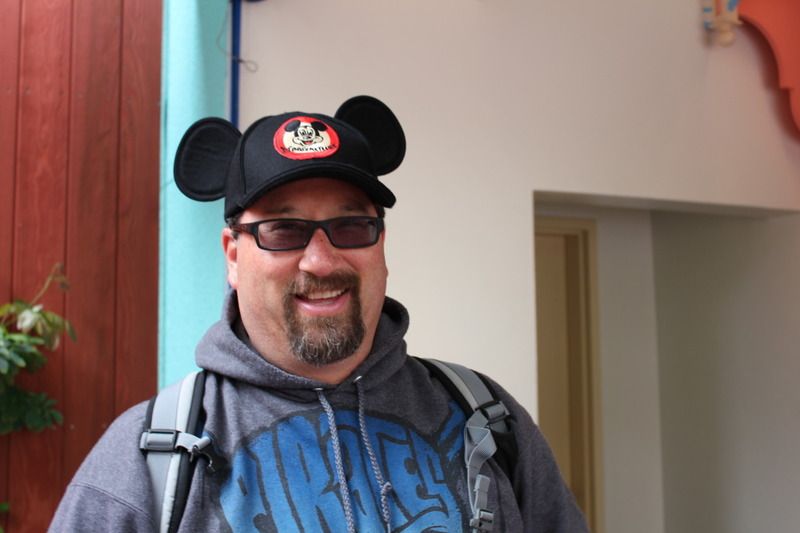 A rare sight, especially after 12pm. This area is usually quite busy!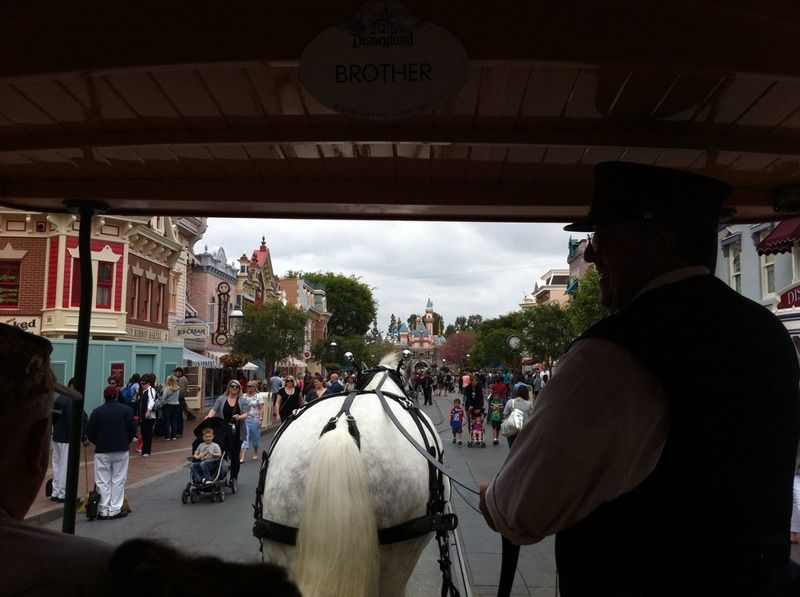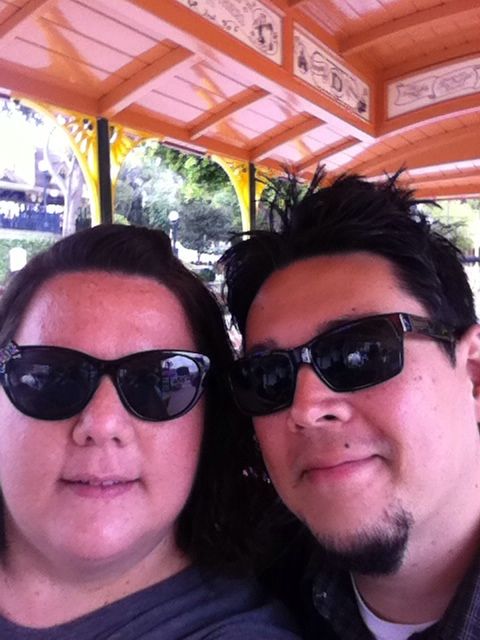 I may or may not be responsible for getting my DSD hooked on Vinylmation. I'm pleading the 5th here.




When in DL, remember to always look up!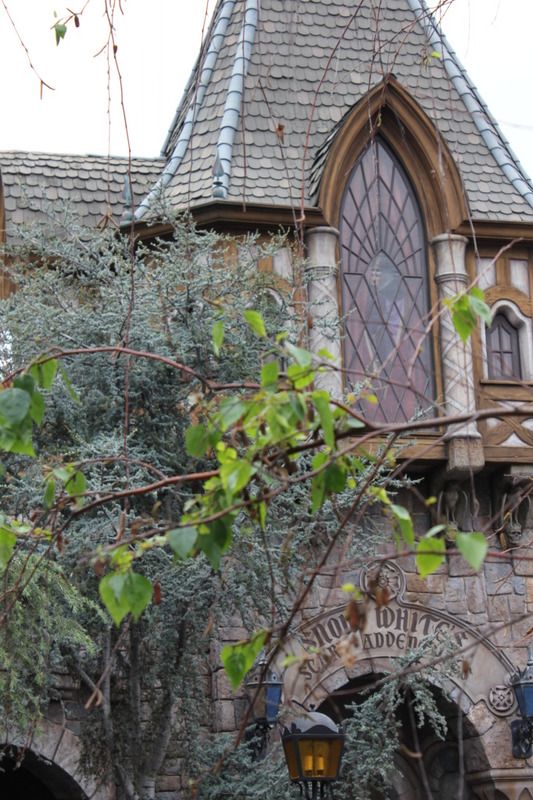 Our Peter Pan wins. No question.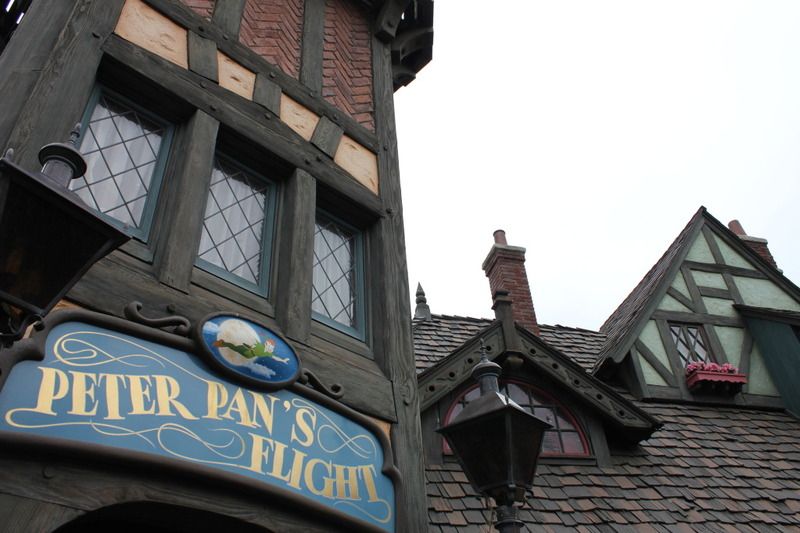 No creepy faux AA figures here. Thank goodness!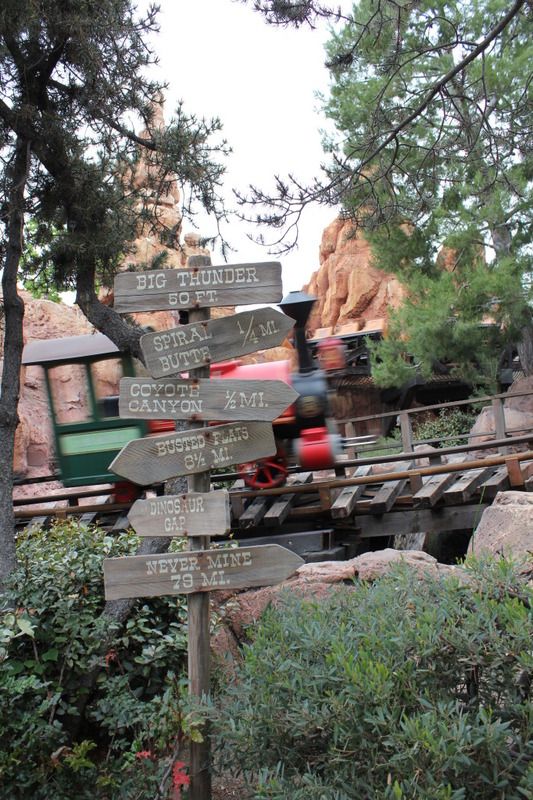 Smooches!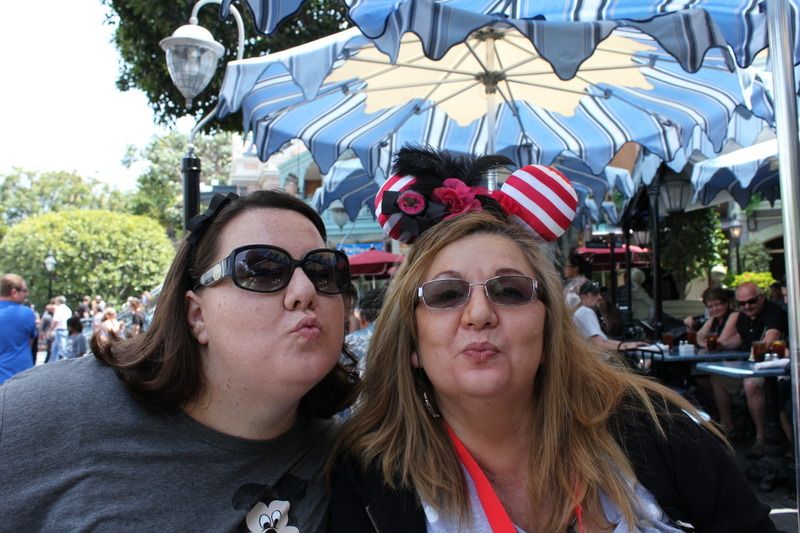 Yummy Monte Cristo from Café Orleans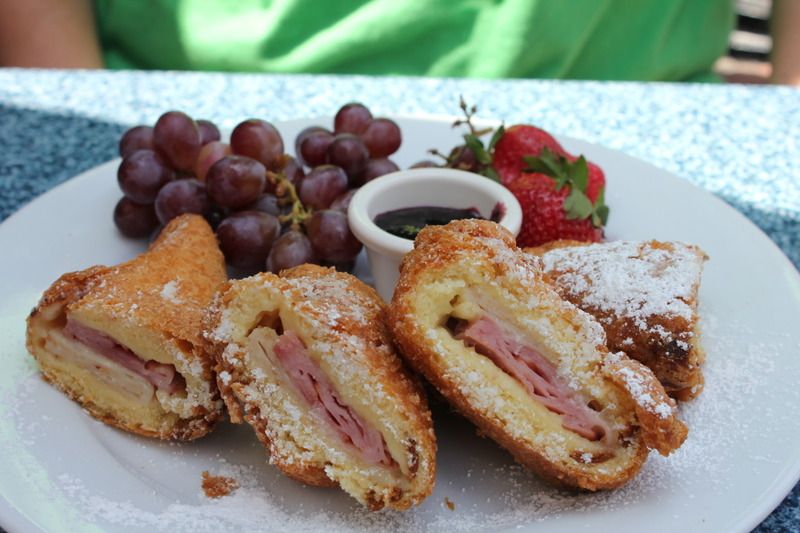 Cruisin' around the world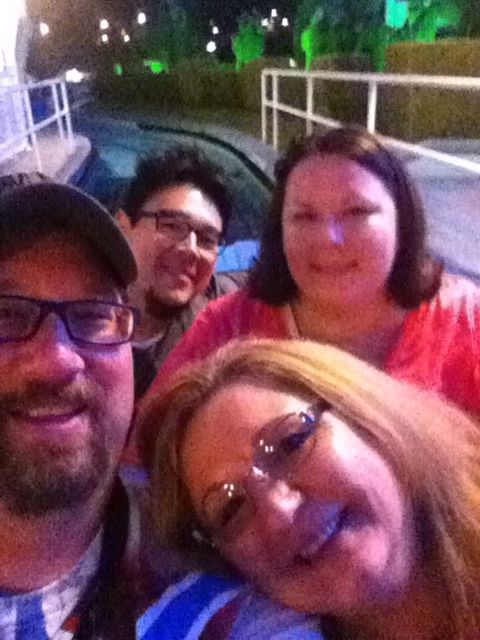 Nothing beats a late night Dumbo ride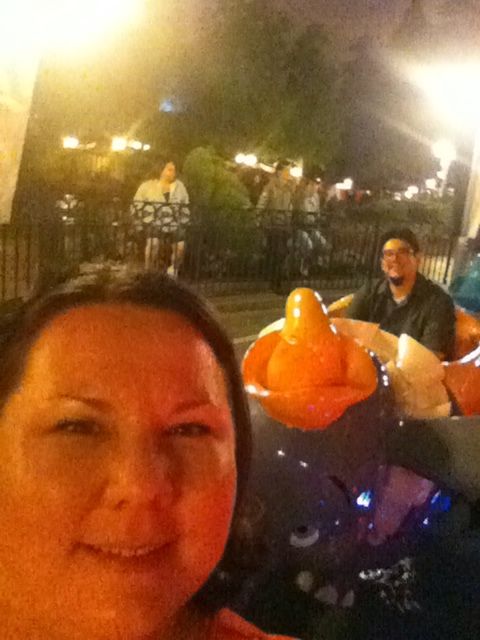 Ready to take flight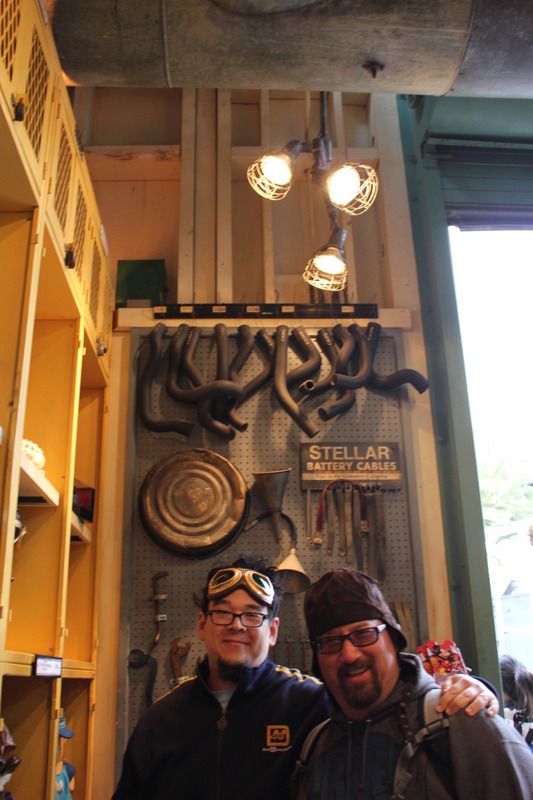 Ariel has a new look!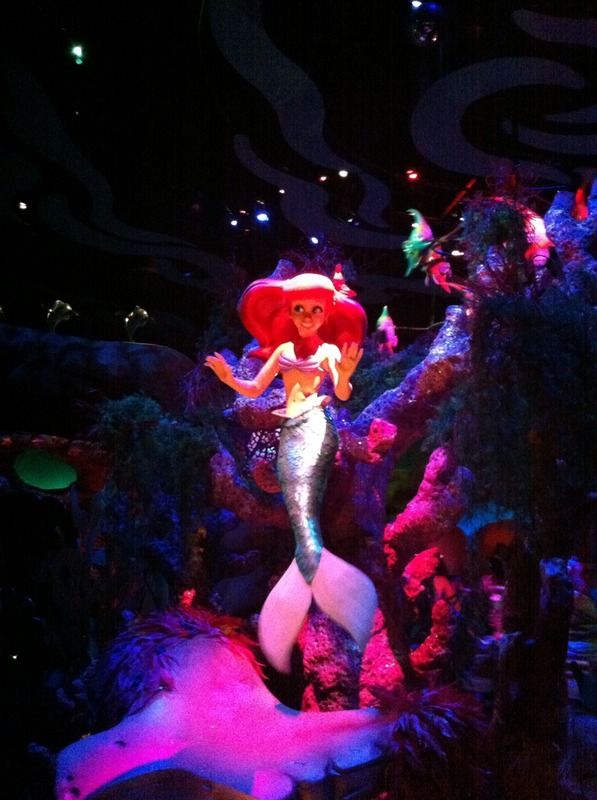 Check out them thar hooks!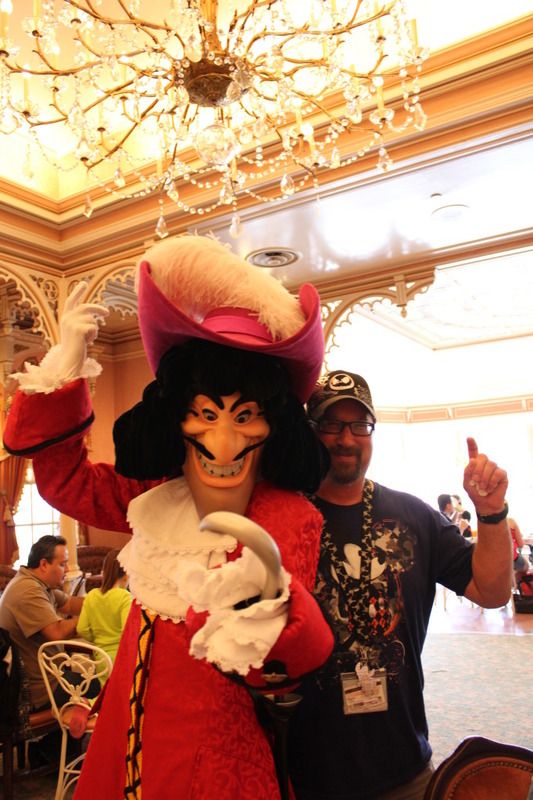 Mmmmm…..Pina Colava from Trader Sam's.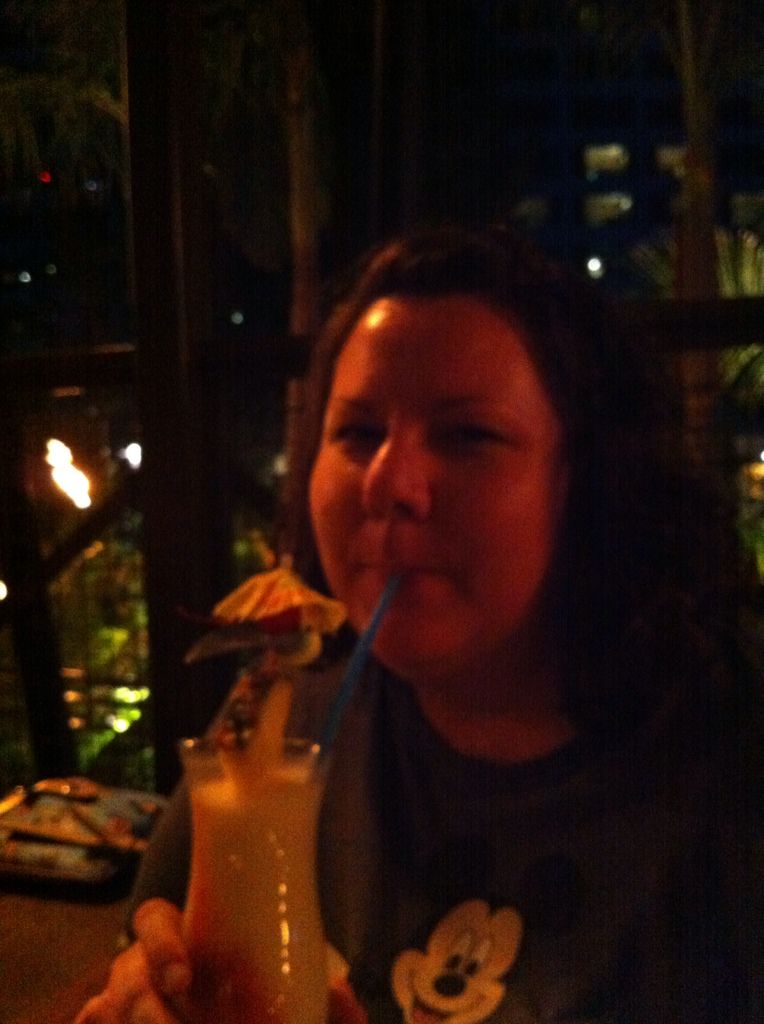 We ordered this just for the awesome tiki glass! I loved the way they made it look like a glowing volcano!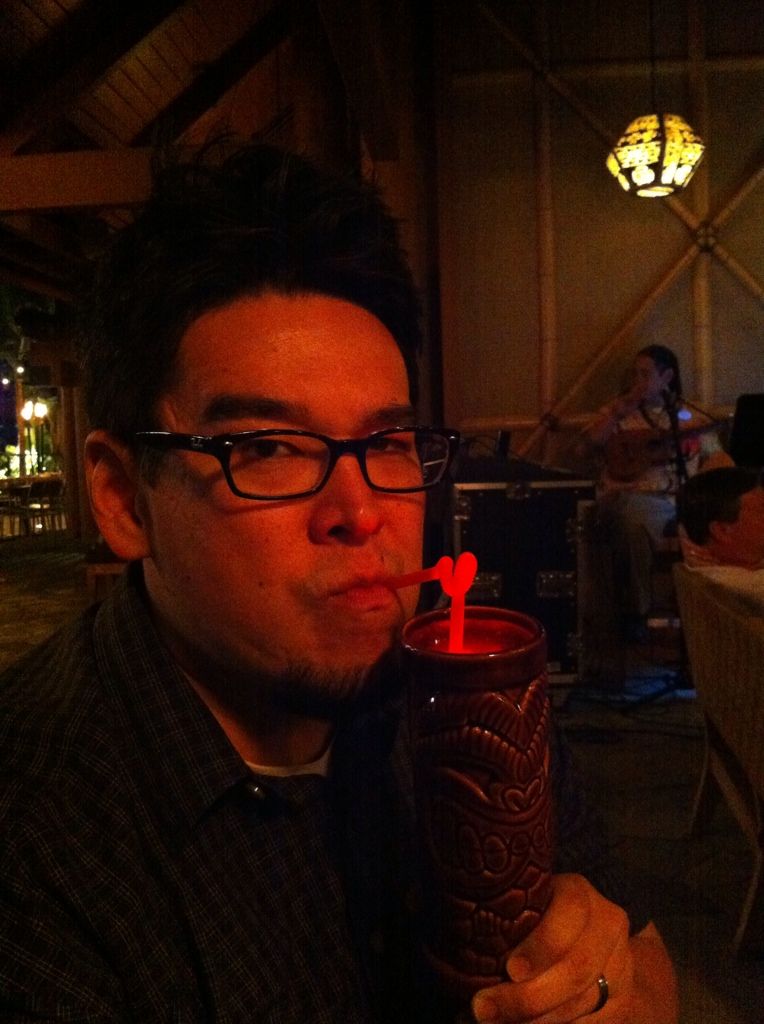 So sad to see this area closed off.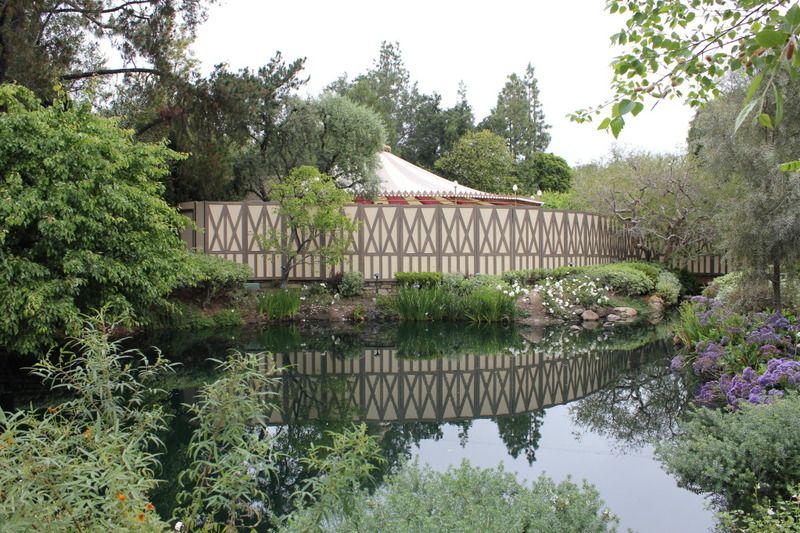 Gearing up for the competition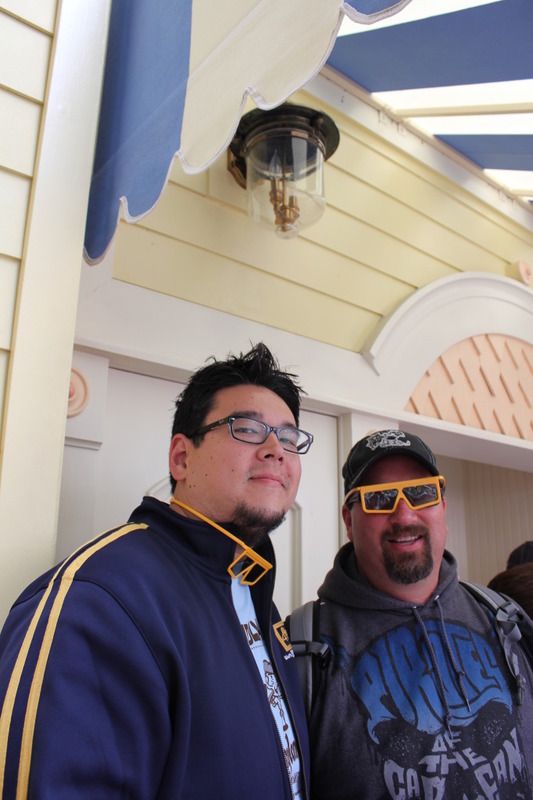 How completely awesome is this wallpaper?!?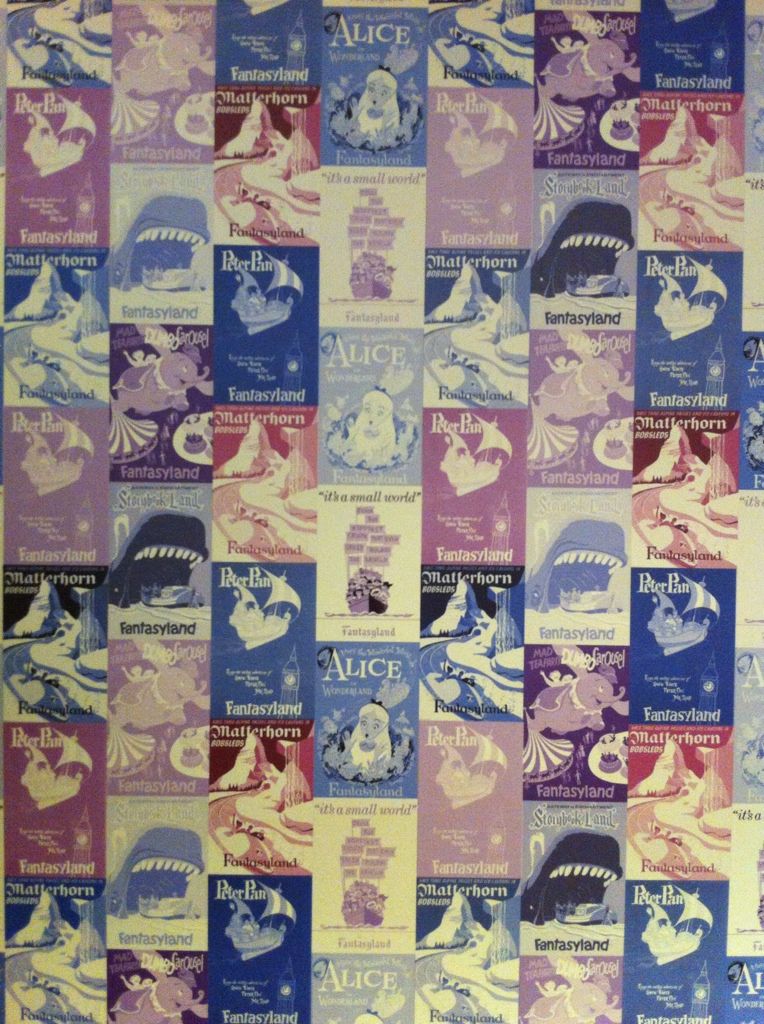 Cindy making her way across the bridge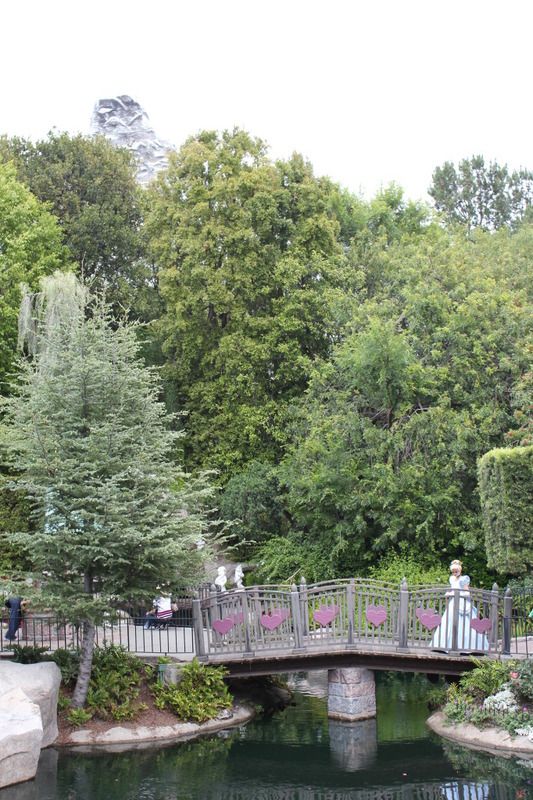 DM & DSD heading into Fantasyland!