We left the Studios around 4:45 and the plan was to go back to our room and relax a bit before meeting up with the family again for dinner. Note the operative word here is PLAN.


I don't know what it is, but whenever we stay in the DTD resort area, I have a tendency to get lost at least once on the way to our hotel. This was that time. What should've taken about 10 minutes ended up taking an HOUR because not only did I make not one, but TWO wrong turns, albeit in the general area of our resort, there was a MAJOR traffic jam. We finally got into our room a little before 6pm, which gave us enough time to sit down for a quick minute, change our clothes & freshen up. We were out the door by 6:30 to make our way over to the Poly.

After we parked, we made a mad dash for the 2nd floor to check-in for our 6:50 reservation at O'hana. When we got up there, though, I couldn't find the check-in stand. I remember it being in the area between the Tambu Lounge and Kona Café, but there wasn't anything there. It turned out they moved the check-in near the elevators and we had passed right by it when we first got up there. I clearly needed to slow down at this point.


When we found the line, my brother was already in it and almost to the front.
My mom & step-dad were parking their car, so we waited for them over at the Tambu lounge. A few minutes later my parents came in, and our table was ready almost right away. Yay!

The host took us around to our table where it seemed we were going to have a perfect castle view. Until we actually sat down and found that the view was completely obstructed. It wasn't a big deal, but it was just kind of weird to me – the restaurant has such great real estate, but it seemed like quite a few of the castle-facing tables would have an obstructed view.

My mom & step-dad have been to O'hana several times and consider it a favorite, but Daniel and I had never been. So every time we take a family trip, my mom always has it on her must-do list, but we've just never been able to make it work. When planning this trip, I was finally able to score an ADR for a date/time that worked with our schedule and even better, it was when all of us would be together. O'hana with the o'hana….it was kismet!

I've read/heard a lot of mixed reviews over the years and it seems that most people either love it or hate it, so I tried to disregard the hype and go in with an open mind. I will say that DH & I enjoyed it much more than we expected to, but that was solely because of the food. Our waiter was very nice, but he was MIA most of the night and we were left without drinks throughout the majority of our meal. When he finally did bring out our beverages, he spilled a glass of ice water down DH's back! Eek! I understand that accidents happen, but his first reaction was to dry off the chair and didn't even offer DH a towel! Daniel finally had to ask the guy for a towel so he could try to dry himself off and I had to point out to him that the fabric chair was a lost cause and to just change it out. While he was never rude or anything, he was so oblivious that it was almost frustrating. We did joke about the mishap for the rest of the night though, so at least it gave us some comic relief. lol

Overall, even with DH's impromptu bath, we really enjoyed the meal itself and it was so great to sit down to have a family dinner. I honestly can't remember how many years it's been since we've been able to do that. I don't have a lot of pictures from this night because we were really just focused on being with the family, but here are a couple from my phone…

Jason & I with our cocktails! Pina Colava for me and a Lapu Lapu for him.


The only food photo I grabbed this meal, and I have NO idea why the noodles & veggies were what I decided to take a photo of...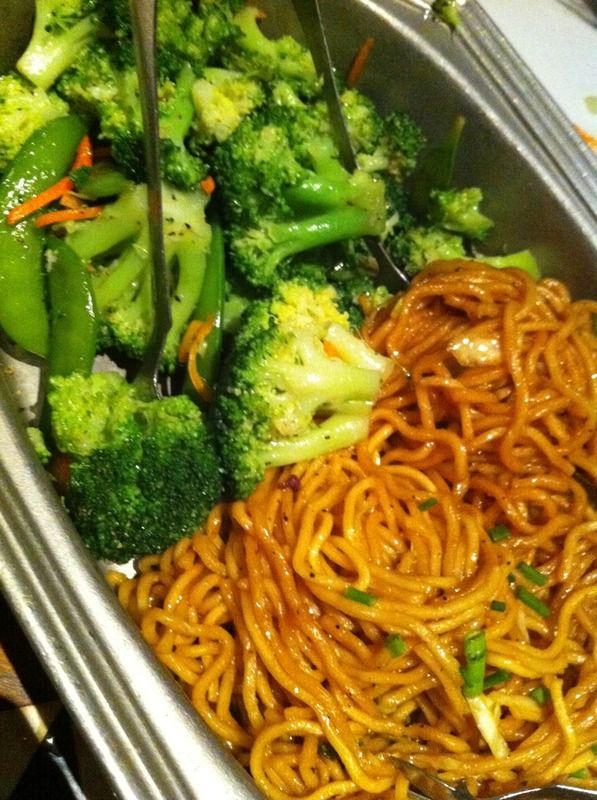 After dinner we toured the lobby for a bit and then went outside to grab some beach chairs and watch the Electrical Water Pageant & Mickey's Very Merry Christmas Party fireworks.


We LOVE the EWP, classic Disney at its best!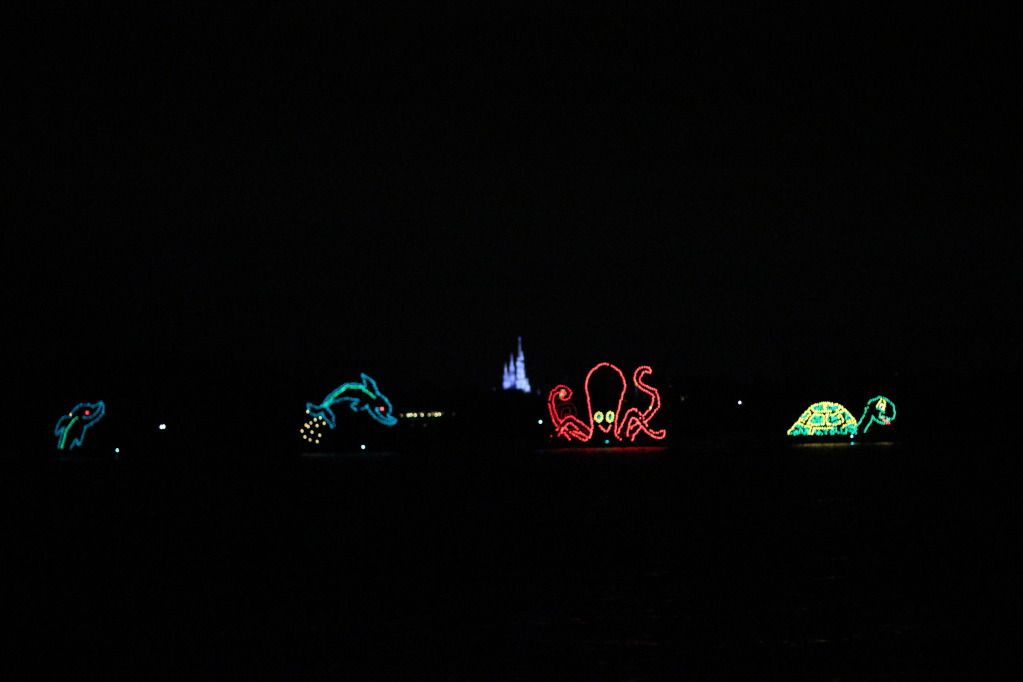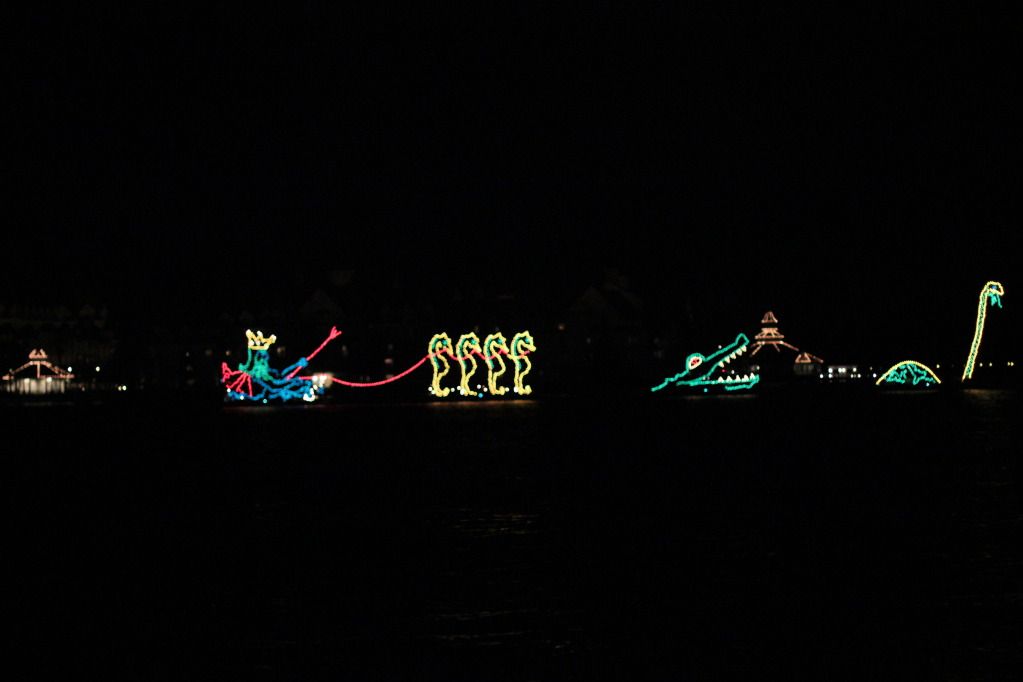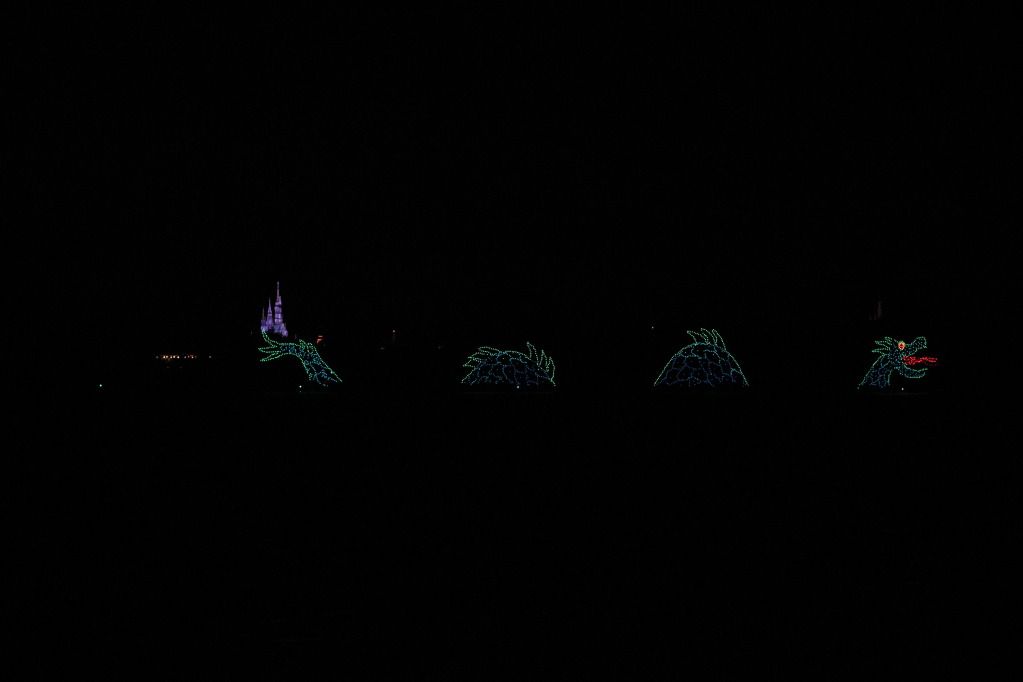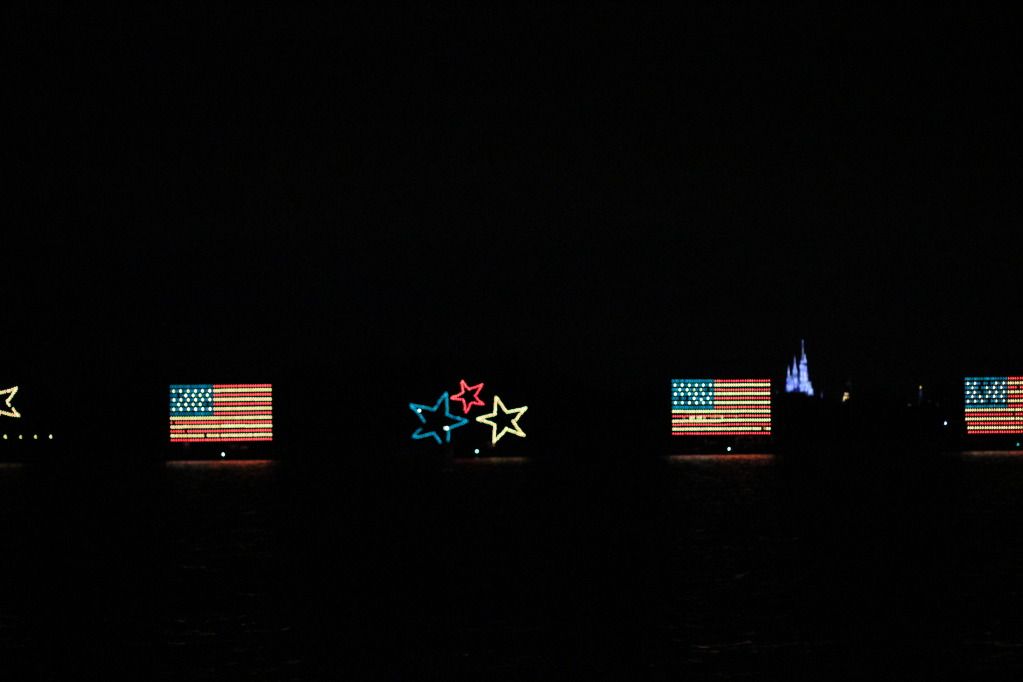 It was absolutely FREEZING this night - something we have never experienced at Disney. With the windchill it was 43 degrees and there was a big breeze coming off of Seven Seas Lagoon. We felt like popsicles, but we were determined to watch the fireworks from the beach and this would be my brother's only opportunity to see them. We tried to huddle close together on our chairs to keep each other warm, and when the fireworks finally started, I think we all forgot about the cold. The Poly beach offers such a great vantage point, especially for the perimeter fireworks that go off during the MNSSHP & MVMCP shows.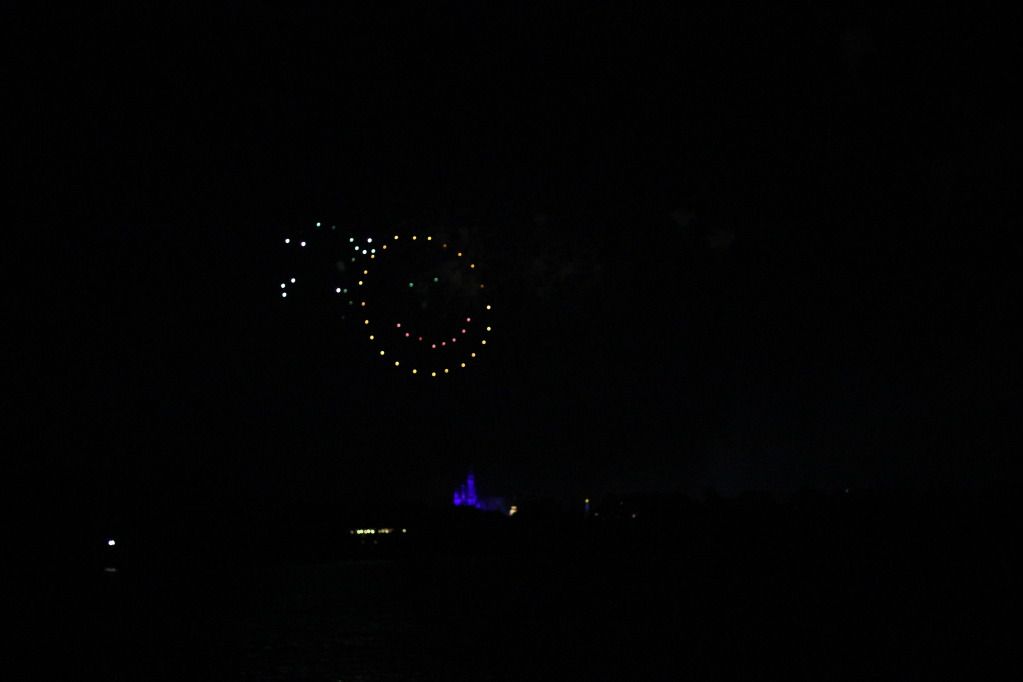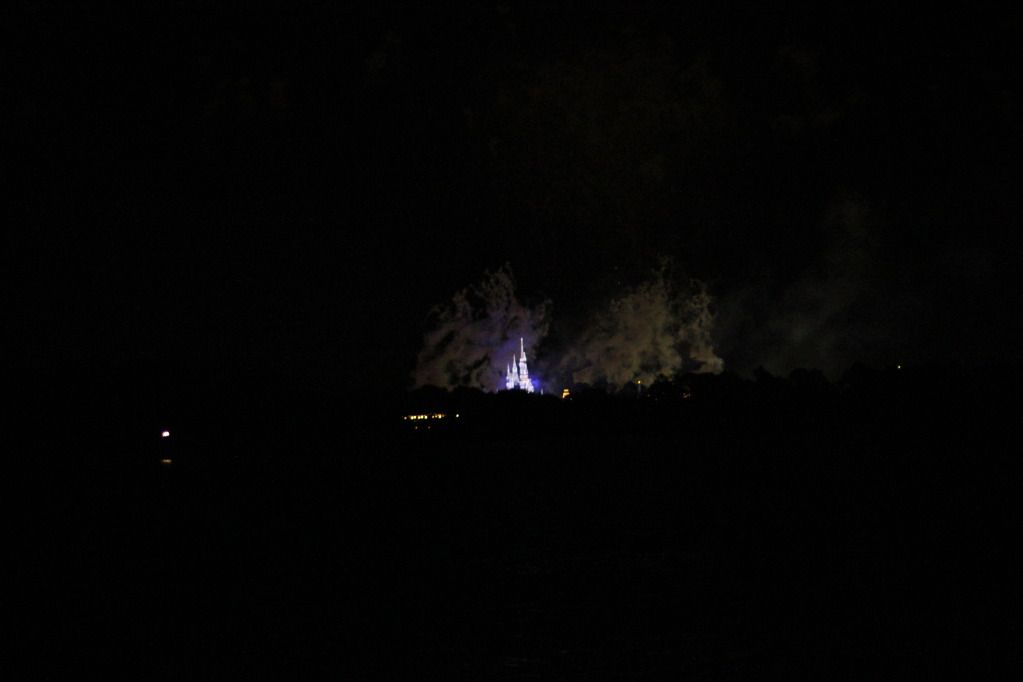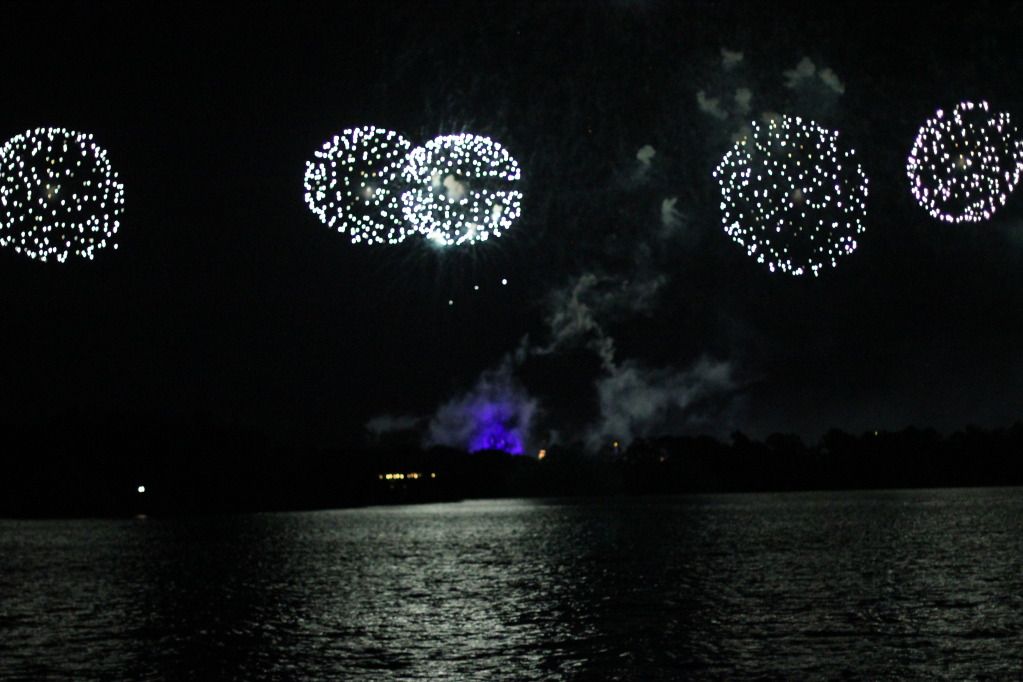 The quality isn't so great on these shots below because they're from my phone, but I just LOVE those perimeter fireworks…and in Christmas colors to boot!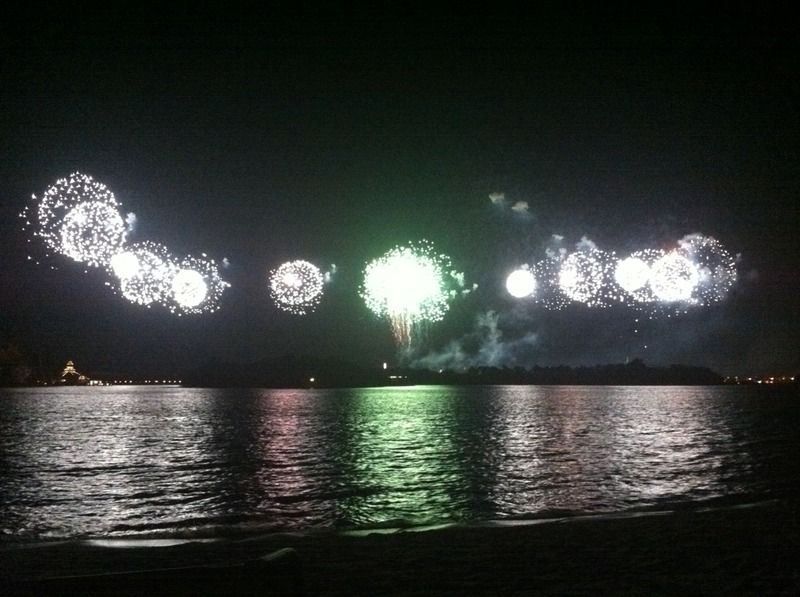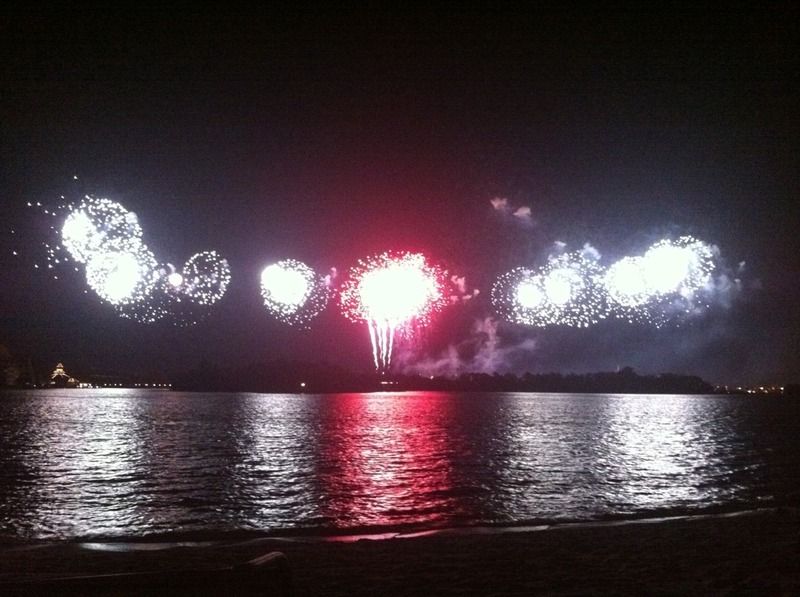 As soon as the show was over we BOLTED back into the lobby for warmth. It seems so weird even to say that, we're usually in search of AC!
We shopped in the BouTiki and found these guys...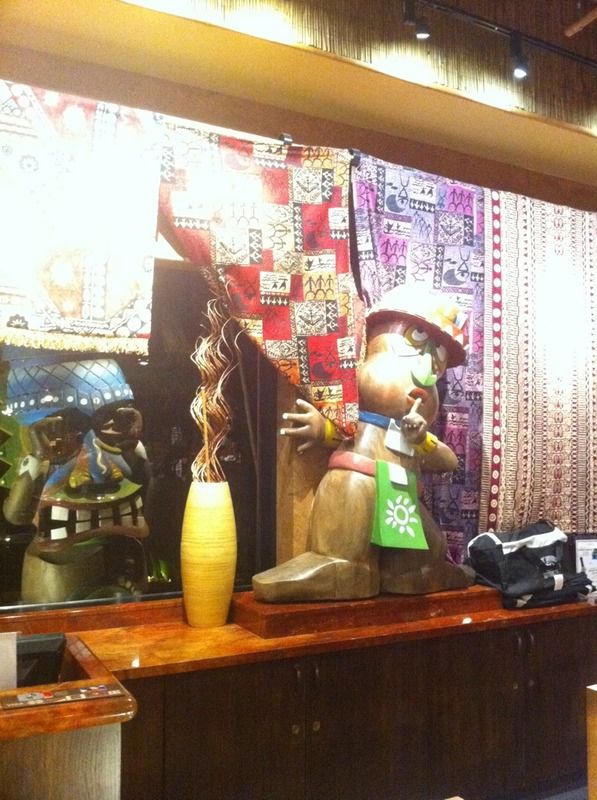 I was excited to show them the decorations on our car and DH wanted to check out their rental so we headed out to the parking lot. They got a great deal on a "premium" with Alamo and picked a Taurus with all kinds of bells & whistles. After chatting for a little while longer, we finally said good night and headed back to our rooms. We were all moving resorts the next morning and needed to get packin'.


Our last trip through the OKW gate…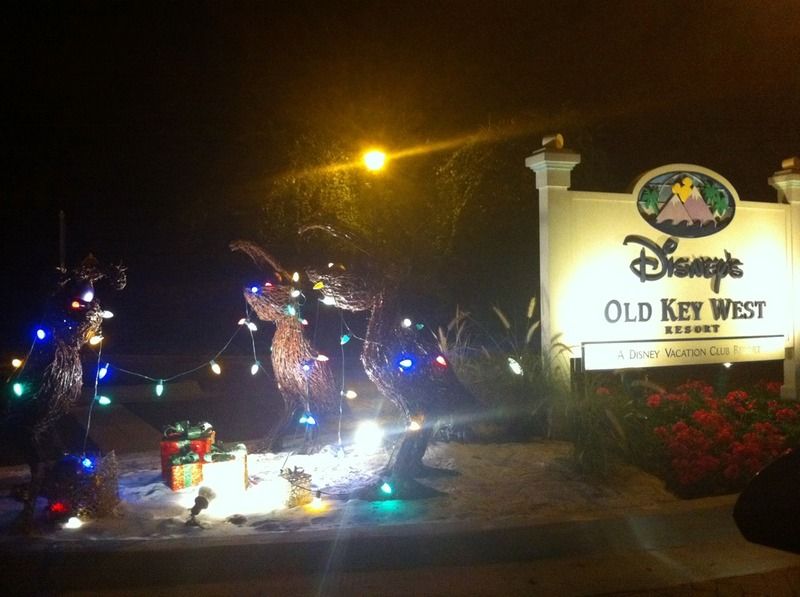 Next Up: We're headed into the Wilderness…