Happy Mother's Day, everyone! I hope you all had a wonderful day.


* * * * * * * * * * * * * * * * * * * * * * * * * * * * * * * * * * *

Day 3:

Today started with an early wake-up call, but after a little hustle-bustle in the morning the rest was set to be a fairly easy-breezy day. We had to get up & get packing cuz we were checking out of Old Key West and into Wilderness Lodge for the next 3 nights!

While we were getting ready, I went out onto the balcony to soak up the scenery for a bit because we really didn't get to spend much time enjoying the resort during our stay. After a minute or two I noticed this little guy:






Can you see him? I don't know why, but he cracked me up. He was just chillin' out there and I never saw any movements so he must've been out there the whole time. After a little while he ran down the tree, and it was time to get back my bee-hind back in gear.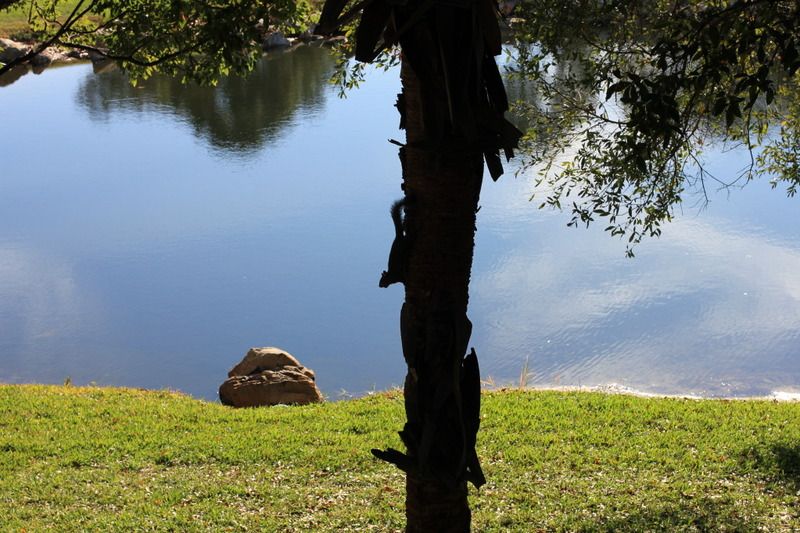 This was our first stay at OKW and we really enjoyed the laid-back pace of the resort. The grounds were a lot more impressive in person than what I saw in pictures leading up to our stay there, and the whole place had a very calming feeling to it. Even for all of those great qualities, it seemed to be missing a spark for us. We would definitely stay here again, especially for the great value it can be when renting DVC points (which we did), but it wouldn't be our first choice. The subtle theming was a nice change of pace, but Animal Kingdom Lodge and the Boardwalk are still at the top of our list.


Once we had everything all packed & ready to go, we loaded up the car and headed for the Wilderness! Let's see if the Lodge will make its way to the top of our list.




The guard at the gate was super sweet and loved our holiday-mobile.
: He gave us our new parking slip and sent us on our merry way.


We parked & headed inside to check-in. We were greeted outside the door by a cheerful CM who escorted us into the lobby and handed us off to another CM working at the desk. We did online check-in from home so we were done in no time. Before they gave us our Keys to the World, the CM disappeared for a minute and came back out with a backpack full of goodies for us. It was a gift from our travel agent!

The service at check-in was absolutely superb – even better than the one time we stayed concierge over at the Poly during our honeymoon. To our surprise, the room was ready (it was only 10:15am!), but instead of hauling our stuff to the room, we decided to relax in the lobby for a bit and search through our bag of goodies. My family was meeting us for breakfast at Whispering Canyon Café and they were due any minute.

Our view as we waited: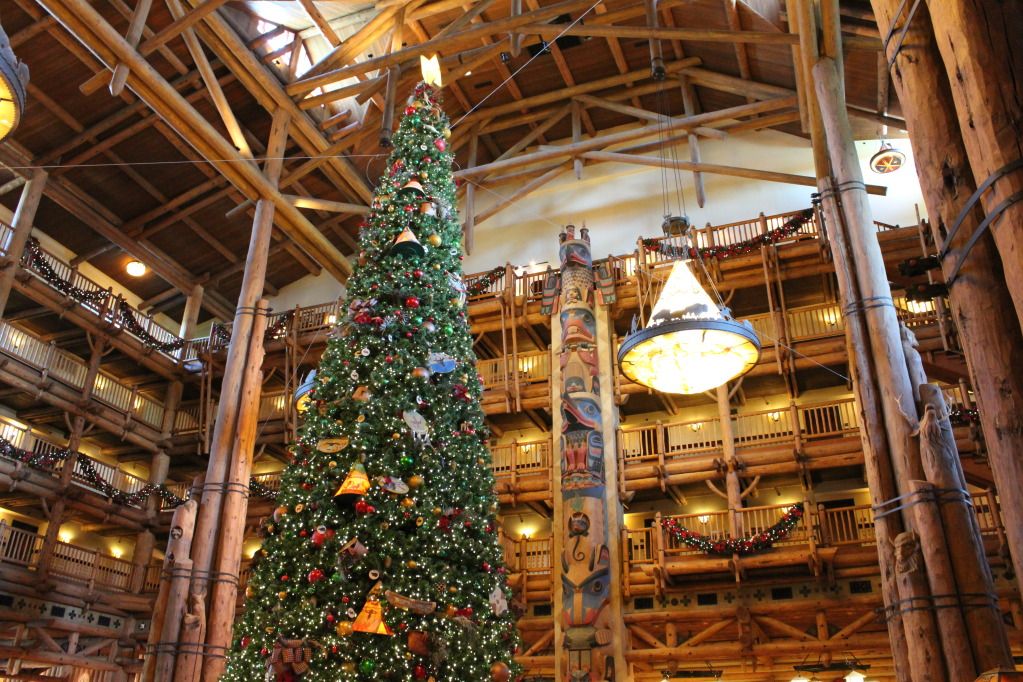 This was our first time using a TA, and while it had its ups & downs, in the end, the savings and the freebies were totally worth it. We booked through a TA that was sponsoring both the Reunion & Allears' December to Remember Events and they were offering an amazing group rate. We paid about $210/night for a woods view; the rack rate is about $335/night so we saved over 35%. Not too shabby! Also with our reservation, we were invited to a free Illuminations dessert party. Something I've always wanted to do!

Sadly, I didn't think to take pics of our welcome bag. It included a medium sized backpack, an aluminum water bottle from Touring Plans, a travel lanyard, some snacks and our credentials for the Illuminations dessert party. It was a really nice and unexpected treat!

Our ADR was for 10:30 and the time was quickly passing by, so I called my mom to see if they were close. They were running late because they were also busy packing up that morning. They were checking out of AKV and moving over to the Hard Rock Hotel at Universal for the next few days. Since our ADR was at the tail end of breakfast, I was worried we'd lose our spot. I explained the situation to the CM at the check-in counter and they agreed to hold a table for us. Yay! My family arrived a few minutes later and we were seated right away.

There were only about 5 other tables in use so we received a LOT of attention from the CM's as they prepped for lunch. One waiter in particular, who wasn't even working our table, decided my mom could use a little help with her hair. Check out the results. Ain't it purdy??

WARNING: Grainy Phone Pics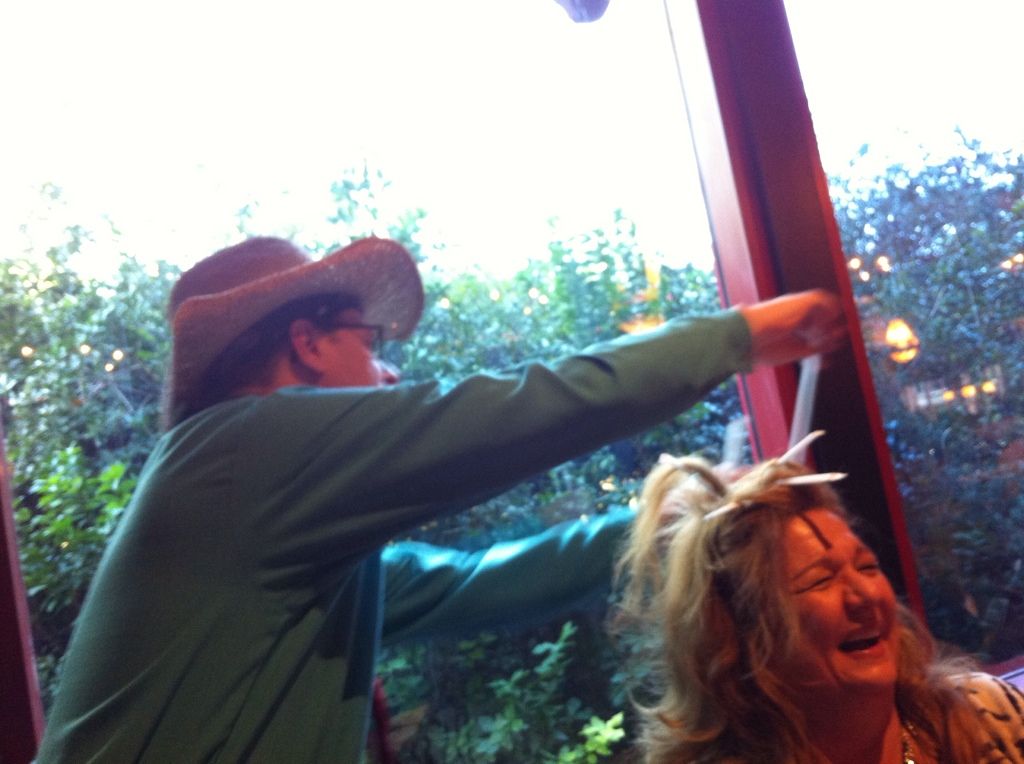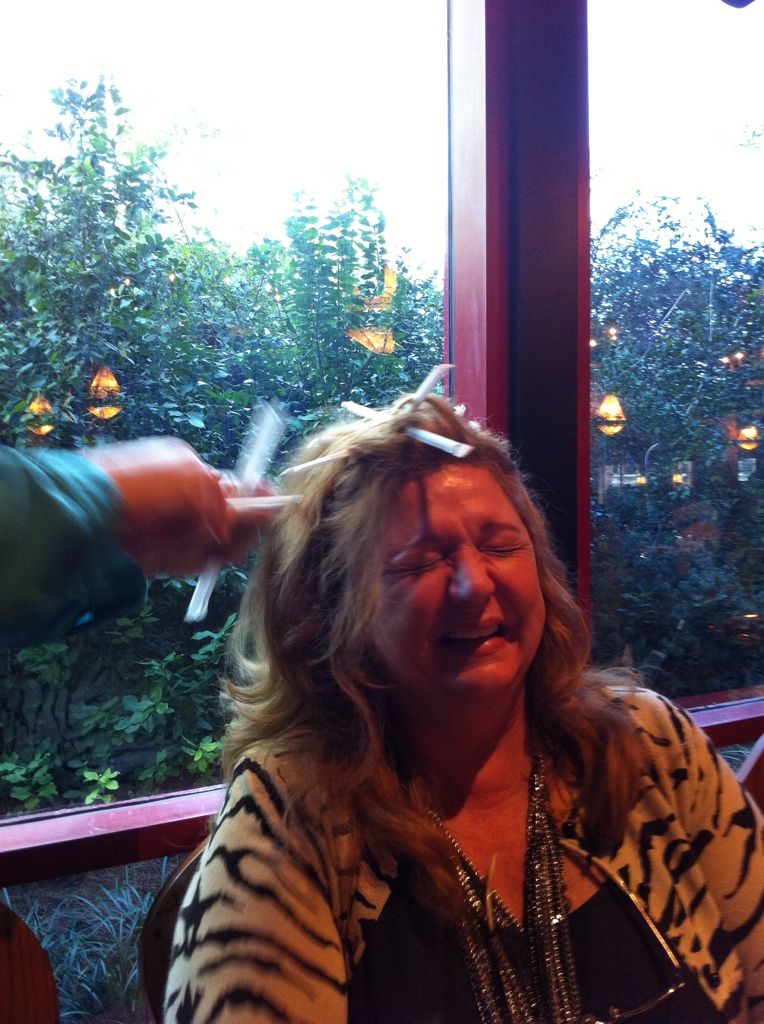 My DSD ordered a Coke and he was finished with it almost as soon as they brought it out. Apparently he was quite thirsty! lol This is what they brought him for a refill!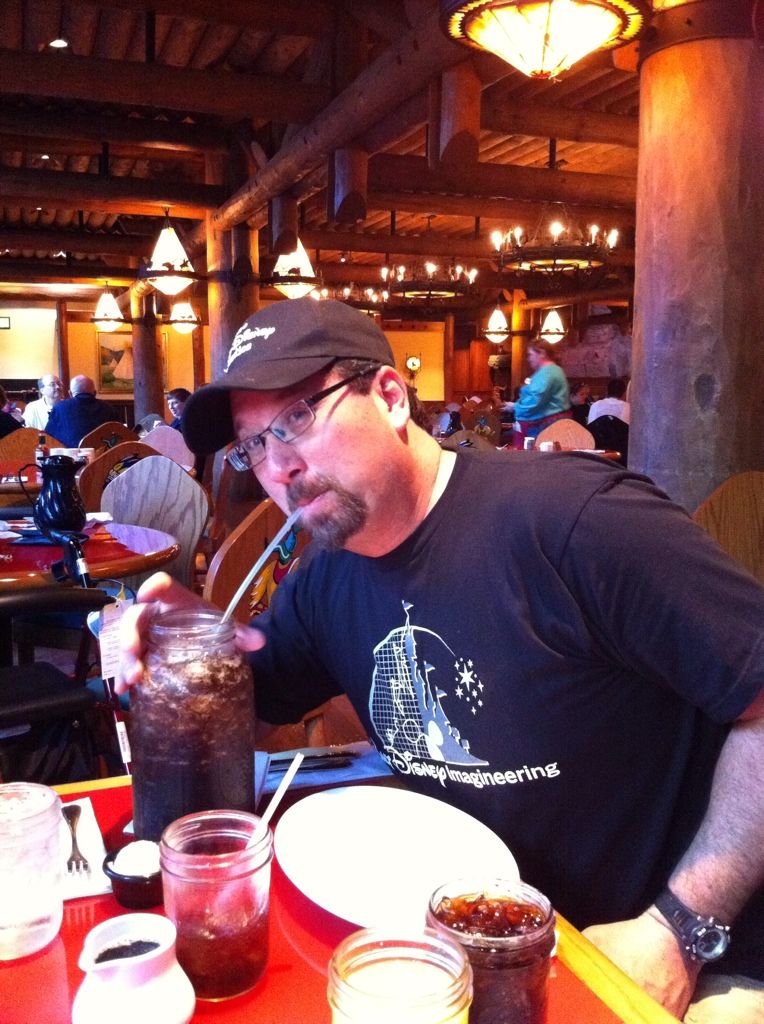 He was in sugar heaven!

We ordered the All-You-Care-To-Eat Canyon Skillet for the 5 of us to share. It includes: scrambled eggs, roasted red potatoes, bacon, sausage, waffles, buttermilk biscuits, and sausage gravy. It was deeeeeelish! Everything was hot & fresh. The server was attentive in that he'd ask if we needed anything, but he was super slow to bring it out. That was the only downside.







I ordered a pecan sticky bun on the side to share with DH. I was worried it might be dry, but it was SOOO good!! It wasn't dry at all and not too sweet. I want another one right this minute, please!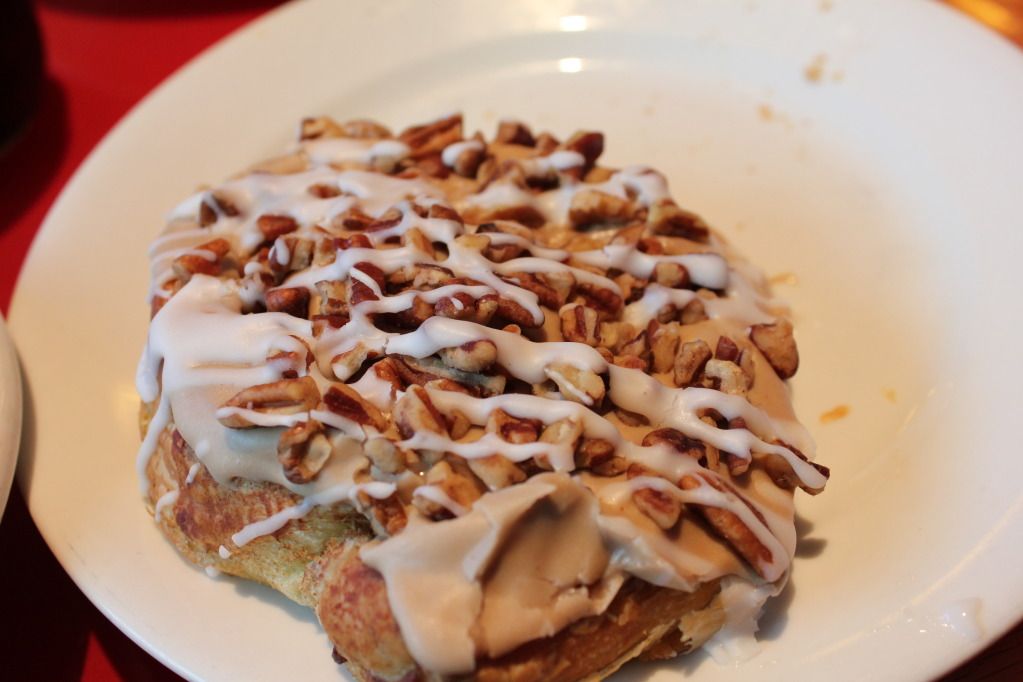 This was our second time trying breakfast here and I have to say that this experience far surpassed our first one. We first tried this breakfast in October of 2009 and most of the food was dry and tasteless, and the service was painfully slow. We only gave it another chance because we were staying at WL and wanted to experience it again. It certainly redeemed itself! The food was MUCH better this time around and the service was much better. Not great, but much better.


After breakfast, DH and I had tickets to one of the Allears' events and my family was heading to AK for a few hours.
Next Up: Plans shmans...