It never fails; in the weeks leading up to a trip, I start to have dreams where we're on the plane headed for WDW, wearing our PJ's, with NO luggage, and NO itinerary. Oh, the horror.


In reality, it seems that no matter how much I prep & plan before our trips, I'm always rushing at the last minute to get it all done & ready. This trip was no exception, meaning there wasn't much sleep happening the night before we left. We had to leave the house at 3:30 in the morning and my sweet dad drove us to Ontario airport at dark-thirty for our 6am flight. Just in case you were wondering, yes we were wearing regular clothes, had our luggage all packed & our itinerary ready to go!


We had an easy check-in with Southwest, then stopped by Starbucks & paid $247 for a bottle of water & some muffins to snack on during the flight (OK maybe I'm exaggerating, but airport prices are seriously insane). From there we just sat & people-watched until it was time to board, where I'm 99.9% positive that we saw the "Octomom" (sans brood) also waiting for a flight.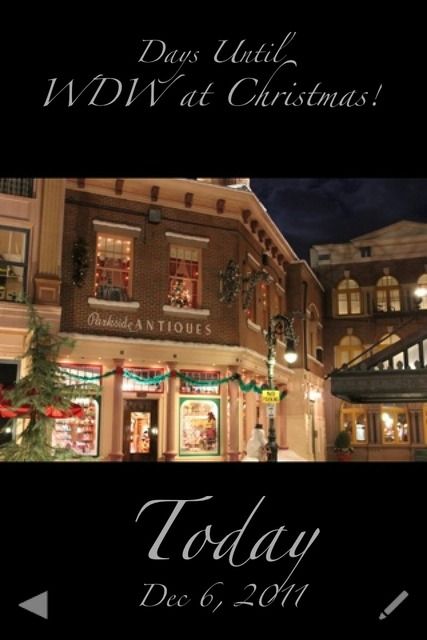 The time has come.
By the time we boarded, I had been awake for 24+ hours and was really starting to feel it. As soon as the plane left the ground I knocked out, so I don't remember much other than the take-off & landing. We had a short layover in Phoenix where we changed planes. We tried to get some sleep on the 2nd leg to MCO, but Daniel has a hard time sleeping in planes and I was just too excited. We passed the time doing word searches together & playing multi-player Boggle on our iPad. How exciting are we? At 4:25pm, we arrived at MCO right on time.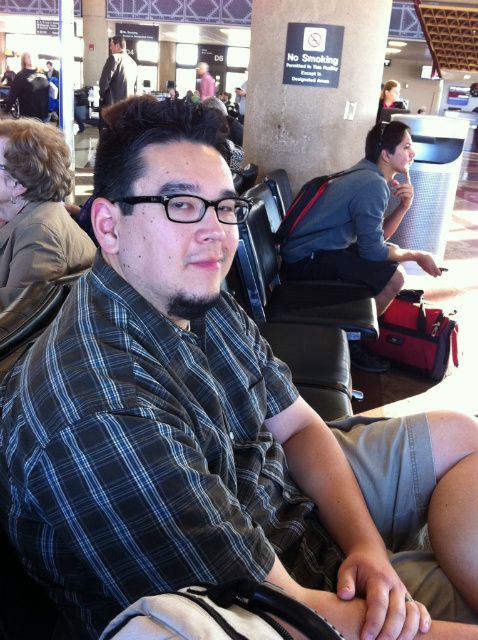 Sleepy hubby waiting in Phoenix.

Aside from the dreams/nightmares leading up to our trips, I also have a tendency to become ever-so-slightly paranoid about getting sick. A month before we leave, we increase our vitamin C intake and add Echinacea to our daily routine. Inevitably, a few days before we're set to leave, I'm certain that I'm getting a sore throat. Daniel just rolls his eyes because, thankfully, I've been wrong every time. (Gees, I really sound nutty don't I?
) This time was different, though. This time I felt it coming and didn't say anything, hoping it would just pass and that I was wrong like I had been EVERY other time. When we got off the plane in Orlando, my ears were completely full of fluid and I couldn't even hear myself talk. But I'm sure they just needed to pop, right?


We took the infamous MCO monorail ride and followed the herd toward baggage claim. Is it just me, or does it seem like it always take the bags an hour to get to the carousel? I'm sure it's just because we're so excited to get on the road to Disney, but it seriously feels like forever.

After all of our pieces were located safe & sound, we headed toward the Alamo car rental counter. We got a great deal with our Costco discount at $185 total for a full size car for the entire trip (13 days)! Oh, how I love a good bargain. After breezing through check-in (in other words; , dodging all of their extra services - insurance, GPS, pre-paid gas, etc), we headed out to the garage to pick out our car, which is something I love about Alamo. There were about 15 cars in our aisle, but there were only 3 different models to choose from: a Nissan Altima, a Chevy Impala, and a Crown Victoria. The Altima seemed too small for all of our luggage (and my curvy bottom). We skipped the Crown Vic because we didn't want to have the theme song to "Cops" stuck in our heads the entire trip (you're welcome if it's now stuck in your head
), so we plopped our stuff in a snazzy dark grey Impala and headed for the exit. I'll show you a picture of our car later in the report, but look how cute this Muppets movie advertisement was hanging from the mirror! Our trip was already off to a good start. Well, aside from the whole plugged up ear thing.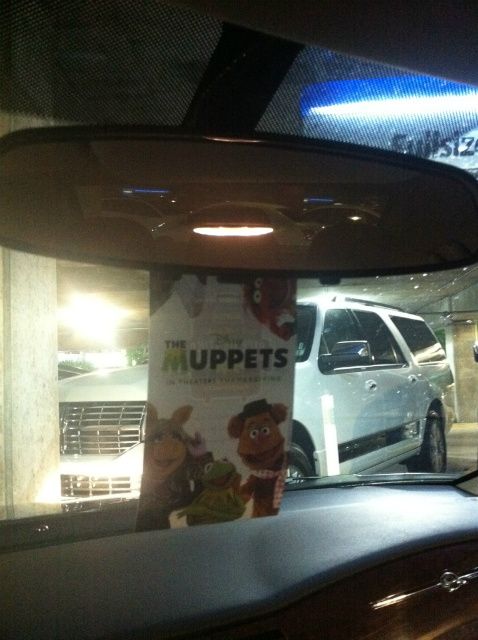 Muppets!

We were on the road by about 5:30pm and our first stop was Super Target off 192. This is our routine every trip. We usually buy most of our toiletries when we get to Target, and we also get lots of Cherry Coke Zero, water & snacks for the room. Why specifically Cherry Coke Zero, you ask? While it is something we can get at home in CA, we first stumbled upon it at this Target on our very first trip back in '08, so it's become a tradition for us & we save it for WDW. Kinda weird, I s'pose, but it's just something we do. Since my ears still hadn't popped yet, we picked up some DayQuil, you know, just in case, and off we went.


Next stop: Old Key West, with lots of photos!