After our Magic Kingdom Resort tour, we chilled out for a bit in our room and took a not-quite-long-enough nap. If you've ever taken a nap on your WDW vacation, don't they always feel that way?! We freshened up, I applied a fresh coat of mascara, and off we went.

Our first stop of the night: Hollywood Studios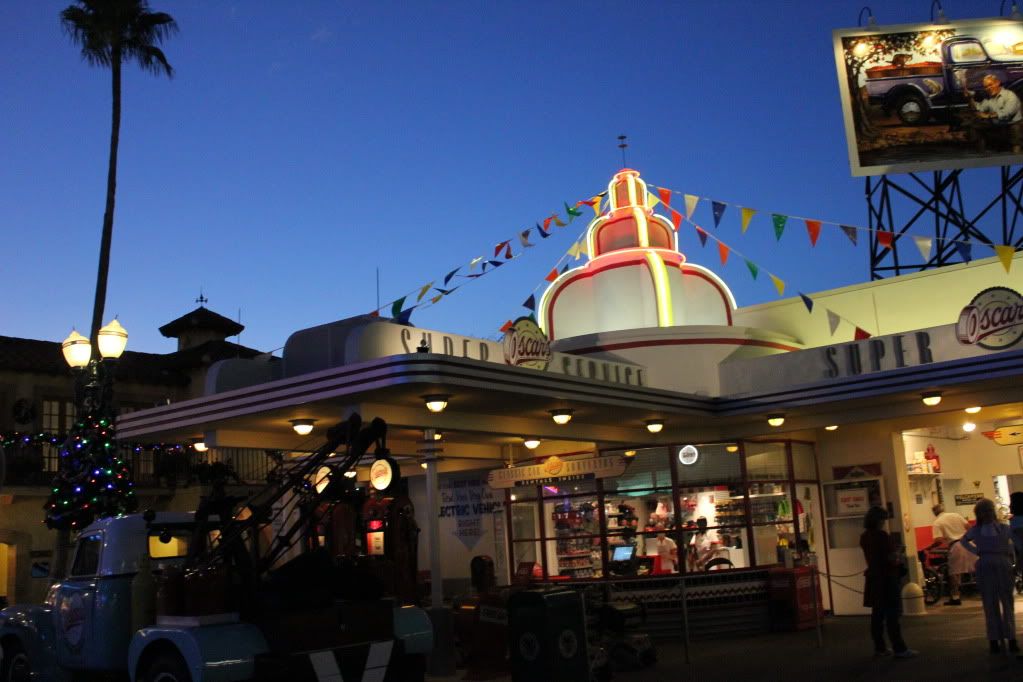 Where's our red carpet?!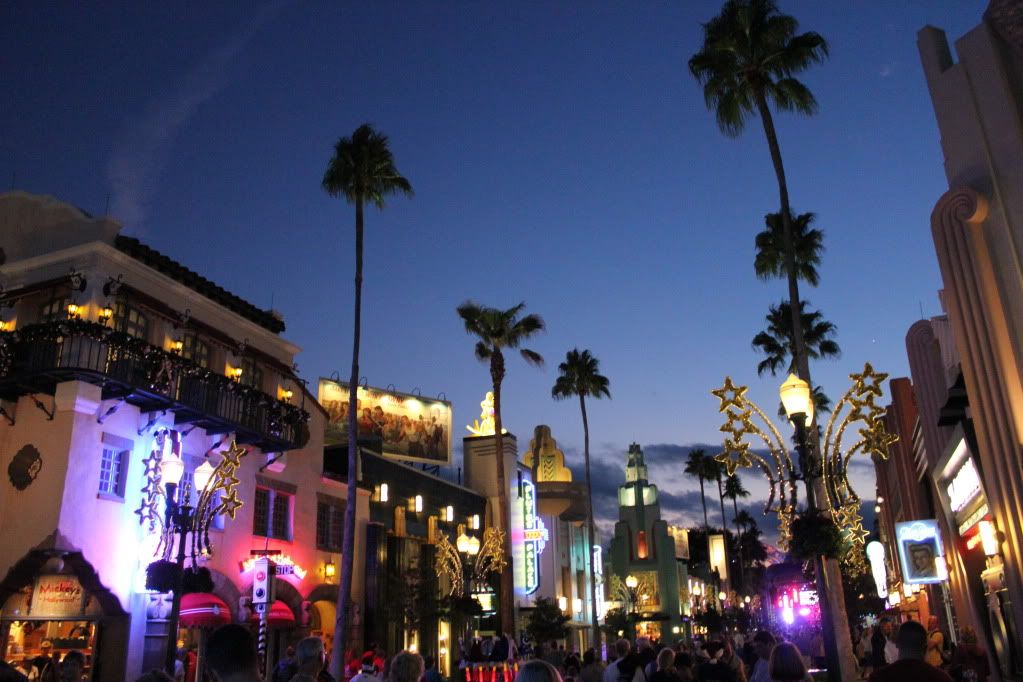 We had dinner reservations at Mama Melrose, a first for us. Leading up to the trip I read reviews that were either really good or really bad, so we decided to just try it for ourselves.

The bread was good. Warm, fresh & not too chewy or dry.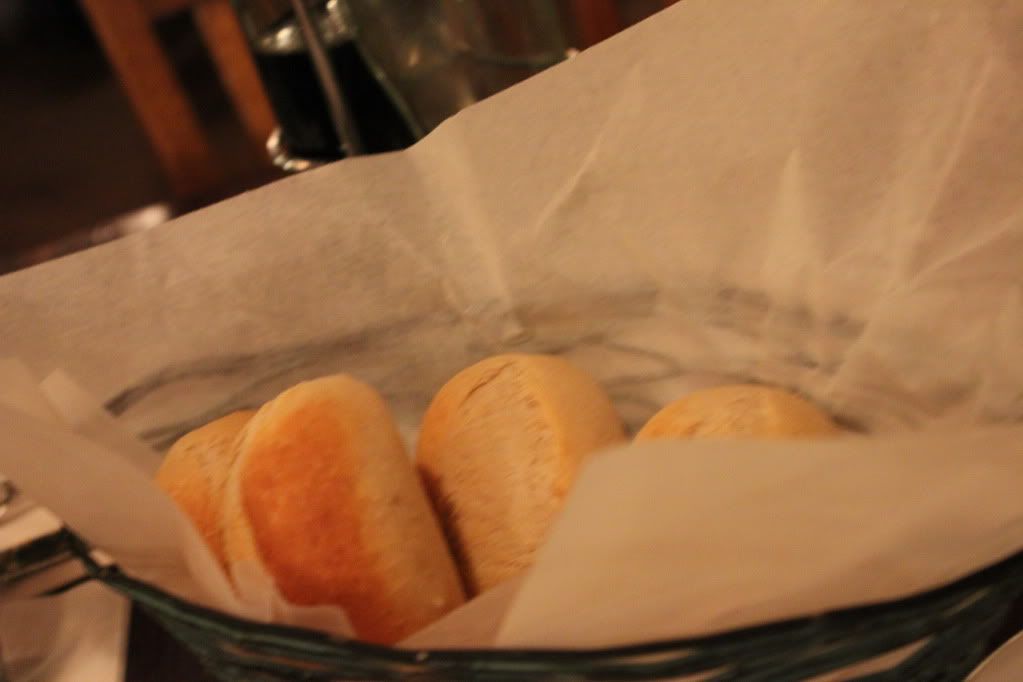 We each ordered a starter Caesar salad. I remember this was surprisingly good, I just wish I would've asked for more croutons. They were crunchy, garlicy & cheesy. Deeelish!




We each ordered an entree to share, first was Chicken Parmigiana alla Spaghetti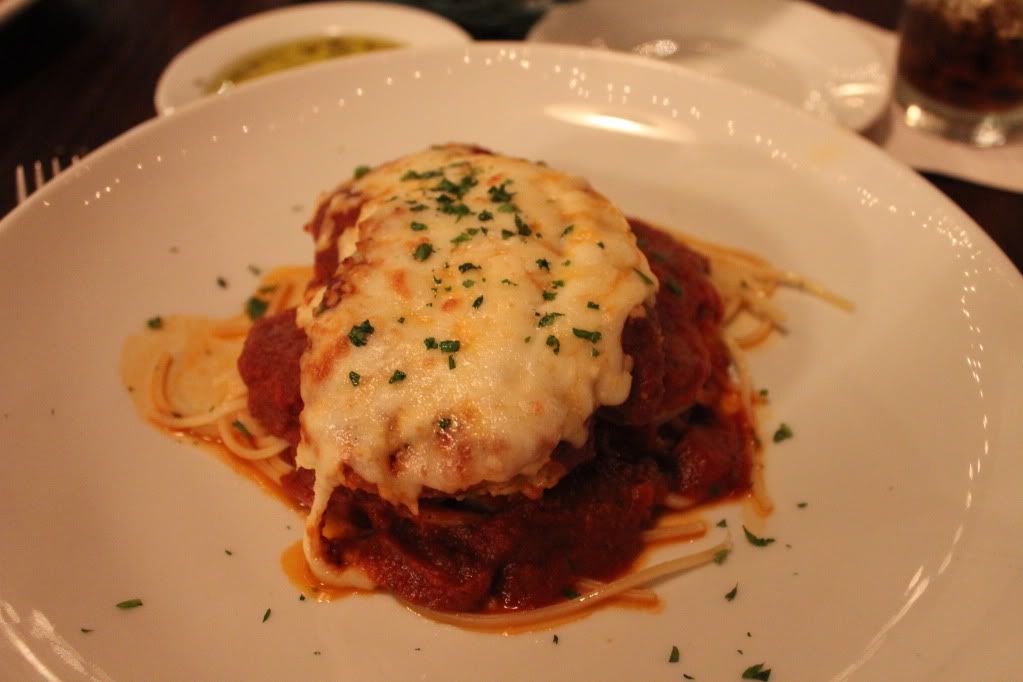 This was just OK - very standard and nothing special. Bland would be a good description.
We also had the Charred Strip Steak with five-cheese baked macaroni, aged balsamic-shallot butter, and sans Chianti Wine Reduction

The steak was more fatty than I would prefer, and also wasn't anything special. The mac & cheese was pretty tasty, though, so that went pretty quickly.
The best dish up to this point was the salad, and after reading all of those so-so reviews we were feeling, well, so-so about it. The saving grace, however, was our server. He was attentive, personable, and kept our drinks full. Major plus.

When it was time for dessert, I knew exactly what I wanted to order. I read about it on the Disney Parks Blog and couldn't wait to give it a try. When I ordered (sans menu), I seemed to catch the server off guard a bit. He said the item was actually on the kids menu and didn't get the love it deserved. I assumed DH & I would just share, but after hearing our conversation he was intrigued and decided to order his own. Thank goodness.

What is this underdog dessert, you wonder? Ladies and Gentlemen, I give to you the Spaghetti and Meatball Cupcake. Yes, this is a thing. A very good thing.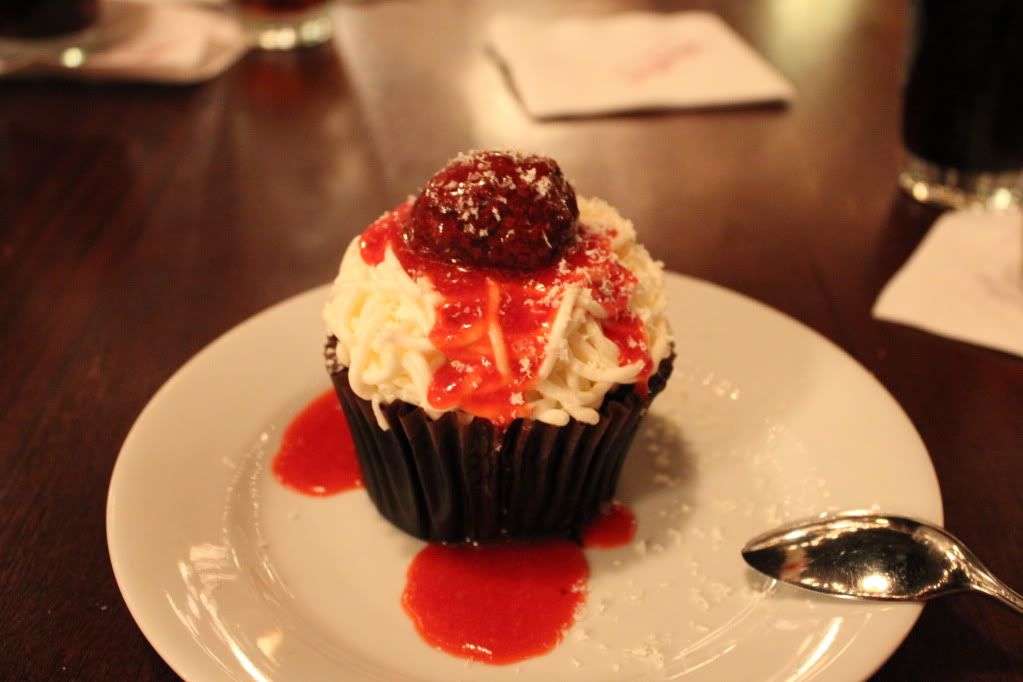 It's a chocolate cupcake, topped with vanilla buttercream spaghetti, a chocolate truffle meatball, strawberry marinara, and sprinkled with white chocolate parmesan. AH-MA-ZING. Our plates were CLEAN. This is easily one of the top 3 cupcakes in all of WDW, and there are a lots to choose from these days. All I can say is that we have reservations to go back this December.

Another shot, because, well, why not?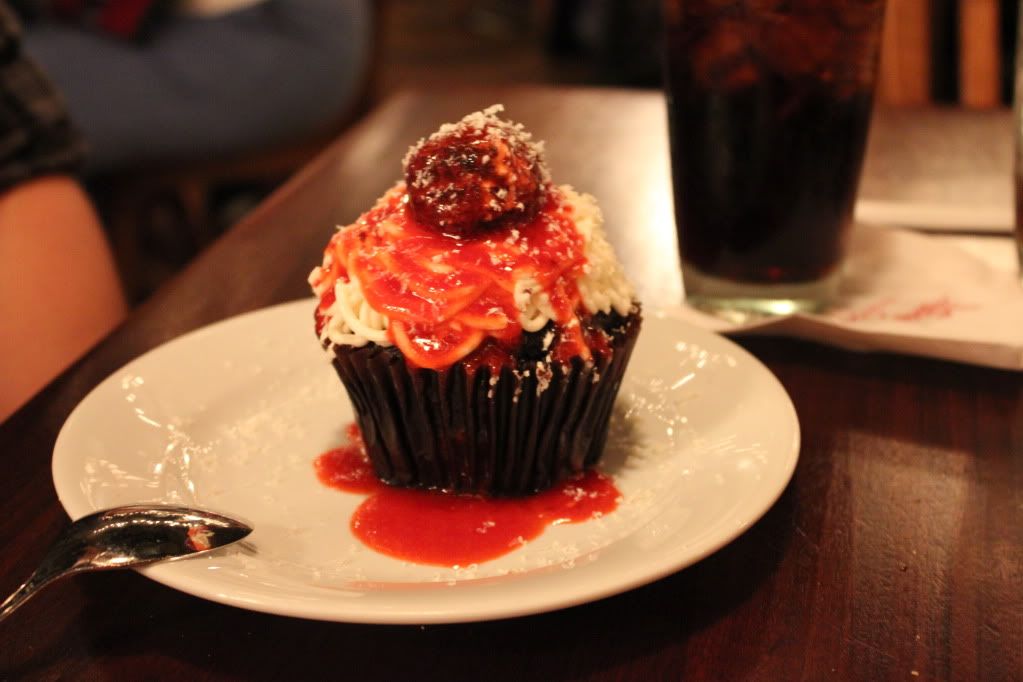 Click here for the link to the post on the Parks Blog.

Leaving dinner, we saw they were herding the crowds for the Osbourne lights around the backside of the Streets of America towards Lights, Motor, Action. We hopped into the sea of people, then I looked up and this was my first glimpse at the lights, which immediately made me all misty-eyed.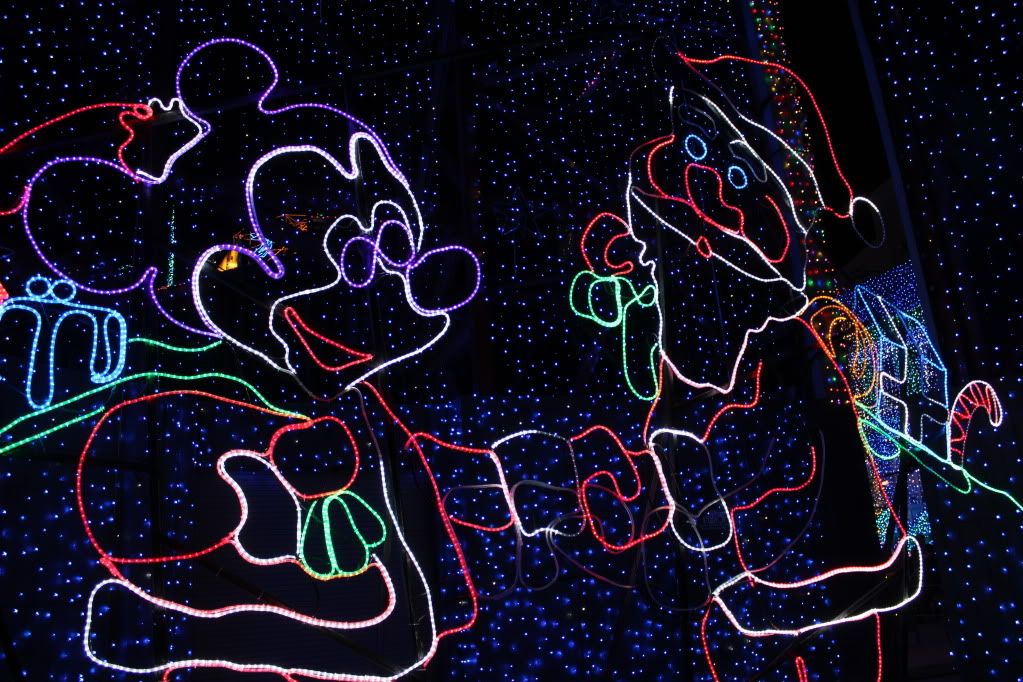 Decorating for Christmas has always been a HUGE thing with both of my parents, with exterior lights being my dad's specialty. I mean, he's won awards from his Homeowners Association for his lavish holiday displays, so seeing the thousands of gorgeous twinkling lights was all just really overwhelming & nostalgic for me. I know my dad would just go crazy for this, especially the Santa & Mickey. My guilty daughter conscience kicked in since we were having this incredible experience while he was back at home in CA. Now I'm just all that much more excited to be able to go back with him on a future trip! That was my (super) sappy moment, now back to the lights...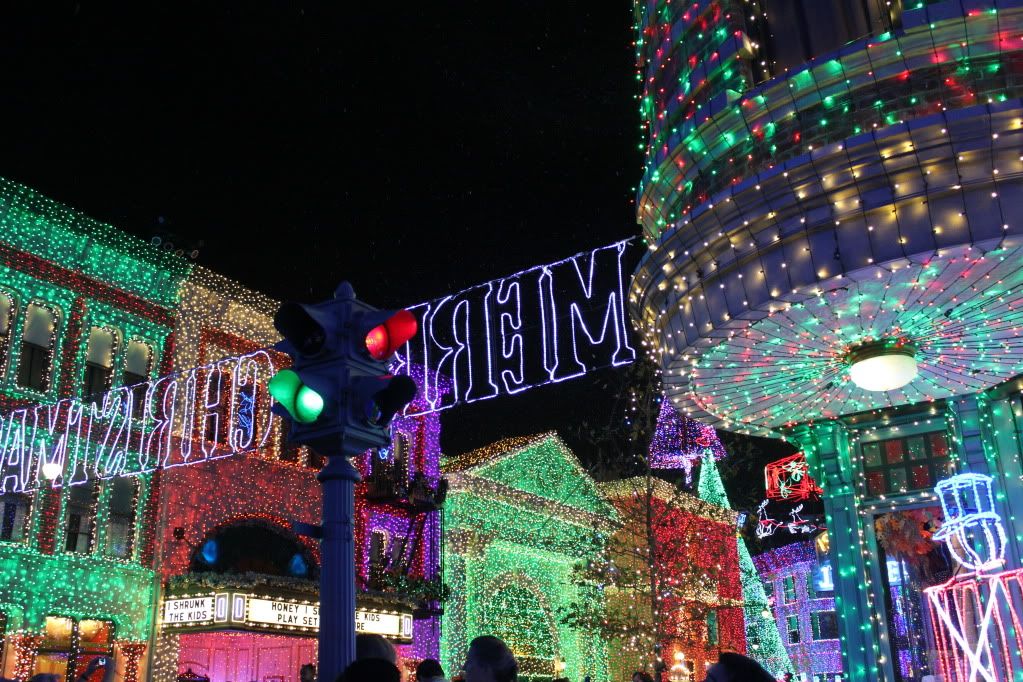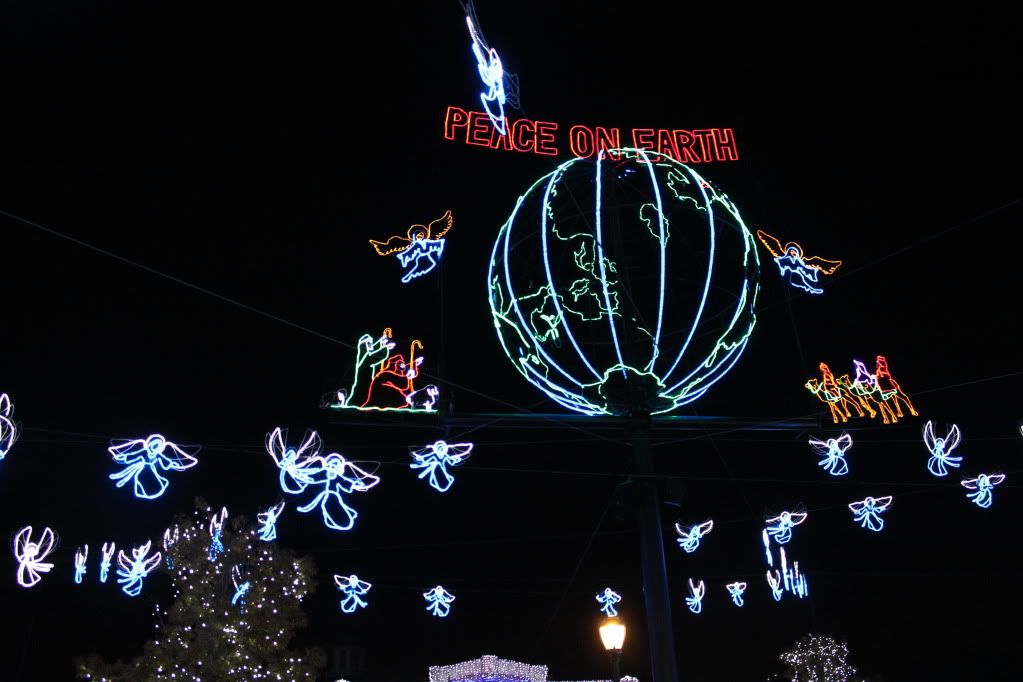 It was seriously so very crowded. Thankfully I anticipated this going in so we were mentally prepared for the herds.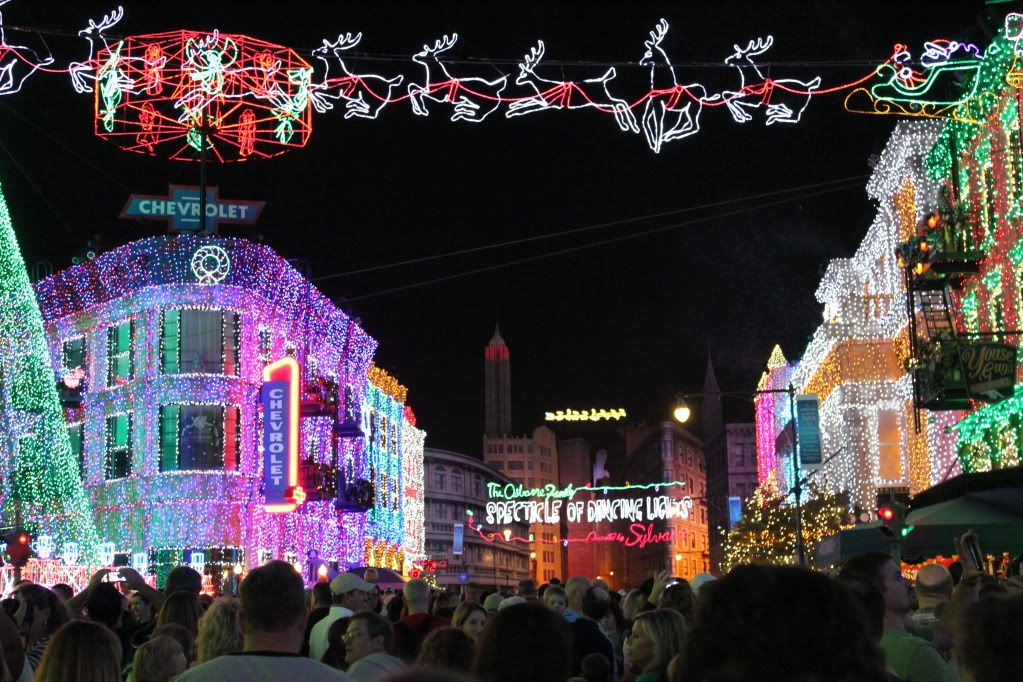 Mooooo......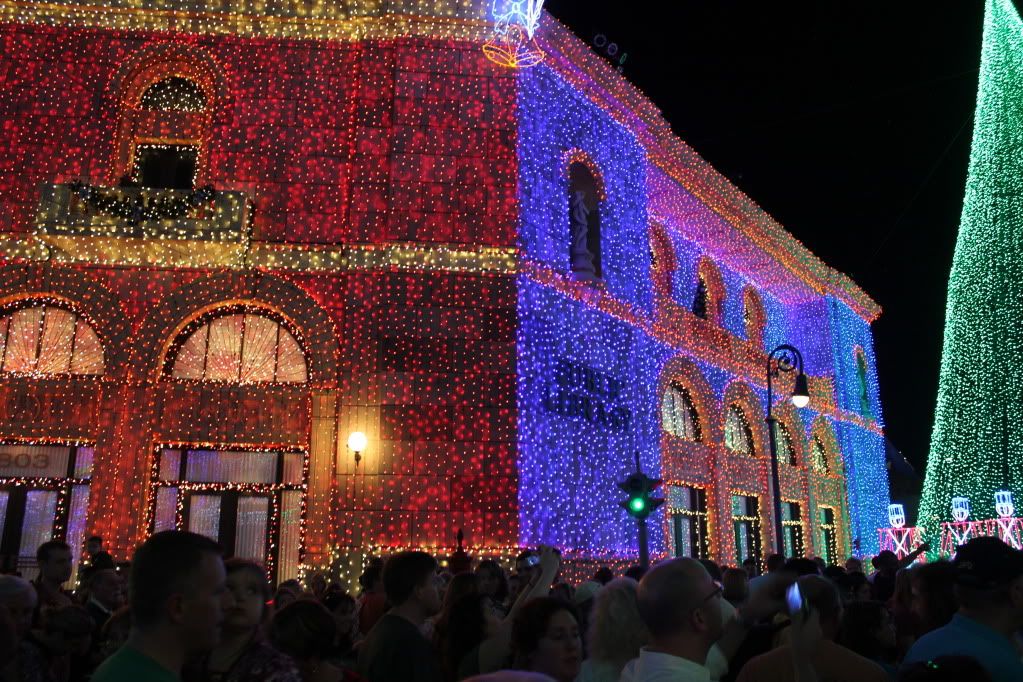 We took a gazillion terrible self-shots with my phone on the Streets of America, case in point: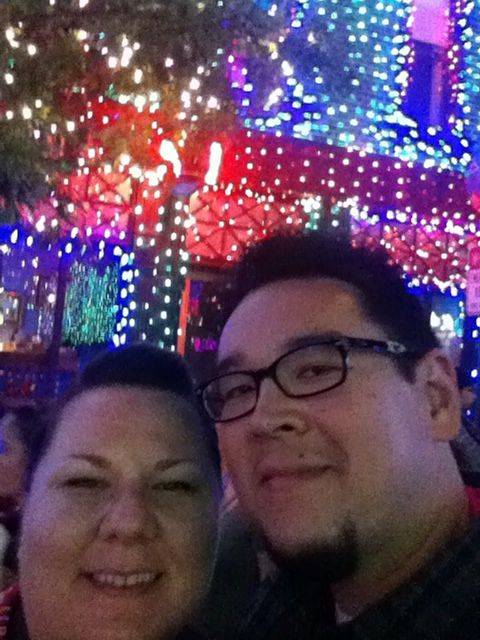 As we made our way through the streets we noticed the Youse Guys merchandise stand was selling some event specific items, so I stopped in to get the special Osborne Lights pin. I also got a SUPER cute necklace with really big Christmas lights (think C9's) that flashed at all sorts of speeds. I thought about buying one for hubby, too, but I didn't think he'd want to wear it. After I checked out, I found DH (he was leaning against a wall trying to keep away from the crowd while I shopped&lol) and we made our way out.

Even though it was crazy, we LOVED it! We were only able to stay for about 20 minutes so we didn't get to see much of the dancing aspect, but we had plans to come back with my mom & step-dad later in the trip.

See ya real soon, Osborne Lights!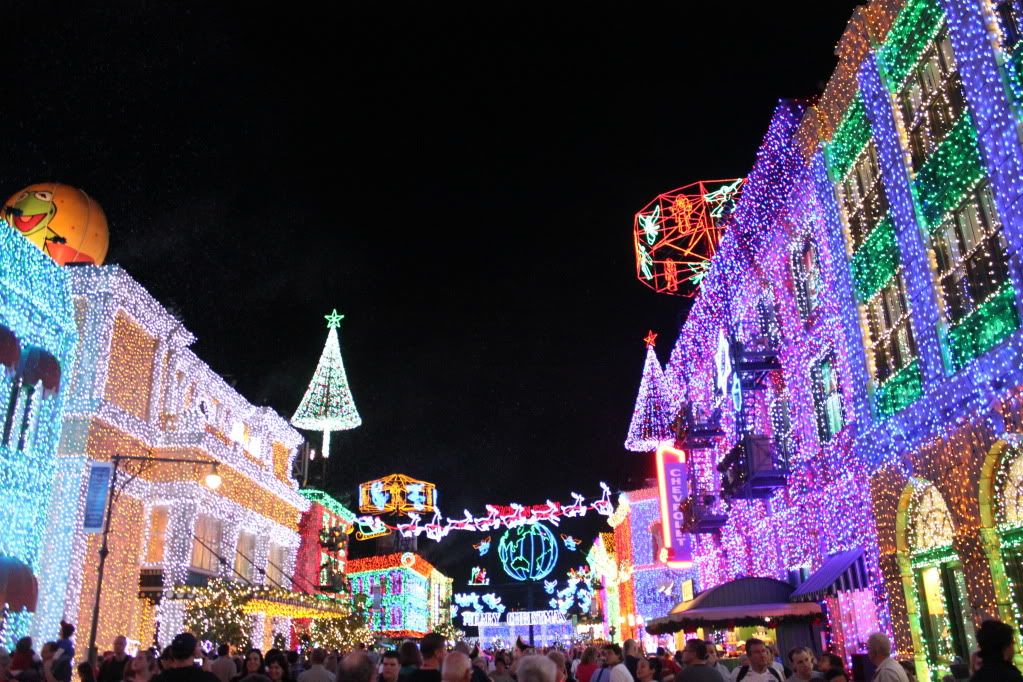 We hitched a ride on a Friendship boat to make way for EPCOT. We were going to an Illuminations dessert party hosted by the travel agency we booked our WL room with. It may sound silly, but this was one of those things on my Disney bucket list that I've been dying to do, and we were getting to do it for FREE!

We arrived at Italy to check-in and hung out in the rotunda until they were ready to escort us over to the Isola. Remember when I said I was going to buy hubby a set of the Christmas lights but didn't think he'd wear it. Well: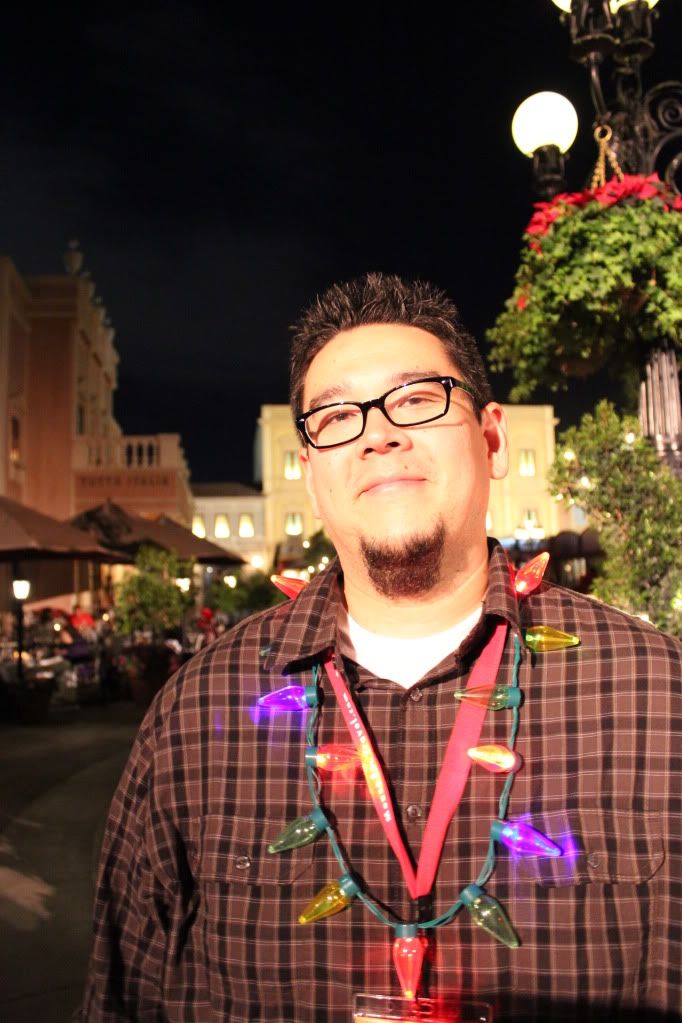 That didn't take very long.

Our view from the Isola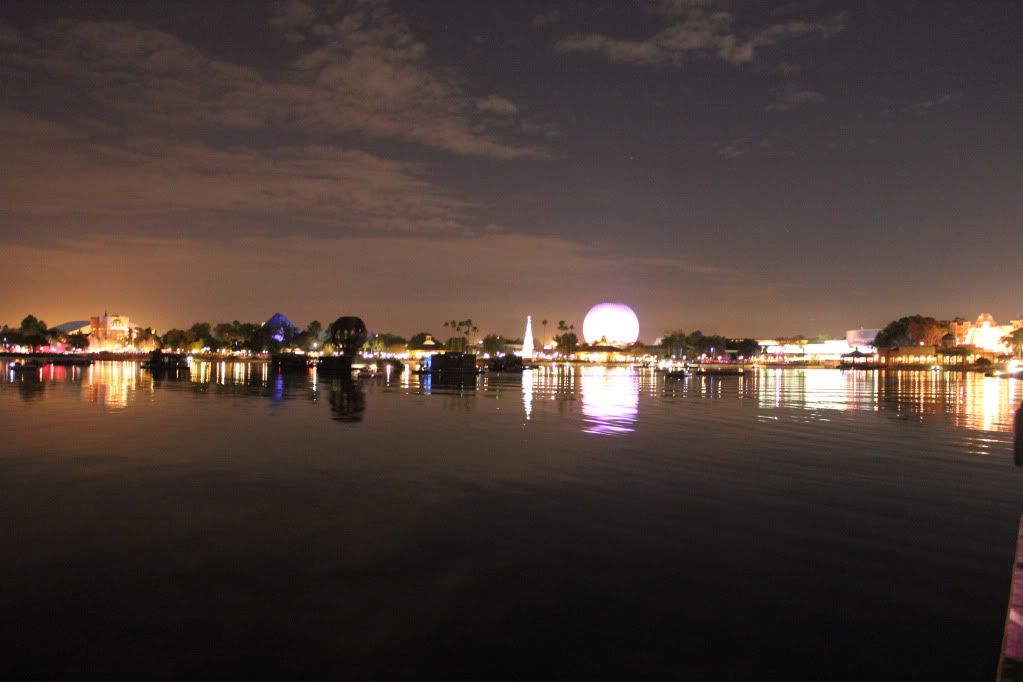 We were still on a high from the spaghetti & meatball cupcakes from dinner so we didn't go crazy with the desserts here. The things we tried were good, although nothing to write home about. Sorry I don't have any photos, it was really dark and food never looks good under just glash lighting.
There were a few specialty desserts, lemon bars, cupcakes, cookies, rice krispie treats, hot chocolate, lemonade, tea, coffee, etc. Here's a very blurry picture just to give you an idea of the set up: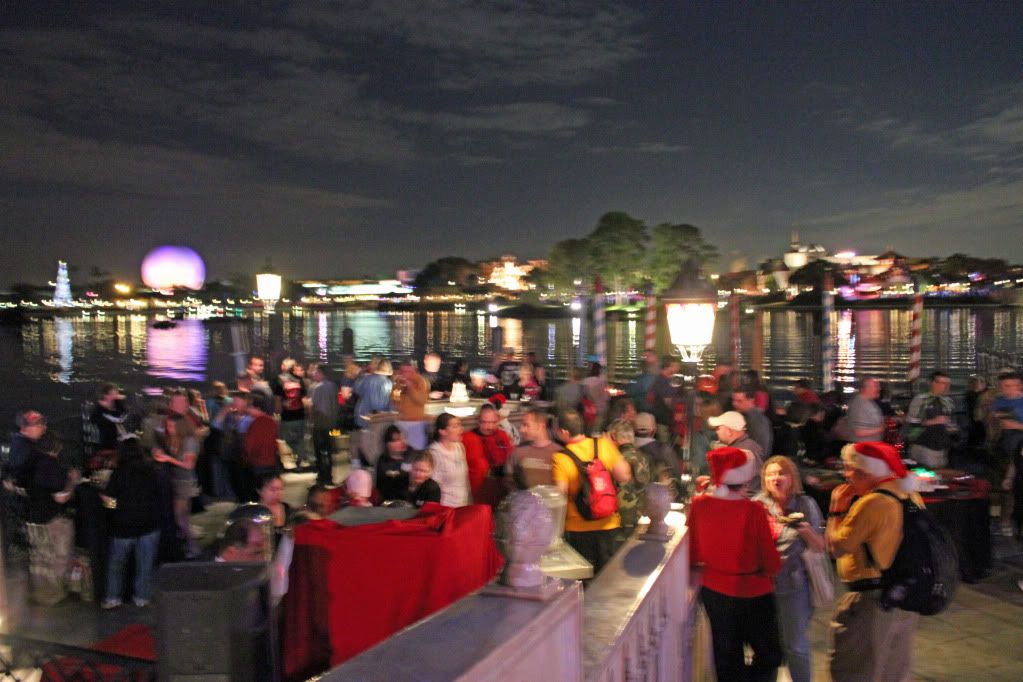 We mingled a bit and bumped into our friend Carrie, you may know her as lurkyloo. We're both from southern CA, but we tend to bump into each other at WDW more than anywhere else. Kinda funny. Afterward, we found seats at a table, which was quite lucky cuz they were sparse. We sat with a mother & (adult) son who were visiting all the way from England! They've attended many of the same D23 events that we have, so we chatted a bit about our experiences until the show started.

We had a great view, despite whats shown in these photos.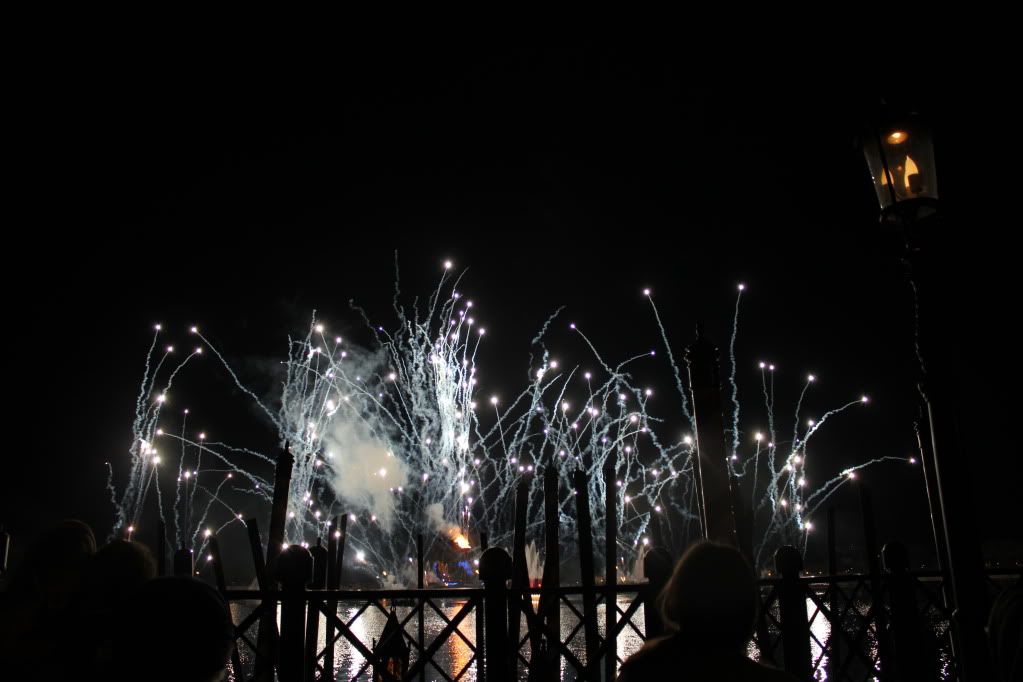 Admittedly, I'm not the biggest fan of Illuminations. There are elements that I really love about it, but the show as a whole is a little too slow for me. I suppose I just don't have the sentimental attachment to it that many folks do. I mean, we went to the World 3 times before we finally caught the show. The holiday tag, however, was spectacular!


After the show, we took our time leaving World Showcase since it was now closed - something we love to do whenever possible.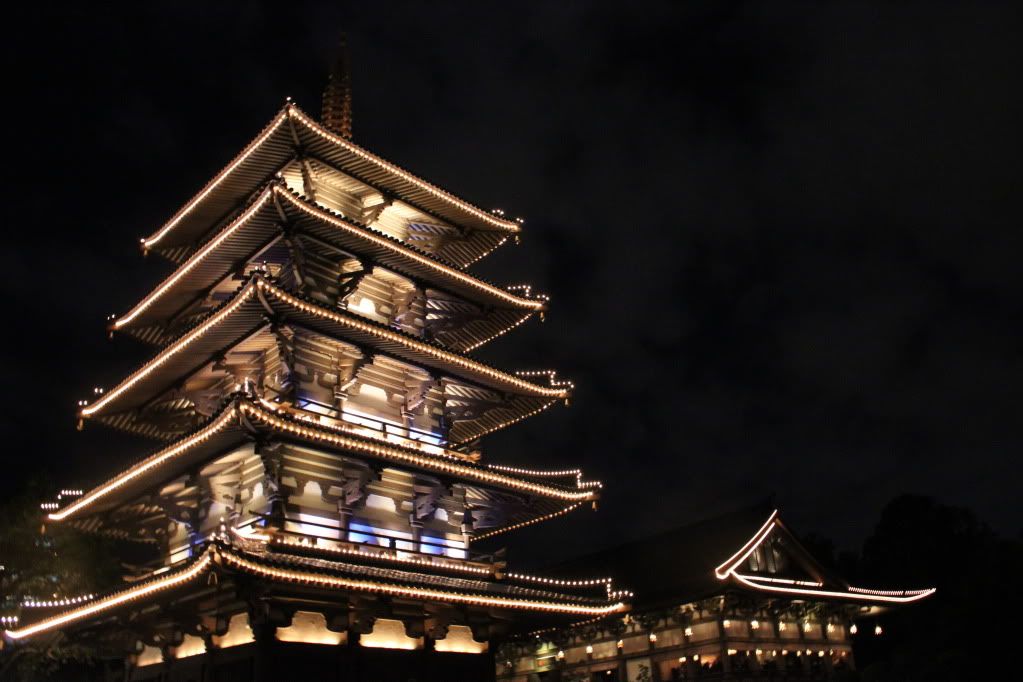 We walked back over to the Beach Club from the International Gateway



With his green shirt and glowing lights, I decided that Daniel looked like a Christmas tree so I sent him up to blend in with the others. What a trooper.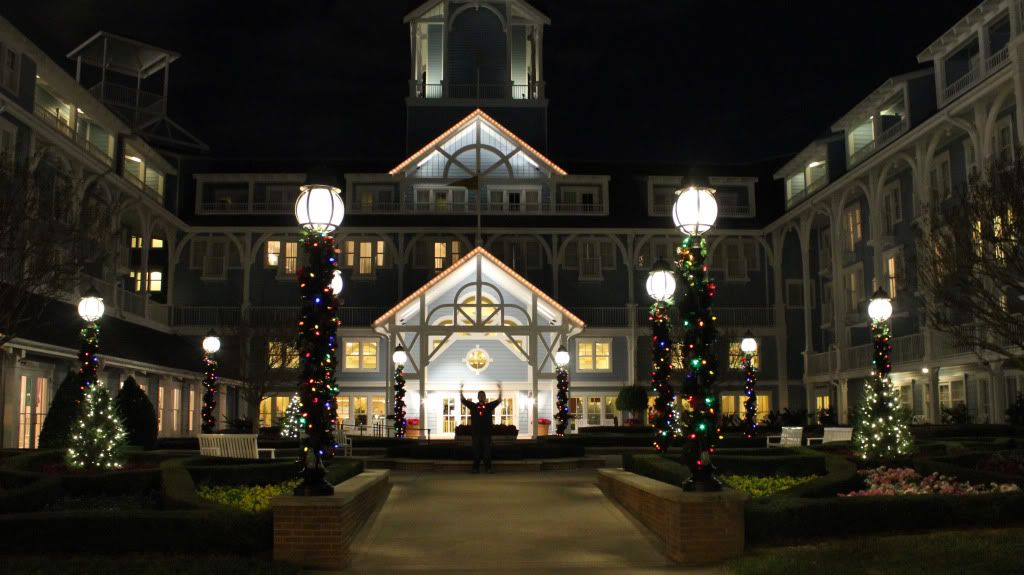 Hey, where'd my hubby go?!



We poked around the holiday decorations and searched for all of the hidden Mickeys on the gingerbread display.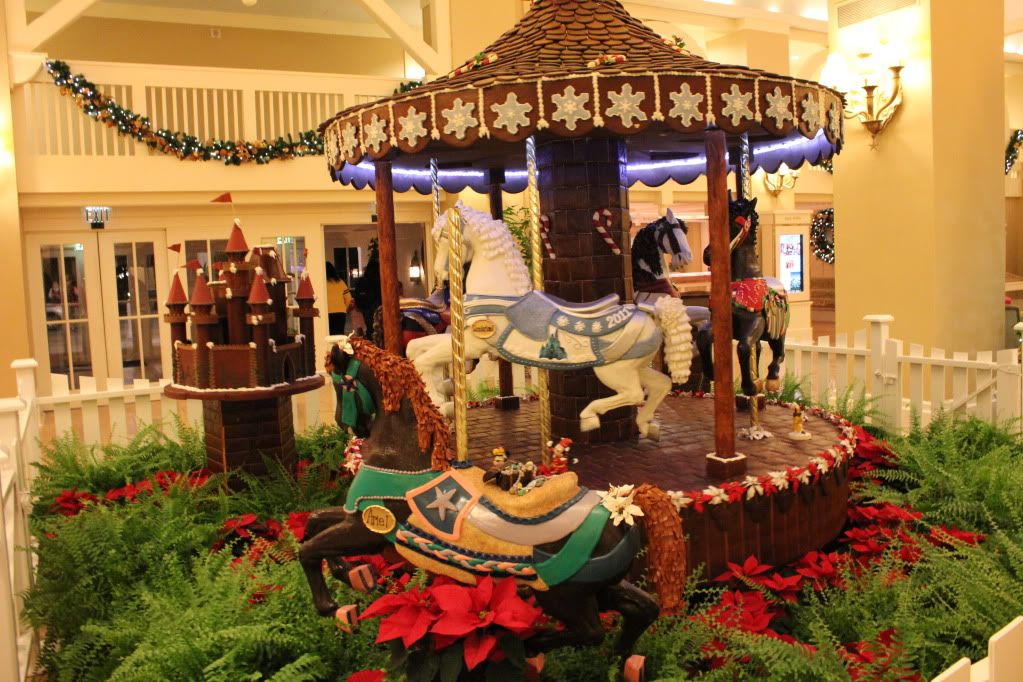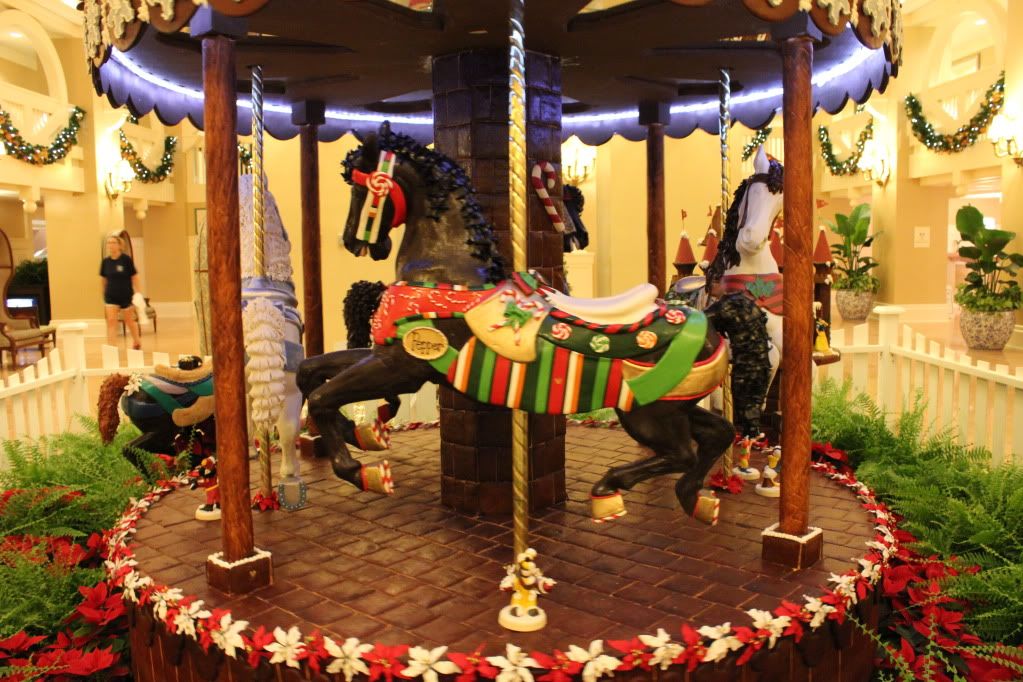 Just in case you were wondering how to duplicate the recipe at home: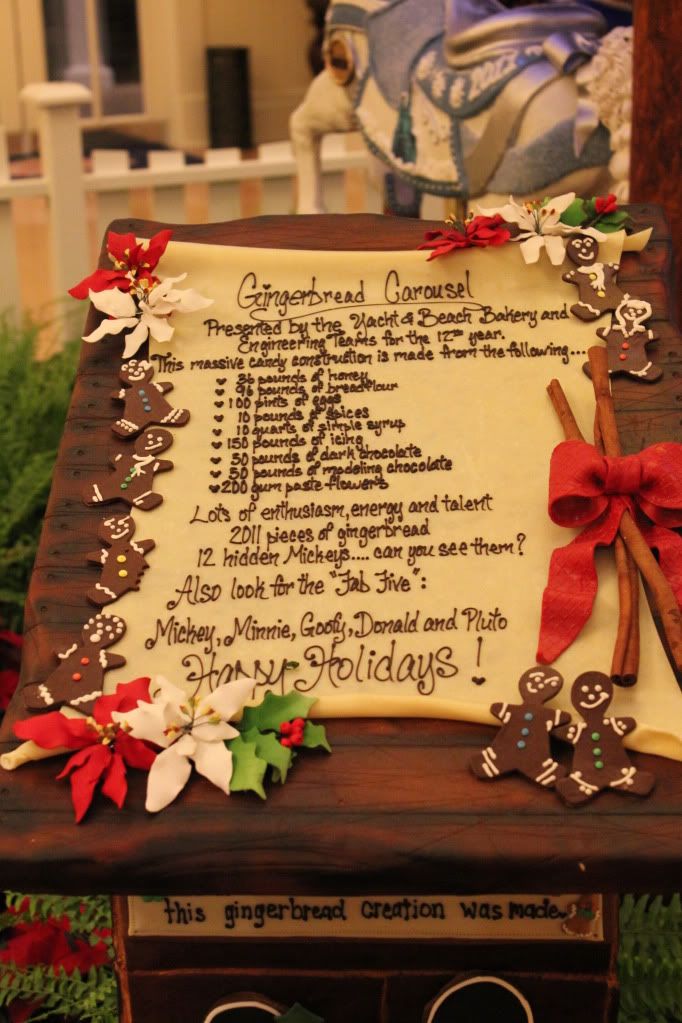 After we had enough fun, we drove back to our resort. Since it was late, I took the opportunity to photograph every nook & cranny of the empty lobby.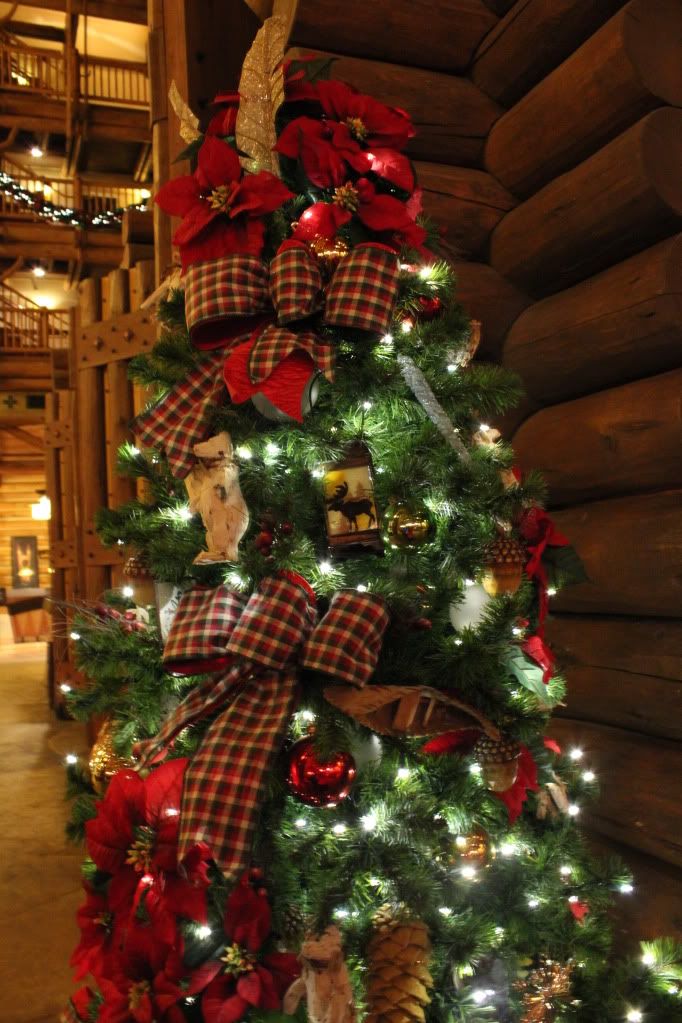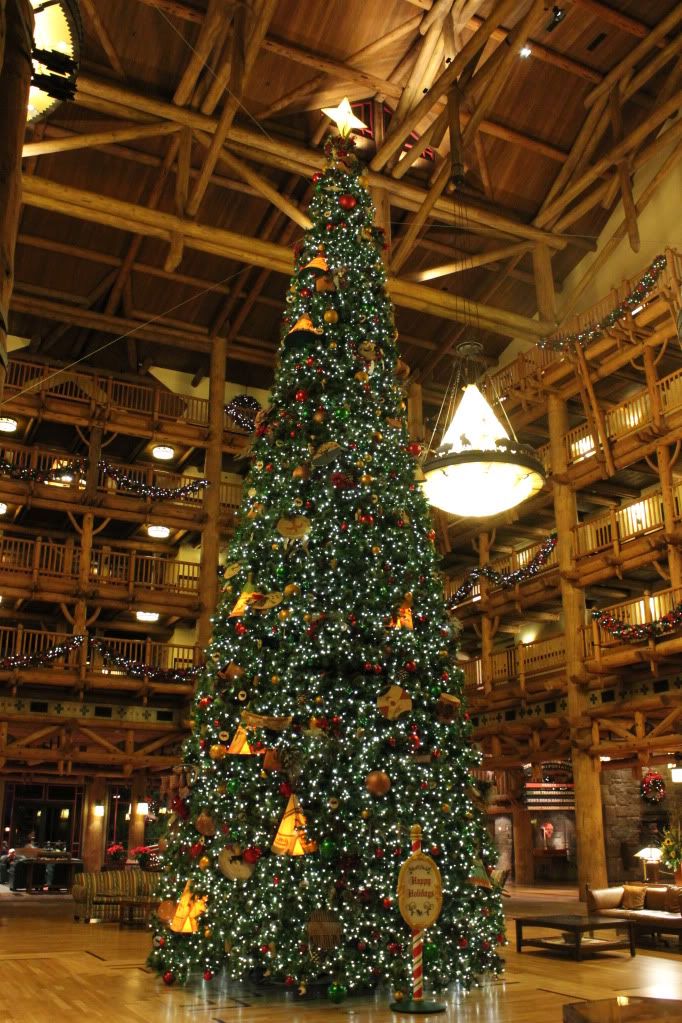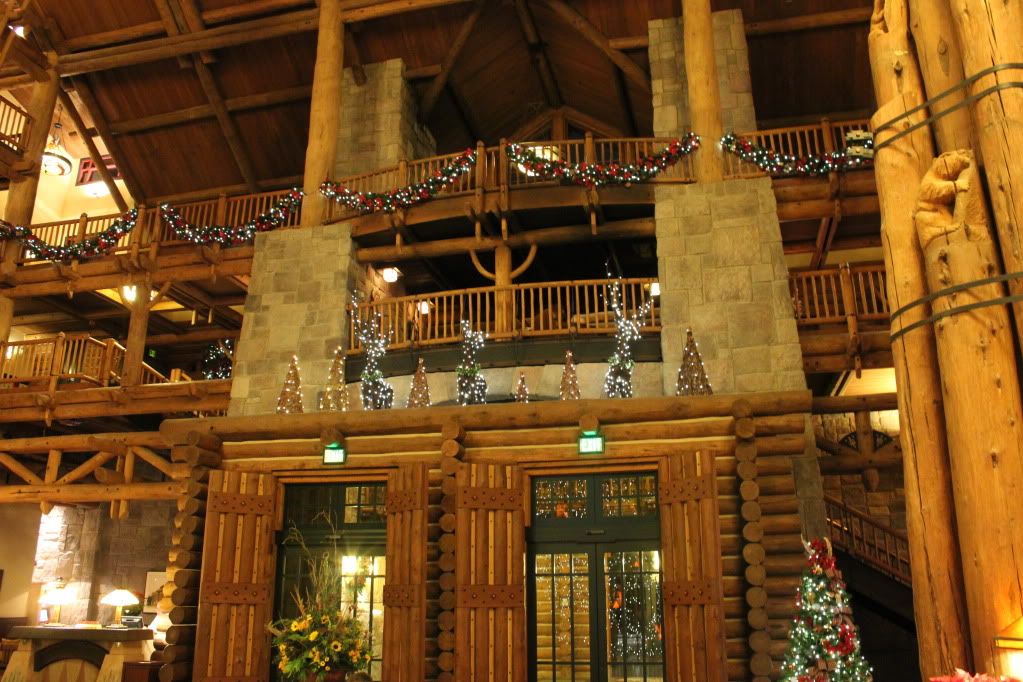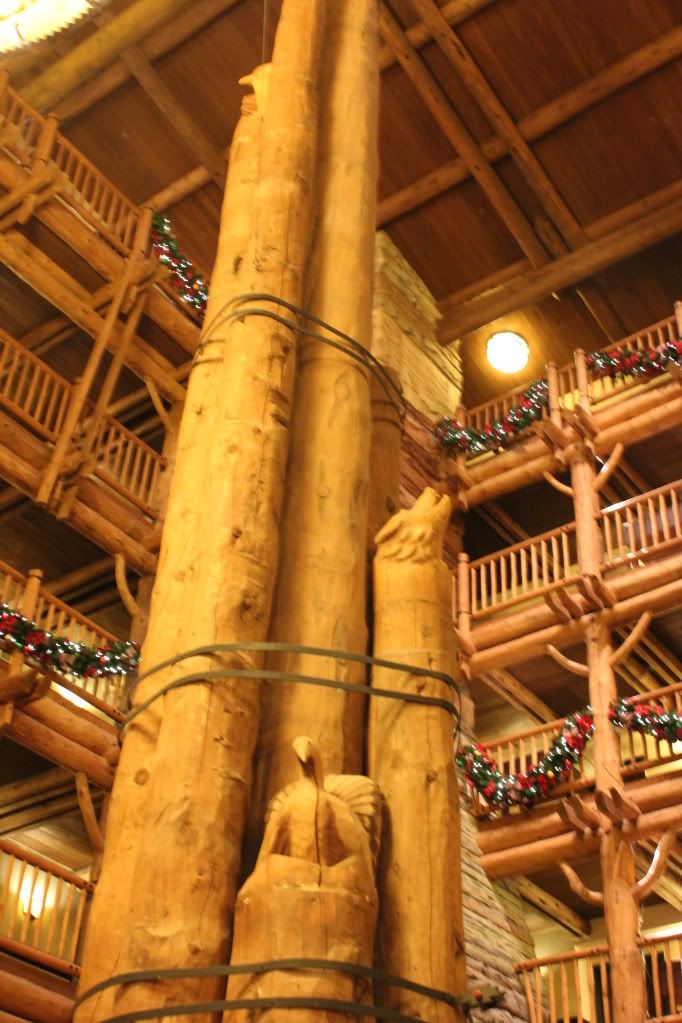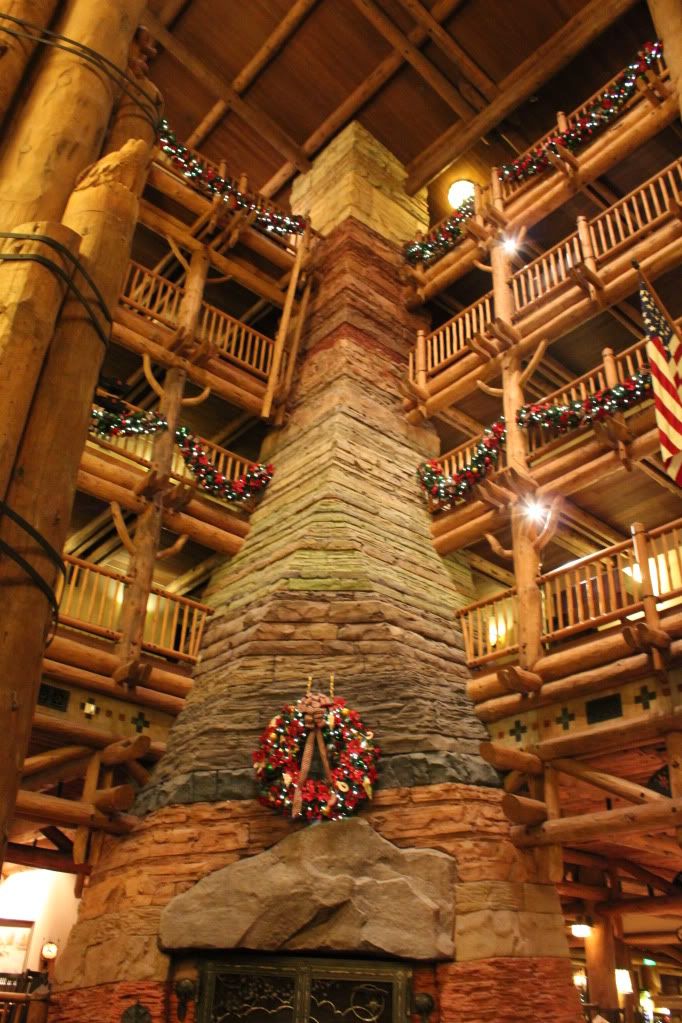 Everyone says the Wilderness Lodge is *THE* place to stay for the holidays, and I can totally see why. Even still, I was a bit perplexed by the amount of antlers used in the decor. I mean, I get it - it is the WILDERNESS Lodge, but it was too much for me. While we loved the look & feel of the resort, it just never felt like we were "home". We would definitely stay here again, it just wouldn't be the first choice. Taking the boat around was pretty awesome, though.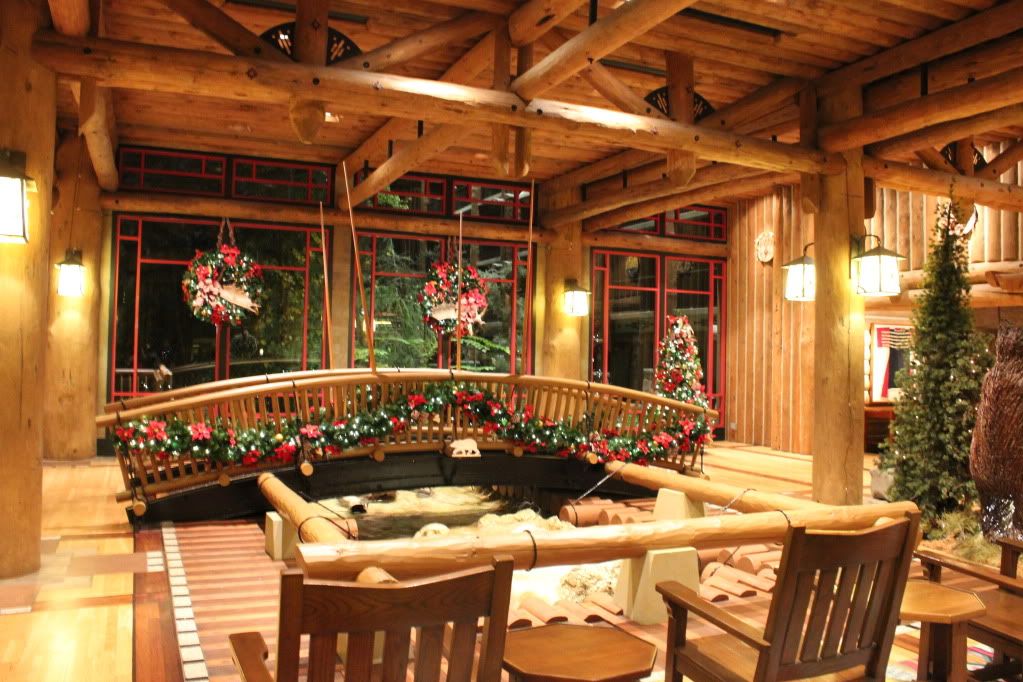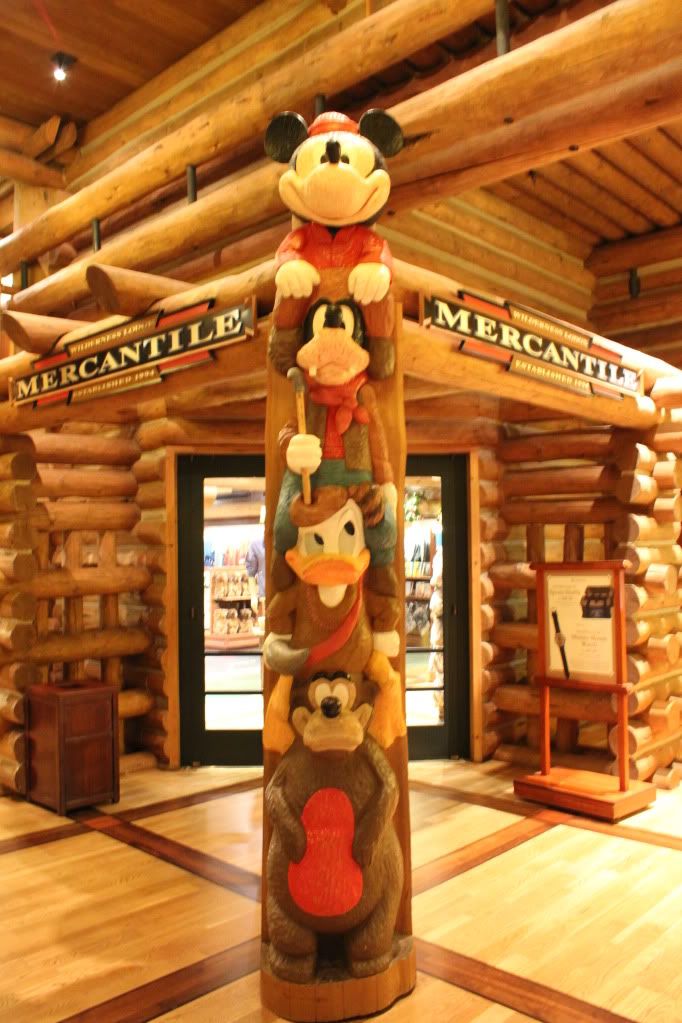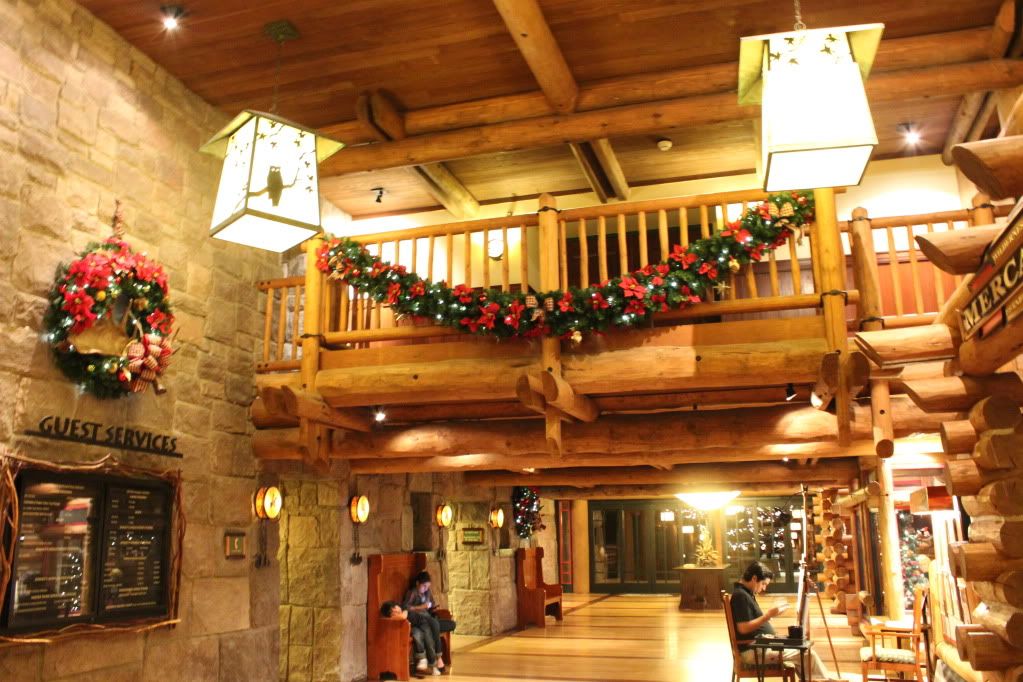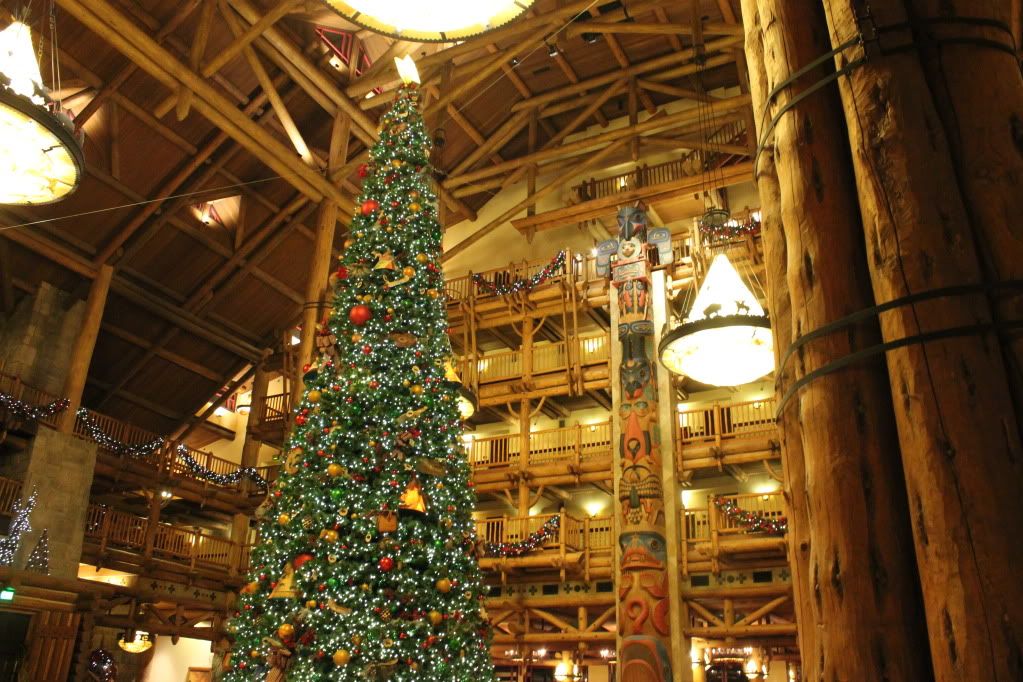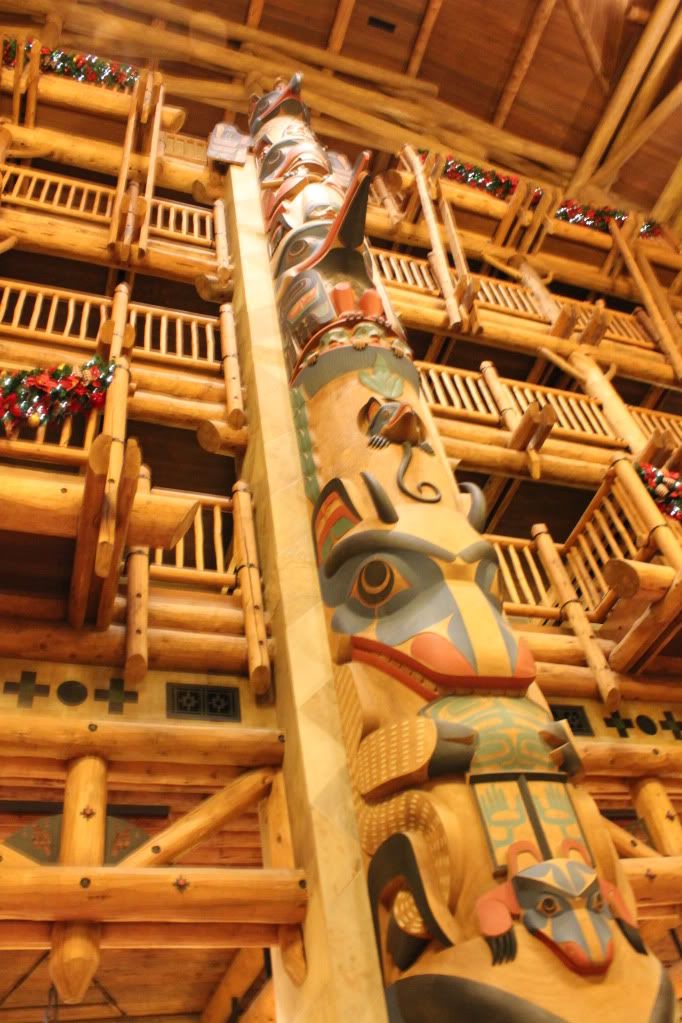 Look at that sweet, patient, blurry man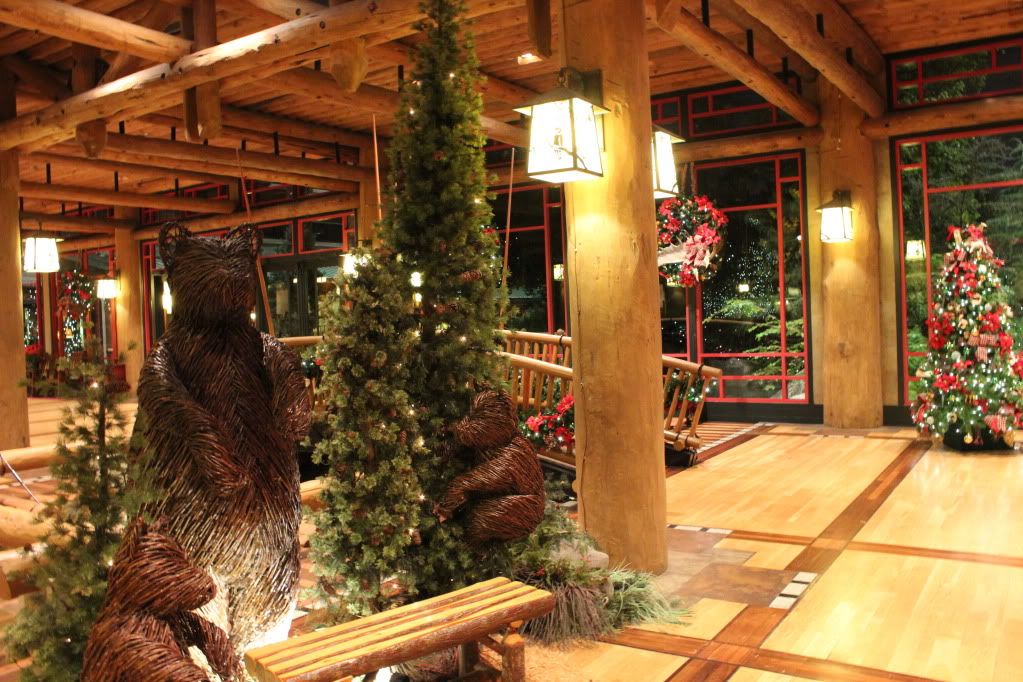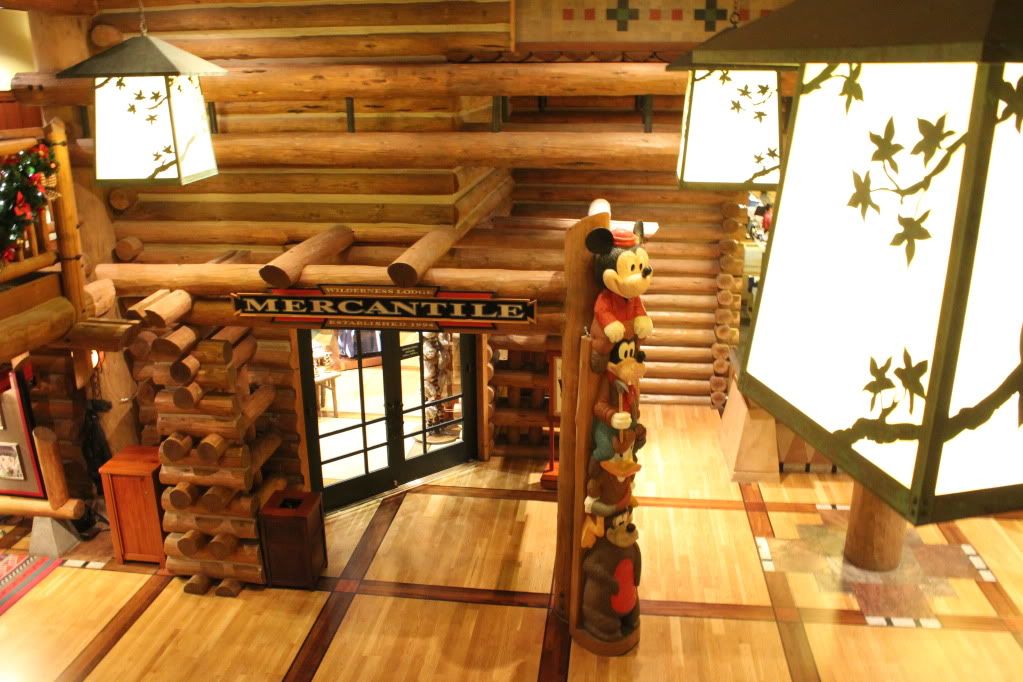 I love these lamps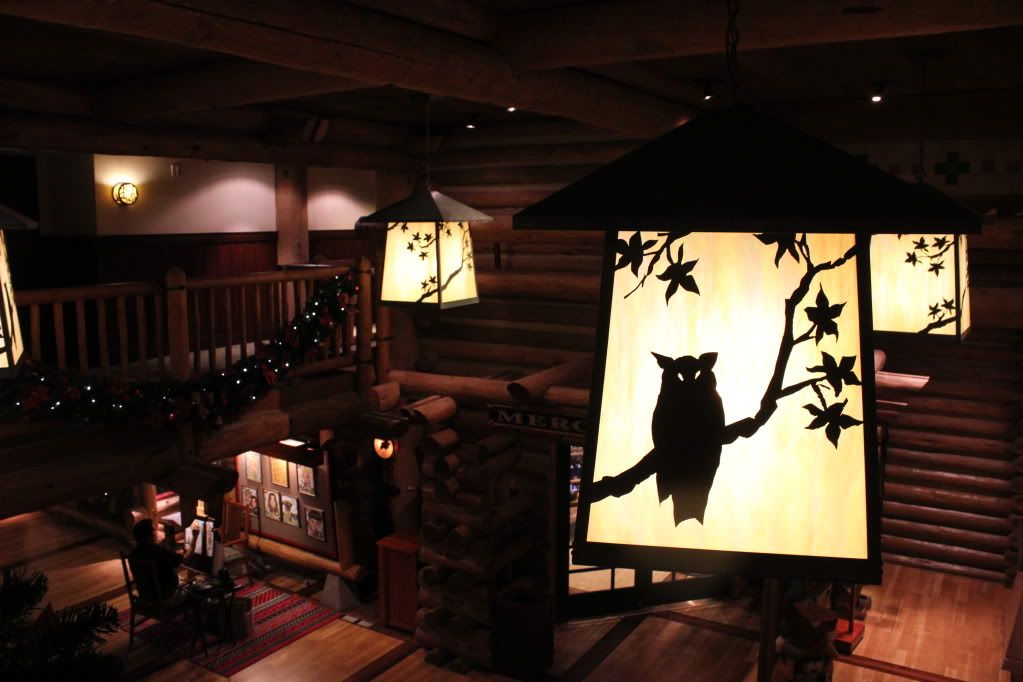 We crashed pretty quickly that night, thankfully we'd get to sleep in a bit the next morning.


NEXT UP: Feeling JOYFUL!