In the months leading up to our Disney trips, my mom and I spend countless hours creating the "perfect" itinerary together. For us, this process is almost as fun as the trip itself. Some people may think we're nutty, but we totally love it….and something tells me we're probably not alone in this.


Here's a snapshot of our itinerary for this day. Anything in a blue font meant we would be with my family: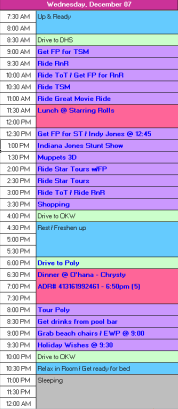 For as strict as the plans may appear, we're usually pretty flexible and are open to changing things up as needed. There have been several instances where the itinerary has acted as nothing more than just a reference guide for our ADR's.
That flexibility was something that proved to be more important than ever on this trip, and today, our first full day, was no exception.

As you can see, our intention was to wake up early and get to the Studios in time for rope drop to meet my family. My looming cold, however, had its own plan. Both Daniel & I slept right through the alarm and didn't wake up until almost 9:30!
I went into a panic at the realization of how late it was and immediately called my mom. As soon as she answered, I found that my voice had completely vanished overnight.


She was totally understanding, and after hearing my struggle to speak she was really just concerned about how I was feeling. For the most part, I didn't actually feel *that* bad. My ears were still plugged up and my voice had disappeared, but aside from that I just had a touch of congestion. It turned out they were running a bit behind too, so we decided to meet up later in time for lunch at Starring Rolls. This meant Daniel & I didn't have to rush to get over there…whew!

After we hung up & the panic settled, I went out onto the balcony to check out our view in the daylight. Pretty!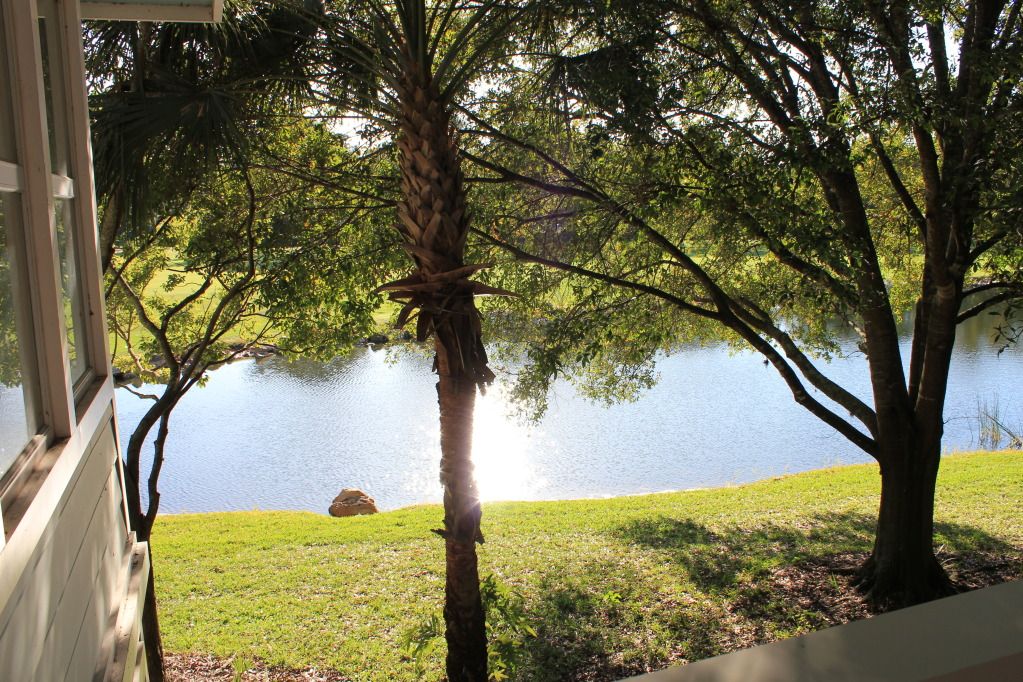 Daniel went back to sleep for a little bit while I ate a banana & some Pop-Tarts (breakfast o'champions) so that I could take some DayQuil. When I went to open that orange box I realized it was actually DayQuil Sinex! The symptoms it promised to help weren't at all what I was feeling. Boo.

The word "Sinex" was printed WAY bigger than anything else on the box so I really don't know how I overlooked it. It was all I had though, so I took it in hopes that it would at least give some me some relief, even if just a little.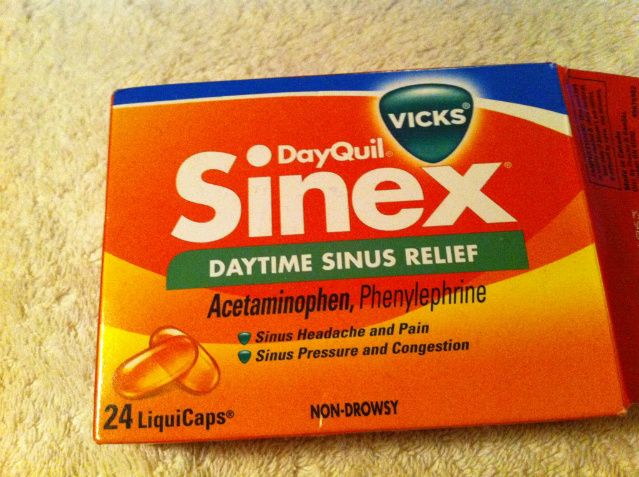 I started to get ready then woke up Daniel so he could hop in the shower. I found that my voice was starting to make a comeback, it was super crackly but at least it was audible. Once we were all neat & pretty, we hopped in the car and drove to DHS.

On all of our trips, we always bring along an auxillary cord so we can play Disney tunes in the rental car. For this trip, I added our favorite Christmas songs to the playlist so that we could be immersed in both Disney & Christmas goodness the whole trip.
:

We pulled into the parking lot at about 11:00am and I was SUPER excited to be there! You might remember from the "Introduction" post that this was the first time DH & I were at the World during the holidays, and I couldn't wait to see everything all decorated. Two of the things I love most in the world are Disney and Christmas, so when they come together I'm pretty much the happiest girl on the planet.

On our way in we stopped for a self-portrait ala iPhone in front of the DHS Christmas tree

Not a bad shot for a phone pic!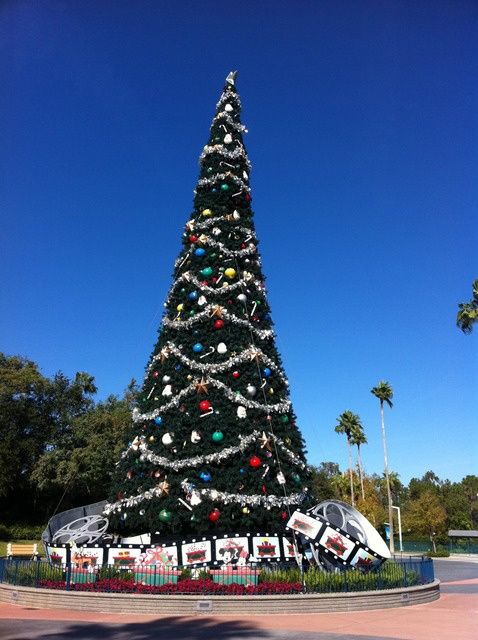 We breezed through bag check then pulled out the real camera so I could start snapping away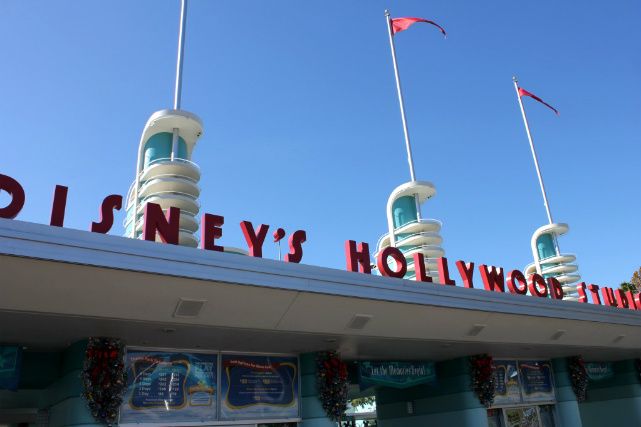 As soon as I saw these adorable trees up on the lamp posts I was in love!



Even though I was completely entranced by the splendor of it all, I didn't want to lollygag too much cuz my family was a-waitin'! They flew into town a day before us on 12/5, and were staying at AKV. The last time we saw them was at our wedding almost 14 months prior, so I was really itchin' to catch up to them. Before I called them, though, we needed to stop by Guest Services and renew our Tables in Wonderland card.

When we walked in there were only a few people in line ahead of us, so I assumed it wouldn't take very long. Boy was I wrong. We ended up being there for almost 30 minutes!
It seemed like there were a lot of new CM's on duty, something we encountered a lot during this trip. Not that I have an issue with new CM's, they just should've had more seasoned CM's on hand to offer assistance and to keep the lines moving. While waiting to be helped, we overheard an older couple asking the seemingly new CM about a "must-do tour" they heard about from their friends. "Backstage something or other" they called it and wanted to know how much it cost and how to reserve it. The CM told them there were no behind-the-scenes tours offered at the Studios and that their friends must have meant the Backlot Tour attraction. They even pulled out a park map to show the guests where the "tour" attraction was. Oh, brother. I wanted to chime in and tell them their friends must have been talking about the Backstage Magic Tour , but they were gone by the time we were finally done. I hope someone was eventually able to point them in the right direction.


As soon as we were done and had our shiny new TIW card in hand, I called my mom to let her know we were ready for lunch, but I wasn't able to get a hold of her. I sent her a text and she responded back that they just left Starring Rolls and were heading into Muppets 3D. She said to go on ahead to lunch and we'd meet up afterward. It turned out she had accidentally set her clock an hour too far ahead and thought they were way further behind schedule than they actually were. Oops!


DH & I decided to grab FP's for Rock n' Roller Coaster in hopes that we could all ride it together later, so Daniel headed toward the FP machines and I went into Starring Rolls to buy our lunch. We had only ever had desserts from there so I was looking forward to trying out the sandwiches. Since they offer two different kinds, I ordered 1 of each and we shared them both (you'll see that DH & I do this a lot). Here's what we had:

Black Forest Ham Sandwich - with chips or fresh fruit $9.19
Turkey Focaccia - with chips or fresh fruit $9.19
Red Velvet Cupcake $3.99
Eclair $2.79



Because the sandwiches are piled so high, I was a little worried they might be dry, and well, maybe too meaty for me. Instead we found that the bread was super fresh, they had just enough dressing, and the meat wasn't too heavy at all. Each one was really tasty, but DH & I both preferred the turkey over the ham. The turkey had roasted red peppers and fresh mozzarella topped with a yummy pesto mayo, giving it the edge over the ham's Dijon mustard.

As good as the sandwiches were, though, I was only using them to get to the sweet stuff. I had dessert on the brain! This was our first time trying the éclair, and I think I can safely say that it will also be our last. The pastry was incredibly dry, there wasn't much crème filling, and the chocolate topping was overly bitter. On the other hand, the red velvet cupcake was deeeeelicious! The cake was moist and dense with a not-too-sweet cream cheese frosting. It was also covered in crushed up Heath bars, which just happens to be my favorite candy. I was seriously tempted to go in and buy a 2nd one so we could each have our own, but we were just too stuffed from the sandwiches.

While we were finishing up our dessert, I heard a commotion building near us. I looked up and saw that the Streetmosphere characters were getting set up to do their Glee club performance in front of the Villains in Vogue shop. This was something on my must-do list, but I had no idea what time they were scheduled to perform. As soon as I realized what was happening I bolted. Well, I did grab my stuff and blurted some type of gibberish to Daniel so he knew where I was going. He was right behind me without skipping a beat! I couldn't believe our luck that we happened to catch the show, and just at the right moment! These are my favorite types of Disney moments.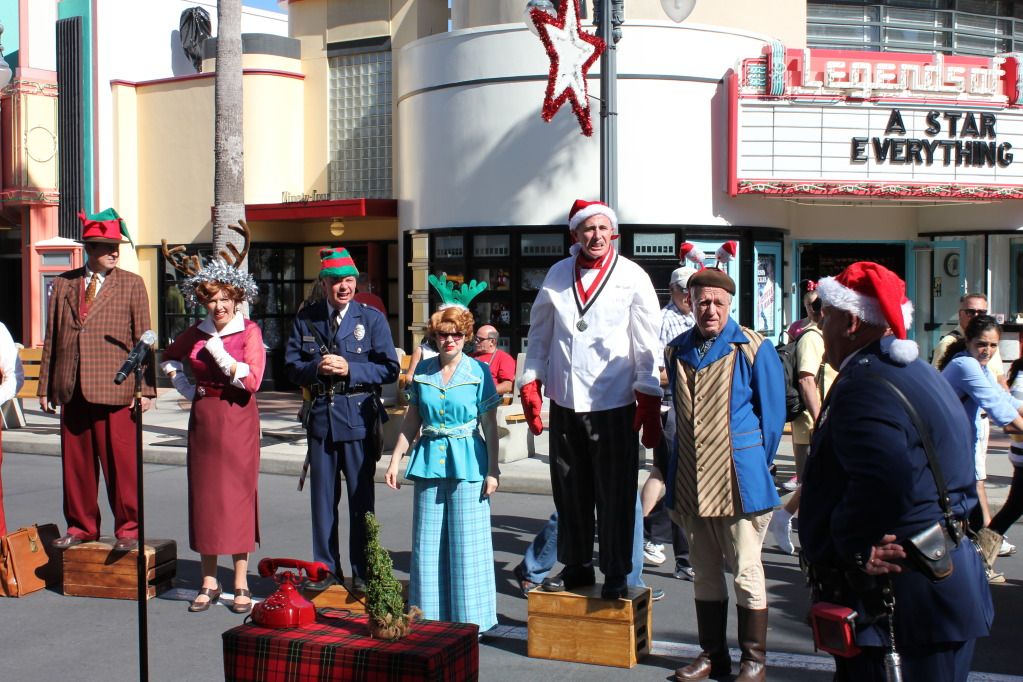 They sang a few holiday standards and then selected people from the audience to join them in singing the 12 Days of Christmas. It was absolutely hilarious! I was crying from laughing so hard, especially during the finale. I don't normally take a lot of video, but when they started the last round something inside told me to record it. I'm SO happy I listened to the little voice – it still cracks me up when I watch it.

Leading up to this, #9 (who is one of our favorite Streetmosphere characters) was hitting on #8 the entire time and she gave a different response each round, and always directed at him. His line was always "8 golf clubs" or something like that, so listen for what he says this time. DH & I laughed about it the rest of the trip. Also, #5 started out really super quiet and shy. His first response was a meek "5 turkey legs" and with each round he got a little louder and his responses grew longer. So his 2nd round his response was "5 turkey legs with mashed potatoes and gravy", and then it was "5 turkey legs with mashed potatoes and gravy and yams with little marshmallows", etc. Watching his final response in the clip, you can see why it was so funny.

Here's the link to the video on YouTube. I recorded it with my phone, so I'm sorry that it's not the best quality.


I texted my mom to see where they were, and she responded that they were getting onto the tram at the Backlot Tour. As soon as the Glee Club was finished, we headed in that direction to meet them at the exit.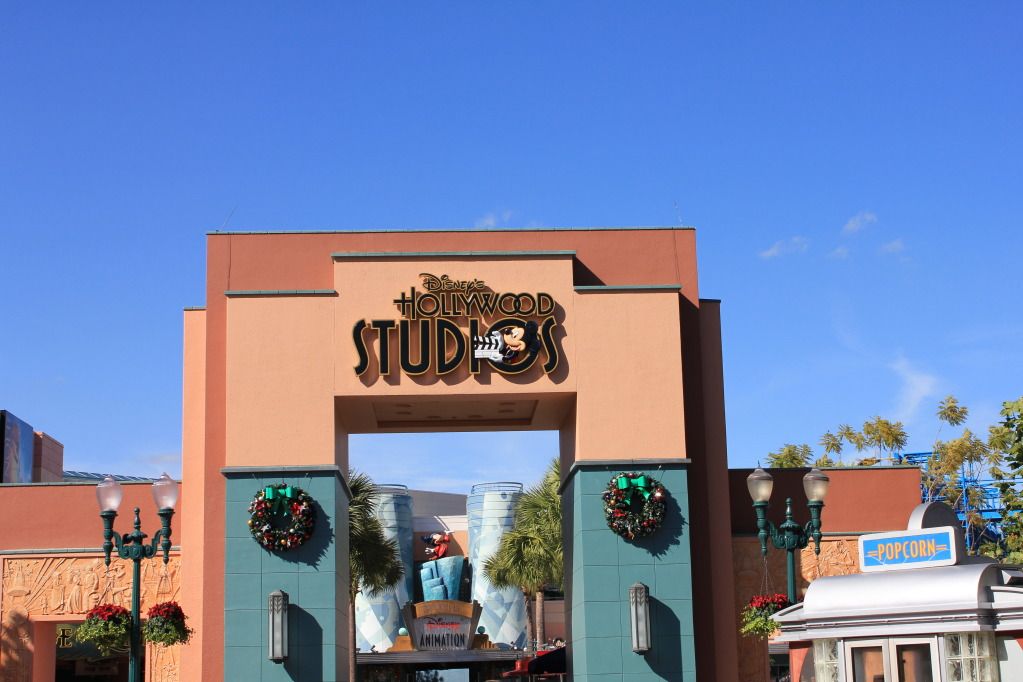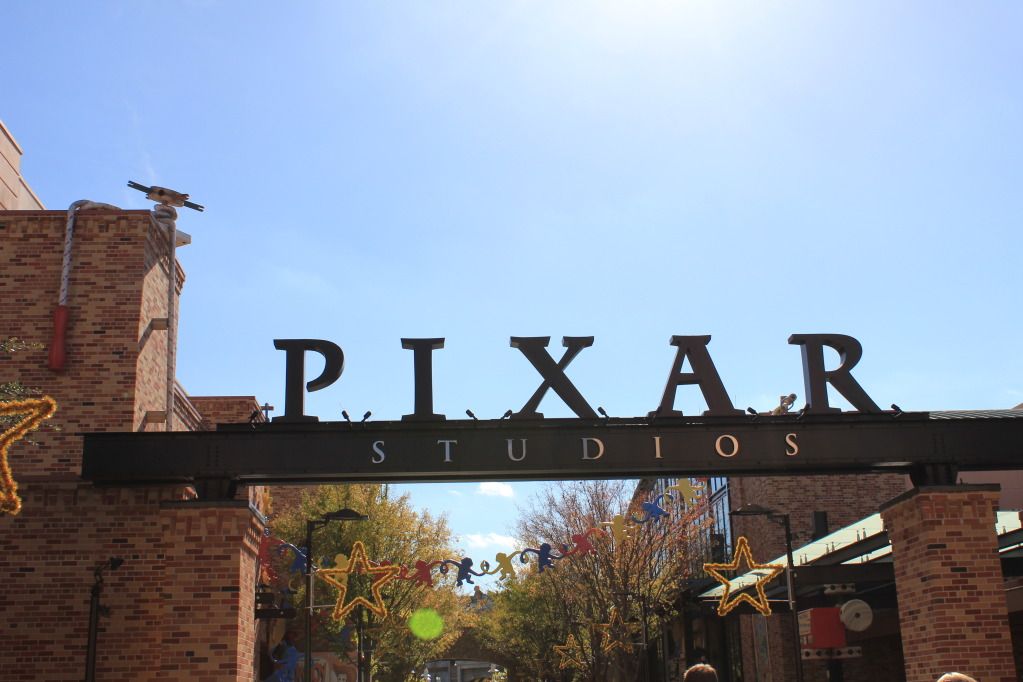 I called her as we made our way over there and she said they were waiting by the giant misting Coke bottles. Daniel spotted them as soon as we passed TSMM, but I didn't see them. Then I saw this: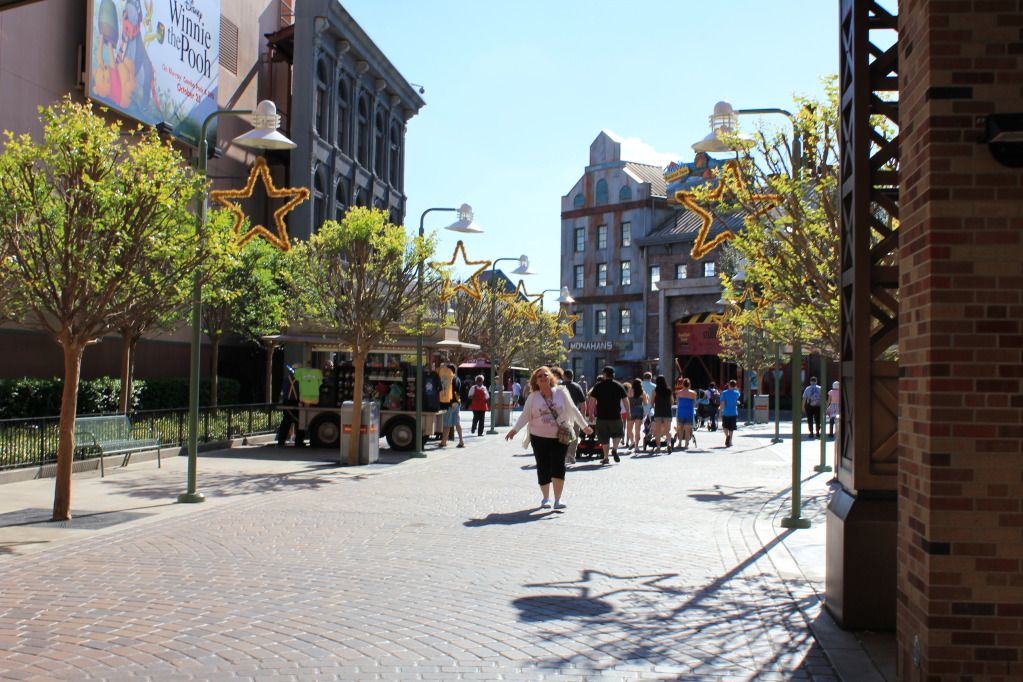 That's my mama!!! How stinkin' cute is she?!? The second she spotted us, she ditched my brother & step-dad and came running toward us!



Next up: Our adventure through the Studios!